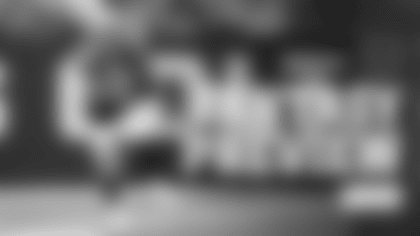 » FanDuel Week 2 Position Rank: QB29
» Rams vs. QBs: 5th (13.2 FanDuel Fantasy Points per game)
» 2021 Season: 18.34 FanDuel Fantasy Points
Wentz was solid in his Colts debut, completing 25 of 38 passes for 251 yards with two touchdowns against the Seahawks in Week 1. He'll be challenged again in Week 2 by a Rams defense that's allowed the fewest plays of 25 of more yards (39) since the start of the 2020 season; in Week 1, Chicago Bears quarterback Andy Dalton only attempted one pass that traveled more than 15 yards beyond the line of scrimmage — and it was intercepted.
RBs Jonathan Taylor, Nyheim Hines
» FanDuel Week 2 Position Rank: Taylor RB13, Hines RB44
» Rams vs. RBs: 22nd (24.3 FanDuel Fantasy Points per game)
» 2021 Season: Taylor - 11.6 FanDuel Fantasy Points; Hines - 8.2 FanDuel Fantasy Points
Taylor and Hines were targeted on 15 of the Wentz's 35 pass attempts in Week 1 and combined for 12 catches and 108 yards. Their production wasn't as efficient on the ground, though: Taylor had 17 carries for 56 yards; Hines carried nine times for 34 yards and neither back had a touchdown.
WRs Michael Pittman Jr., Parris Campbell, Zach Pascal, Mike Strachan
» FanDuel Week 2 Position Rank: Pittman WR51, Pascal WR65, Campbell WR73, Strachan WR122
» Rams vs. WRs: 3rd (21.3 FanDuel Fantasy Points per game)
» 2021 Season: Pittman - 2.9 FanDuel Fantasy Points; Campbell - 2.4 FanDuel Fantasy Points; Pascal - 16.3 FanDuel Fantasy Points, Strachan - 2.6 FanDuel Fantasy Points
The Colts' offense is built on spreading the ball around, so that an established receiver in Pascal was a productive fantasy player in Week 1 (five targets, four catches, 43 yards, two touchdowns) didn't come as a surprise. Pascal led Colts receivers in targets, receptions, yards and touchdowns last week; Pittman, Campbell and Strachan all had between 24-29 yards on a handful of targets and receptions.
TEs Mo Alie-Cox, Jack Doyle
» FanDuel Week 2 Position Rank: Doyle TE34, Alie-Cox TE 38
» Rams vs. TEs: 14th (8.3 FanDuel Fantasy Points per game)
» 2021 Season: Alie-Cox - 0.0 FanDuel Fantasy Points; Doyle - 2.1 FanDuel Fantasy Points
Wentz couldn't connect with Alie-Cox on a deep shot against Seattle, which was one of two targets the fourth-year tight end saw. Doyle was more involved, with four targets, three catches and 21 yards; both tight ends, though, were used heavily - Doyle played 45 snaps to Alie-Cox's 39. Rookie Kylen Granson played seven snaps and was not targeted in his NFL debut.
Colts Defense/Special Teams
» FanDuel Week 2 Position Rank: D/ST22
The Colts' defense will look to bounce back against an opponent that came out firing in Week 1. The Rams enter Week 2 coming off a blazing performance against the Bears, with Matthew Stafford throwing for 321 yards and three touchdowns (with Robert Woods, Cooper Kupp and Van Jefferson the recipients) and Darrell Henderson rushing 16 times for 70 yards with a score.