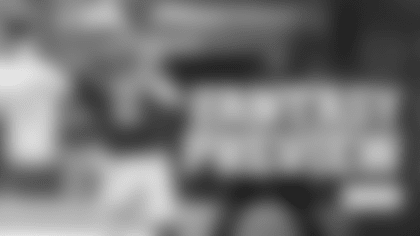 » FanDuel Week 7 Position Rank: QB25
» 49ers vs. QBs: 24th (21.3 FanDuel Fantasy Points/Game)
» 2021 Season: 99.2 FanDuel Fantasy Points
When will Carson Wentz get some respect in these rankings? Entering Week 7, Wentz is ninth in yards per attempt, first in interception rate, 12th in passer rating and 13th in total yards. Conservatively, he's been a top-half-of-the-league quarterback this season; over the last three weeks, he's been one of the most effective and productive passers in the NFL. Maybe this low ranking is putting an emphasis on the rough weather conditions expected at Levi's Stadium on Sunday. But Wentz has been good this year, and he's been even better as he's got healthier following the sprained ankles he suffered in Week 2.
RBs Jonathan Taylor, Nyheim Hines, Marlon Mack
» FanDuel Week 7 Position Rank: Taylor RB4, Hines RB45, Mack RB48
» 49ers vs. RBs: 16th (21.2 FanDuel Fantasy Points/Game)
» 2021 Season: Taylor 98.2 FanDuel Fantasy Points; Hines 27.4 FanDuel Fantasy Points, Mack 10.5 FanDuel Fantasy Points
Jonathan Taylor is averaging 6.7 yards per touch this season and has two of the five longest plays of 2021 entering Week 7 (a 76-yard screen pass touchdown against the Ravens and an 83-yard run against the Texans). He's establishing himself as one of the very best running backs in the NFL; over his last 12 games (dating back to 2020) he's averaging 5.9 yards per carry and has 13 total touchdowns. Nyheim Hines' usage has dipped over the last few weeks but he remains a versatile, explosive weapon for Frank Reich to deploy. Mack has played in four of the Colts' six games and has 25 carries for 97 yards.
WRs Michael Pittman Jr., Zach Pascal
» FanDuel Week 7 Position Rank: Pittman WR38, Pascal WR65
» 49ers vs. WRs: 16th (31.0 FanDuel Fantasy Points/Game)
» 2021 Season: Pittman 47.1 FanDuel Fantasy Points, Pascal 38.4 FanDuel Fantasy Points
With T.Y. Hilton out, the Colts may turn again to Michael Pittman, who averaged six receptions and 74 yards per game in Weeks 1-5. Zach Pascal, while he didn't have a reception in Week 6, is averaging a career-high three catches per game entering Week 7.
TEs Jack Doyle, Mo-Alie-Cox
» FanDuel Week 7 Position Rank: Alie-Cox TE30, Doyle TE36
» 49ers vs. TEs: 5th (6.5 FanDuel Fantasy Points/Game)
» 2021 Season: Doyle 12.3 FanDuel Fantasy Points, Alie-Cox 33.2 FanDuel Fantasy Points
Mo Alie-Cox has seven catches for 120 yards with three touchdowns in his last three games and has become a go-to target for Wentz inside the 40. Doyle remains an important part of the Colts' offense and will get his share of targets as the season goes on, even if those haven't been there the last few weeks.
Colts Defense/Special Teams
» FanDuel Week 6 Position Rank: D/ST21
The Colts' pass defense has struggled, sure, but this ranking feels way too low. The Colts enter Week 7 No. 1 in rush defense DVOA and in rainy, windy conditions in Santa Clara on Sunday, that could be to their advantage. The Colts also are fourth in the NFL with 12 takeaways through six games.