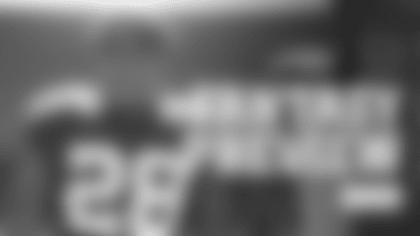 » FanDuel Week 1 Position Rank: QB29
» Seahawks vs. QBs: 26th (20.6 FanDuel Fantasy Points per game)
» 2020 Season: 188.4 FanDuel Fantasy Points
These projections are clearly putting more emphasis on Wentz's 2020 season than anything else. But combine a Seattle pass defense (which lost cornerback Shaq Griffin in free agency) that was favorable to opposing fantasy quarterbacks last year with the budding optimism around Indianapolis about what Wentz can do in his reunion with coach Frank Reich, and there might be an opportunity for fantasy players to get some value here.
RBs Jonathan Taylor, Nyheim Hines
» FanDuel Week 1 Position Rank: Taylor RB8, Hines RB52
» Seahawks vs. RBs: 16th (21.0 FanDuel Fantasy Points per game)
» 2020 Season: Taylor - 216.8 FanDuel Fantasy Points; Hines - 128.2 FanDuel Fantasy Points
How the Colts divide up touches for their loaded backfield will be of keen interest to fantasy football players, but FanDuel has Taylor and Hines as the most likely to contribute on Sunday. Taylor was incredible in his final six games of the 2020 season (6.2 yards/carry, 8 total TDs) and will look to carry that momentum into the 2021 season. Hines, meanwhile, was PFF's highest-graded running back when it came to receiving last year; he was third in the NFL among backs with 75 targets, 64 catches, 482 yards and four receiving touchdowns. Don't discount his between-the-tackles running ability, too; it just remains to be seen how much volume he'll get in the Colts' gameplan week to week.
WRs Michael Pittman Jr., Parris Campbell, Zach Pascal
» FanDuel Week 1 Position Rank: Pittman WR59, Campbell WR60, Pascal WR74
» Seahawks vs. WRs: 27th (34.4 FanDuel Fantasy Points per game)
» 2020 Season: Pittman - 58.9 FanDuel Fantasy Points; Campbell - 8.7 FanDuel Fantasy Points; Pascal - 92.9 FanDuel Fantasy Points
Without T.Y. Hilton, the Colts will need this trio of receivers to step up. Campbell will play in his first regular season game since Week 2 of the 2020 season, but he had an explosive 37-yard reception in the Colts' preseason opener against the Carolina Panthers that flashed his potential. The Colts believe in Pittman's upside and trust Pascal's dependability, too, and if Carson Wentz has a big game, someone's going to get the ball quite a bit and beat their projections here.
TEs Mo Alie-Cox, Jack Doyle
» FanDuel Week 1 Position Rank: Alie-Cox TE 31, Doyle TE36
» Seahawks vs. TEs: 13th (9.7 FanDuel Fantasy Points per game)
» 2020 Season: Alie-Cox - 49.4 FanDuel Fantasy Points; Doyle - 41.1 FanDuel Fantasy Points
Rookie tight end Kylen Granson doesn't have a projection for Sunday, which feels like an oversight given how excited Reich has been about the fourth round pick since he was drafted. There's a steep learning curve for every first-year tight end, certainly, but it'll be fascinating to see how involved Granson is in the Colts' gameplan on Sunday. Alie-Cox and Doyle combined for five touchdowns last season and return as dependable in-line options at tight end in the Colts' offense.
Colts Defense/Special Teams
» FanDuel Week 1 Position Rank: D/ST22
The Seahawks' offense is awfully good - Russell Wilson is QB6, Chris Carson is RB13, D.K. Metcalf is WR6 and Tyler Lockett is WR15 - but D/ST22 kind of feels low, doesn't it? The Colts' defense had a strong build-up to the season in training camp and preseason games and will be tested right off the bat by Seattle's star-studded offense. FanDuel's projection of 6.57 points feels predicated mostly on what the Seahawks can do, not necessarily what the Colts can on defense.