It's a story about love – love for country, love for the Colts, and love for each other.
Jacob Miller saw a promotion for the "With This Ring" contest on Colts.comand sent in his love story with his girlfriend of four years.
As he wrote – Jacob met Harley Mitchell while they were stationed in Jacksonville, Florida with the Navy in 2013.
"We met at a cookout through mutual friends. Unfortunately, I wasn't the cool guy who approached Harley the first time I saw her. No, I waited until the third cookout to talk to her. Thankfully, we have friends who enjoy hosting cookouts."
The more time they spent together, the more time they wanted to spend together.
"I received a Facebook message from Harley inviting me to dinner in her barracks room. Assuming it was another group gathering, I arrived directly from the softball game I'd just played in. To my surprise, I was the only guest. Harley had prepared spinach and mozzarella-stuffed chicken. We talked for several hours. It was one of the best dates I'd ever had. We started seeing each other regularly." * *
Later, he found out it was actually Harley's best friend who made dinner for them that night. But by then, it didn't matter – he was already in love.
When the Colts came to play the Jaguars, Harley surprised Jacob for his birthday with tickets to his first Colts game.
"Watching the Colts beat the Jaguars in sunny Jacksonville, Florida with Harley at my side was a day I'll never forget."
Unfortunately, she couldn't stay by his side for long.* *
"Harley and I were destined to spend months apart because military life includes deployment. While my nine-month deployment went as usual, Harley was pulled from her ship for medical reasons. I was still deployed when Harley found out she had Multiple Sclerosis. She was then medically retired from the Navy."* *
When Jacob's deployment was over, he and Harley moved in together, found out they were expecting a baby boy, and moved to his hometown of Fort Wayne, Indiana.
Now the parents of a two-year-old son, Jacob knew the time was right to make it official.
"Harley has mentioned wanting to see the three of us – me, our son, and herself in jerseys with "Miller" on the back. Yes, there are quiet and simple ways to propose, but nothing about our lives has been quiet or simple and I don't want my proposal to be either. Harley deserves more." * *
And last Sunday, when the Colts hosted the Jaguars at Lucas Oil Stadium – she got it.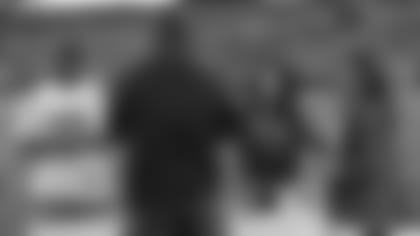 Jacob told her he won a contest to play The Dating Game for a chance to win a gift card to Diamonds Direct. They were escorted down to the field and during the first commercial break, Colts reporter Caroline Cann asked them questions about each other and they turned their cards over to reveal their answers.
The last question was, "Where did you get engaged?"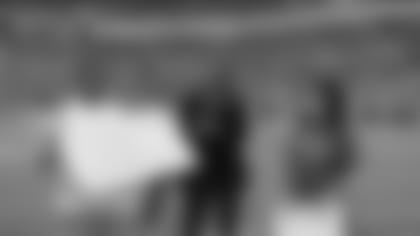 Puzzled, Harley looked at Jacob – who flipped a card over that said Lucas Oil Stadium.
"It still didn't click in my head because I was like, 'He's not proposing now. We already talked about it. It's not happening today,'" she said.
Then, he got down on one knee – and asked her to marry him.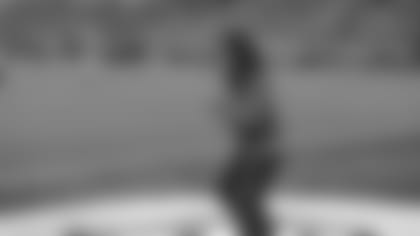 The ring, courtesy of Diamonds Direct, was the grand prize in the With This Ring contest.
"How many people can say that they got proposed to in front of a football stadium full of people?" said Robert Violante, General Manager of Diamonds Direct Indianapolis.
When he read Jacob and Harley's story to his team, it brought tears to their eyes. He knew they had a real love story – and a winner.
"They were pulled apart by separate calls of duty in the military and she's struggling with some health conditions. Just the way that they have come together and stuck it out, they're just really great role models for a great relationship."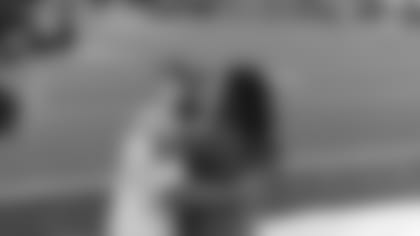 For Jacob and Harley, football helped make them a family.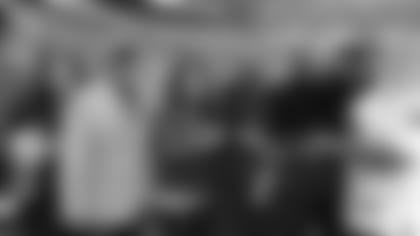 *"If I could ask the girl of my dreams to marry me in front of the entire Colts Nation, I'd be the luckiest man in the world. A Colts game played a significant role in this love story. It is only fitting that the Colts help Harley and I come together for life." *
Congratulations, Jacob and Harley!
We wish you a lifetime of happiness.