Growing up in the Bahamas, Eddy was used to tropical storms.
But when Dorian made landfall there in September, it was like nothing he had ever seen.
"It was like a horror movie," he said. "The first 15 minutes when the windows blew open in the front room, I said, 'This one is very dangerous.' I carried my family to the bathtub and let them stay there. Me and my brother-in-law and one of my wife's cousins, we were holding a mattress against a window trying to protect the family."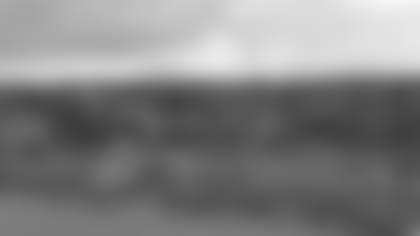 For more than 40 hours they battled Mother Nature without food or sleep as the category 5 hurricane spun overhead.
"When you hear a lion roaring outside, it's like, 'I'm coming for you.' It was that kind of wind," said his wife, Madna. "We had to sit down in the bathtub, which was the only safe place for me and the children. We sat there for hours while they fought for that last window. They said if they let the last window go, the whole house would come down. The roof was already practically gone."
As they fought, the water around them rose - by 15, 16, 18 feet.
It was starting to feel like a losing battle.
"I remember telling them, 'Come in the bathroom and let's die together,'" Madna said. "A couple minutes later, I saw a little sunshine. That was after the eye passed. We managed to come out, but there was nowhere to go. Everything was water and all the houses were down."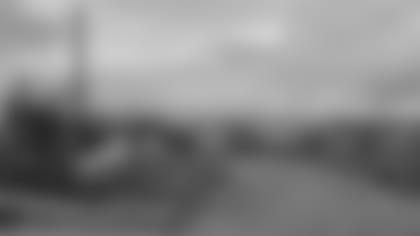 For days they sat as the cold rain poured over them.
Eventually, the Coast Guard showed up and took them to safety in Florida with only the clothes on their backs.
Madna's aunt, Rosemary, lives in Indianapolis. She offered to take her, Eddy, and their three children in while they rebuilt their life.
"We're adapting slowly," Madna said. "One day at a time."
Growing up, some kids dream of being a doctor. 
Some kids dream of being a football player.
Kenneth Garrison dreamed of being Santa Claus.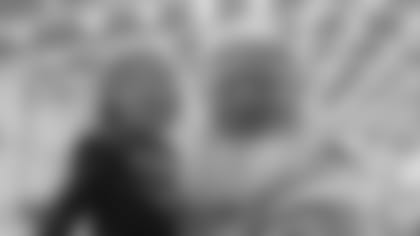 "You watch all the kids' shows and I'd be like, 'I want to fly a sleigh. I want to give toys away.' I've always wanted to do that," he said. 
Five years ago, he got the chance. 
"My mom passed away and a guy at my church came up and said, 'Hey, would you mind being Santa Claus?' I said, 'For what?' He said, 'For Family Services of Putnam County.' He said, 'I've been doing it for years, but you look like the real McCoy.'"
What started out as a few visits turned into the whole month of December. 
"It takes certain things to be a Santa. You've got to have it in your heart. After my mom died, I kind of felt like the Grinch. I think my heart grew like five times," he said. "There's just something about giving back."
A network specialist for the North Montgomery school system, Kenneth met Trey Mock, the man behind Colts mascot, Blue, when he showed up to do his 'Choose Love' school show.
"I came down to the gymnasium to listen to it and thought he could preach that in church," he said. "It was so awesome, really heartfelt. I waited for the gymnasium to clear and I went up to him and thanked him and told him I hoped I could use some of his material in what I do. He asked me, 'What do you do?' I showed him a picture of myself as Santa Claus and he goes, 'I shouldn't have even asked. You look just like the dude.'"
As it turned out, Trey was looking for a Santa.
"He said, 'How would you like to play Santa Claus for the Indianapolis Colts?' I was like, 'Are you kidding me?'"
For 14 years, Trey Mock has come to work every day as Colts mascot, Blue. 
Four years ago, he and his wife, Alison, made a major decision - to downsize their life and give back in a major way by bringing Christmas to families in need.  
"It started with just me and Ali," said Trey. "But then it spread very quickly to our good friends that are now family."
It began with a few people and a few days and grew into a week of shopping, wrapping, and celebrating the season of giving - by doing just that. 
This was the third year Barbara Humes and her daughter, Samantha, have been involved. 
It's one of the highlights of their year.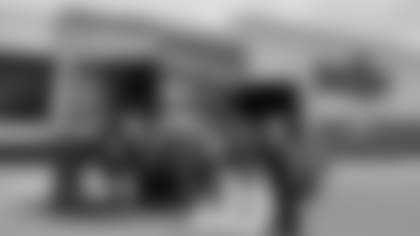 "You get these lists and you're racing through, trying to find things for everybody," Barbara said. "And you start getting attached to the kids. You think, 'I can't wait to see them.'"
"We have a whole day that we do a lot of shopping and you start to get to know the names and the preferences of the kids - they like Frozen, they like Transformers," said Samantha. "And then, when they walk in the door and you introduce yourself and they introduce themselves and all of the sudden you realize, 'Wait. This is the little girl we bought this for. This is the little boy we bought this for.' There's a face."
On Saturday, November 30th, eight families gathered at the Indiana Farm Bureau Football Center to have their Christmas wishes granted by people they had never met.
"The repeated line I hear every year is, 'I don't make wish lists. I don't have my kids make wish lists because we haven't been able to wish,'" said Stacy Lozer. "We've had everything from requests to get towels, winter coats, a deep freezer so they can buy food in bulk, beds, bedding, clothing - the essentials to many of us, but they're things they truly want and will make an impact. And of course, every family gets toys."
But the real gift isn't something you can buy in a store.
"It's 16 adults and 31 kids who have never met," Lozer said. "And you see them out there playing kickball, decorating cookies, running around, becoming friends - and that's the spirit of Christmas."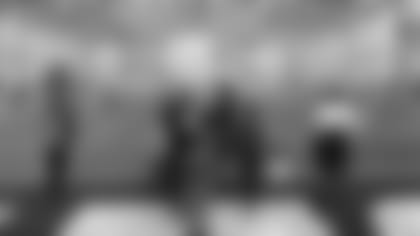 "It's amazing to watch not just the eight families we invited here, but all the families that are participating and putting this event on," said Trey. "All these families blend into one family. Political differences, what team you cheer for - because not all these people are Colts fans - it doesn't matter what your background is, we can all get behind the fact that everyone needs love and the Indianapolis Colts are based on love. We just want to give it back."
Three months after losing everything they owned, Eddy and Madna were chasing their toddler on the Colts practice field while their two older children played kickball.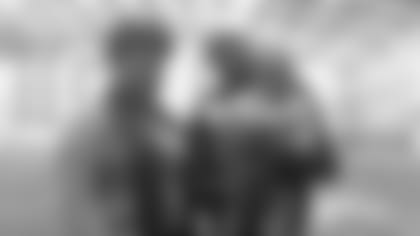 "I really thank God for the people he's brought into our life because it's been a blessing," said Madna.
For the Mock family, the blessing is blessing others. 
"I love meeting these families - hearing their stories and getting to meet them in person," said Ali. "And just having a fun night with them - playing and eating and being able to provide these presents for them is such a blessing for us to be able to do."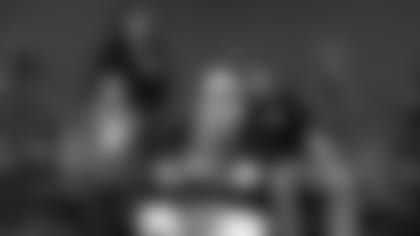 "When we moved to downsize so we could financially afford to do stuff like this, Tegan was 6 months old. And tonight, she asked me for the microphone and she said, 'Merry Christmas, everyone,'" said Trey. "We are not football players. We are not celebrities. We're just normal people. But normal people can make an impact and should make an impact."
The true meaning of Christmas is bringing people together in the spirit of love, hope, and joy.
And it doesn't take the magic of the season to do it.