On Giving Tuesday, the Colts teamed up with Methodist Sports Medicine to brighten the holiday season for men at the Wheeler Mission.
"It's called 'Our Hearts To Your Soles,'" said Dr. David Porter. "We have about 25 of our employees here volunteering. We've got 400 to 500 pairs of shoes and over 1,000 pairs of socks to give away and hopefully, provide some protection and some comfort for these men who are in a spot where they need some help in a way that we can provide."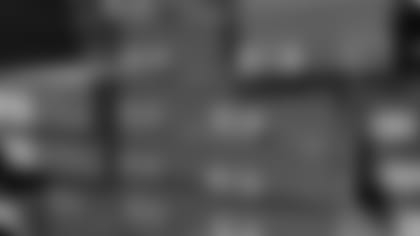 A pillar in the Indianapolis community for 125 years, the Wheeler Mission provides help, healing, and hope for those in need.
"They're really the heroes in this process," Porter said. "We just want to support and give to the men here, but also give to the Wheeler Mission and support them in all the work they're doing."
They started from the ground up - outfitting more than 300 men at the shelter with new socks, shoes, and boots just in time for winter and the holiday season.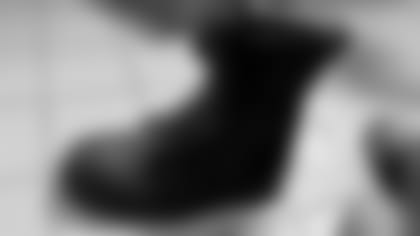 "We give them a quick foot exam, give them some quick pointers about foot care and taking care of their feet," said Dr. Jonathan Smerek. "But mostly that they have good, supportive shoes and boots on because most of them are doing a lot of walking. Some of these guys say they walk five to 10 miles a day. So, it's pretty critical."
Representing the Colts was linebacker Bobby Okereke. 
This may be his rookie season in the NFL, but giving back is nothing new to him.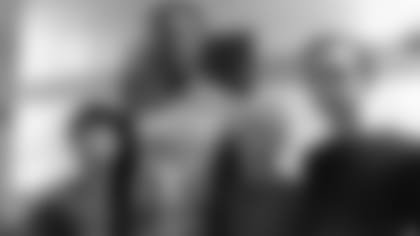 "I started in the Boy Scouts when I was 6 years old and I was in it for 12 years, so community and service is kind of engrained in me," he said. "With the hype around the draft and all the excitement, it's nice to get grounded, see where you are in the city, and start doing the community outreach."
And because it's also his rookie winter season, the California native was hoping to pick up a few pointers from the men. 
"It was cool meeting those guys," he said. "Some of them are Colts fans, some weren't. They all had interesting personalities. It was great meeting and connecting with them."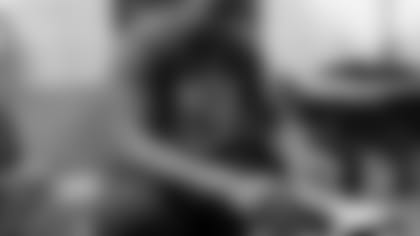 He didn't just chat with the men. He got hands-on, fitting them with socks, shoes, and boots.  
"I wish we could have given them more because some of those guys are living through some pretty unfortunate situations," he said. "It was really humbling and a great experience to give back to them and make their Christmas holiday and winter a little better."
As players, Okereke and his teammates have the best of everything - from equipment to medical care.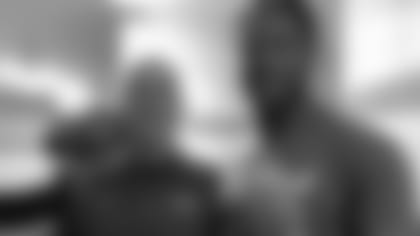 "We're very blessed to be with the Colts," he said. "We're thankful to the Irsay family for all the support they put around us. We're definitely fortunate and that's why I'm here giving back."
In giving back, the volunteers got just as much in return.
"You learn a lot from them. You learn about gratitude. You learn about appreciation. We all need help. We all need assistance from other people," Porter said. "We all have ways in which we can give back and this is just a way that we can give back and we appreciate it and we enjoy it and it's a great opportunity for us."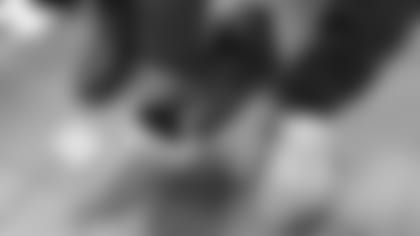 So much so, they couldn't accommodate the demand to help out. 
"We have to turn away some of our employees," said Porter, "because we just can't have as many people down here as want to be down here." 
Like anything worthwhile, making a difference takes teamwork. 
"You can't do something like this with a couple of people. We have a lot of support from BSN, who provides sport shoes, Dr. Comfort, who provides casual shoes, and Red Wing boots, which are really helpful for this winter season," Porter said. "And the Indianapolis Colts have always been a supporter for us and for this program. They provide over 1,000 pairs of socks."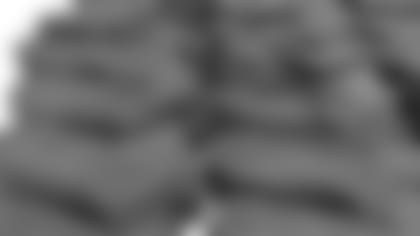 For the Colts, it's not what they do - it's who they are. 
"Starting from our mantra of getting one percent better - that's getting better as a football player, getting better as a person, and getting better in the community," Okereke said. "Events like this are really good to be involved in."
From their hearts to their soles, the Colts and Methodist Sports are invested in the Indianapolis community.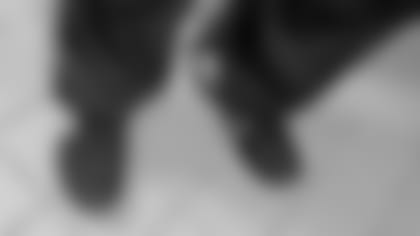 Helping men at the Wheeler Mission was a perfect way to kick off the holiday season and help everyone start the New Year on the right foot.