The best things in life often come when you least expect them. 
That's how Jake came into Emma Zieverink's life five years ago. 
"I was living in Ohio at the time. I was going through a crazy life thing and my mom had gotten into the habit of replacing all of us kids with dogs," she said. "I just had a terrible roommate situation and ended up having to kick her out. My mom was like, 'How would you like a new roommate?' And I was like, 'What?' She said, 'Yeah, I've got this roommate, he's a boy. I think you'll love him. Come home tomorrow night and we'll introduce you to him.' I was like, 'Mom, absolutely not!' I go home and it's Jake."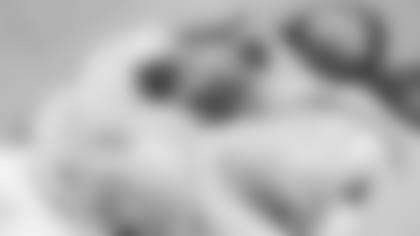 Her first impression of the tiny Yorkshire terrier puppy?
"He was this one-pound, dirty cotton ball. I was not thrilled about it at first."
But she gave him a chance - and he stole her heart.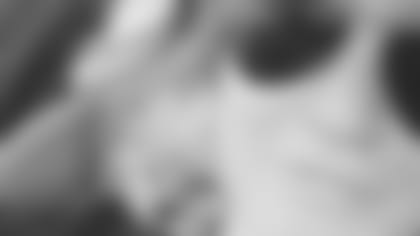 "He's got the worst case of Napoleon syndrome. But it's the best. He's his own man - and he's just the greatest. He ended up being my best friend."
Which made it that much harder when she got a job opportunity in Atlanta that required her to travel four or five days a week. 
"He ended up living with my parents to give him a little better life than living in a condo in the city with no yard," she said.
But life was about to hand Emma another surprise. 
While she was missing her little man back home in Ohio, a big man stepped into her life - Colts center Ryan Kelly.  
"Ryan and I are actually from the same hometown. Our parents' homes are five minutes from each other. We didn't know that though," she said. "He was in town for a wedding and I was living in Atlanta and we met each other at a bar and then connected all the dots later. It was really, really crazy."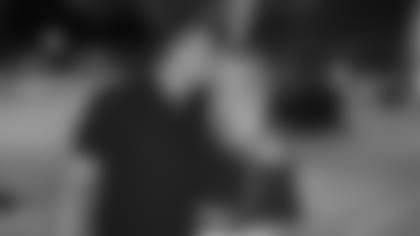 When it came time for her little man to meet her big man, it went better than she ever expected. 
"They just had this immediate bond," she said. "Every time Ryan and I would go to my parents' house, Jake would lose it. He always chose Ryan's lap to sit in. My dad always jokes, 'Who wouldn't want to sit in his lap? He's like the big, comfy couch.'"
After a year, Emma moved to Indianapolis to be with Ryan - and be reunited with Jake. 
"We started taking turns with him for a month or so. And then I'd bring him back home to my mom and Jake would just cry," she said. "So eventually, Ryan and I just stopped taking him back home."
Jake is now a permanent resident - in their home and on Ryan's lap.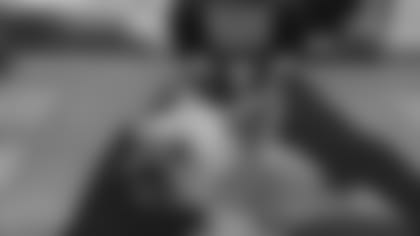 "I didn't think I was going to be a small dog guy," Ryan said. "But he came to live with us and we became besties."
Ryan doesn't really see Jake as a small dog. 
"He's got such a big personality," he said. "We call him the head of security because as soon as the doorbell rings, he's at it. He's got to know what's going on at all times. He's a way bigger dog in my eyes."  
Jake doesn't see himself as a small dog either. 
"Ryan's a big dude and Jake thinks he's a big dude, so I think that's another reason he's drawn to Ryan," Emma said. "He's trying to be like him."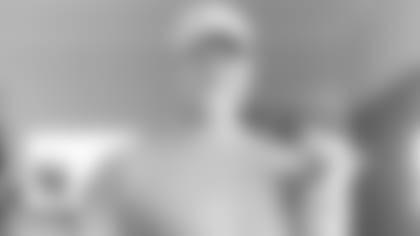 Watching Ryan embrace his role as a dog dad has warmed Emma's heart.
"This has strengthened our relationship because I can see what kind of a dad he's going to be. He's thoughtful. He assumes all duties with Jake. I don't even have to ask - he assumes duties the second he walks in the door," she said. "He takes Jake on walks, which is hilarious. The size difference with Ryan walking him - our neighbors will stop and look and take pictures because it is so ridiculous to see the two of them together."
Ryan picks Jake up from doggy daycare whenever he gets the chance.
"When I pick him up, I always try to put him in the passenger seat and he hates it," he said. "He runs across and finds a little nook in my arm and he'll just pass out."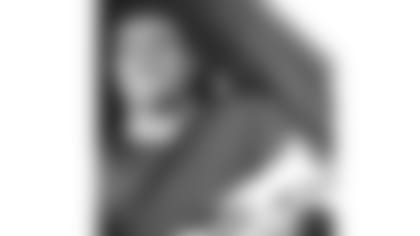 And when they get home, it's playtime. 
"Playing tug-o-war with him just takes your mind off of football and stuff," he said. "He's got a lion, a turtle, a mermaid, and Baloo from The Jungle Book and he loves to rip their ears off."
They also love snack time. 
"You get those two on the couch with some popcorn and it's game over," Emma said.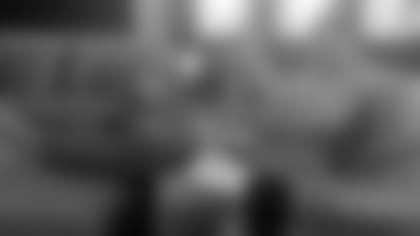 She admits that at first she was a little worried about whether Jake and Ryan would bond.
Now, she feels a little like an outsider.
"Any time those two are around each other, I'm third wheeling it," she said. "Those two are inseparable from the time he comes in the door. It's gotten to the point where in the morning, he'll get up and scoop Jake up and give him a kiss and ask him how he slept before me. I'm like, 'What is happening?'"
Dog ownership wasn't something Ryan was seeking at this point in his life, but Emma and Jake were a package deal.
"It was me and the dog, whether he liked it or not," Emma said.
How he's embraced them both says everything about him.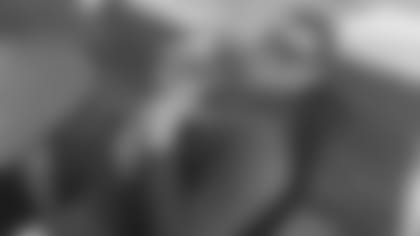 "It's made me fall in love with him even more," said Emma. "He's just so thoughtful and sweet and it's not just with me - it's with Jake too. He just goes above and beyond always."
Fate brought Emma into Ryan Kelly's life - and she brought Jake with her.
"It's the three of us now," she said.
"We're definitely his parents," he said, "his humans that he loves."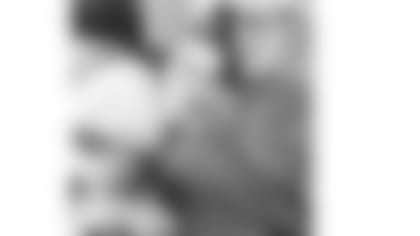 Together, they're a family, a pack, a team.
But they know who calls the plays.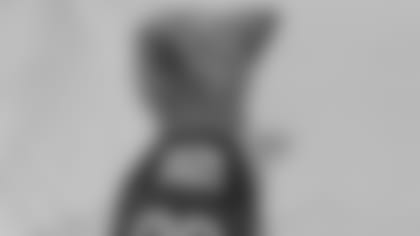 "Jake definitely runs the house," said Ryan.
And they can't imagine it any other way.