"Wow, I'm jacked," laughs Chris Ballard. "I haven't slept in three nights. After the interview, I came in and my mind just wouldn't turn off. And then after I left here last night I haven't had a lot of sleep because of the excitement level."
Owner Jim Irsay introduced Ballard as the new general manager of theIndianapolis Colts during a press conference at the team's headquarters on Monday.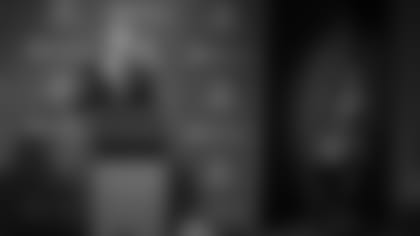 Ballard grew up in Texas City, Texas and fell in love with football at an early age while playing the game himself.
Speaking in front of Colts employees and the media, he thanked his mother, Jacque, and stepfather, Ossie Matthews, who had a big influence on him growing up, for not only allowing him to play football – but for encouraging him.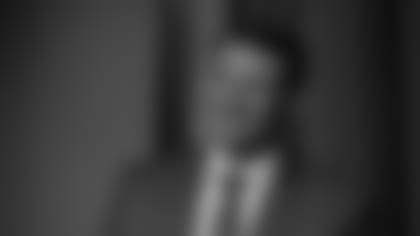 "I was a severe asthmatic growing up and (they) allowed me to play football when doctors told me not to and let me really chase my passion in football when sometimes I wasn't making any money they both would look at me like, 'Are you nuts?' But they still let me do it."
Joined by his wife, Kristin, and five children, Kierstyn, Cole, Sunnie, Cash and Rainn, Ballard was quick to thank his family, who – like him – seemed more than ready for the challenge ahead.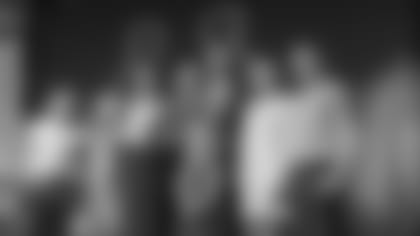 "They have sacrificed a lot for their father," he said. "I have moved them twice in the last six years and they have been troopers and never once complained. They just jump on board and get ready for the journey and that's what it's about."
Along with loyal ownership, a good city, and strong organization, Ballard said where to raise their family was a key part of the decision.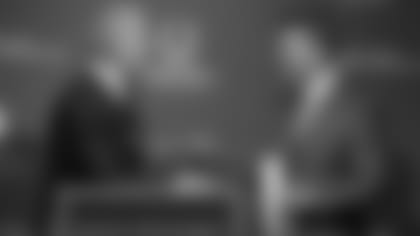 "My family is very important to me and where we end up and the city we live in is critical. So a Midwestern city like Indianapolis is very similar to Kansas City. A good family environment to raise children, that was very attractive."
After playing football at the University of Wisconsin for four years, Ballard got into coaching at Texas A&M – Kingsville before transitioning into personnel. He worked in scouting for the Chicago Bears and Kansas City Chiefs, where he was promoted to director of football operations before being hired by the Colts.
While the job itself is complicated, Ballard's philosophy is simple.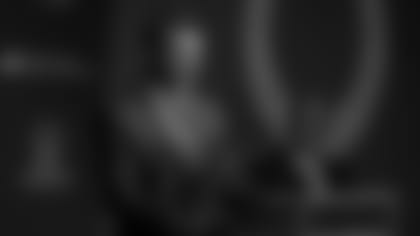 "Everyone will have to understand that we are all a part of something bigger than ourselves and that every decision we make will be in the best interest of the horseshoe. It will never be about one person; it will take all of us to come together as one."
That includes current and former players.
"To our past players, who have created such high expectations and high standards, we will make you proud of the team that we are going to build together and know that you are always welcome back here in Indianapolis," he said. "I think it's very important to bring back the former players and get them around our current players so they understand the history and the high standards that have been set by the past successes."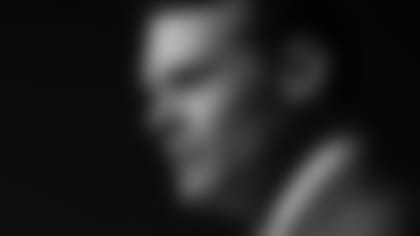 Described by many as a people person, Ballard talks about players as people first. Influencing others, he said, and making a difference in their lives isn't just part of his job, it's a part he's passionate about – it's part of who he is.
"I care about our ex-players in this game and I want to help them find their life's work. I want to help our current players find their life's work. I think that is very important."
He's only been here a day or so, but Chris Ballard gets it already. He understands how important our history is to us and how much our former players mean to us.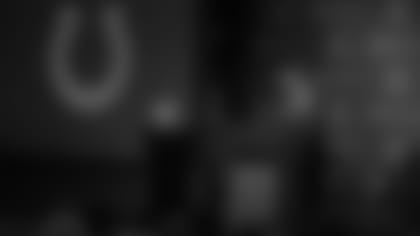 At the same time, he knows it's about building that next team and writing that next chapter in Colts history.
So that someday when he talks about a championship team, it's the one he helped to build.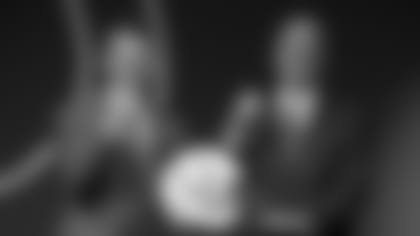 Welcome to Indianapolis, Chris, Kristin, and family. We couldn't be happier to bring you into the Colts family.