It's here – the 2017 NFL season has finally arrived. The Coltsare back at Lucas Oil Stadium on Sunday. And there's so much to do, there's so much to see, there's so much to eat!
While the Colts have been preparing and practicing for the new season, so has Centerplate. The food and hospitality provider unveiled their new lineup for the 2017-2018 season a few weeks ago. And on Wednesday, they invited members of the media out to Lucas Oil Stadium to taste the new menu items along with some returning favorites.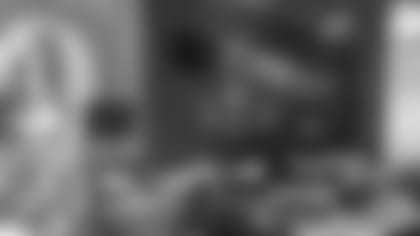 "Our motto is that we make it better to be there. And that means that we make the experience memorable, we make the experience local, we make it feel like when you come to a Colts game, you're really getting a taste of Indianapolis. You're getting a real feel for the city," said Centerplate spokesperson Paul Pettas.
The lineup for this season features six new items – mini beef, chicken, and veggie tacos, pulled barbecue chicken and barbecue beef sandwiches, Johnsonville hot and spicy sausage, turkey burger topped with coleslaw on a pretzel bun, and quesadilla eggrolls. Returning favorites include garlic fries, chicken panini, spicy chicken sausage dog topped with coleslaw, and loaded tater tots.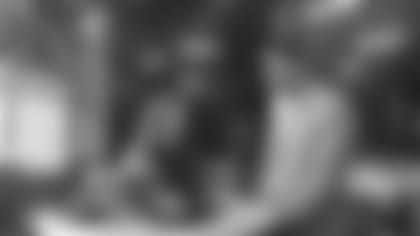 "There's a huge variety and I think it really speaks to the Indy foodie culture," said Nina Criscuolo, reporter and anchor for WISH-TV8. "Indianapolis is all about food. And I think we like to see twists on old classics and chefs being able to show their creative side, even at a sporting event – and this really shows that."
So, what were her favorites?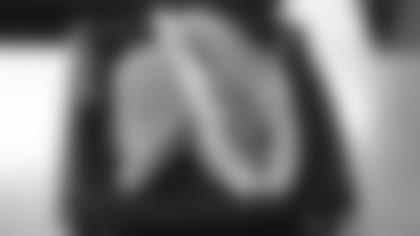 "I really liked the chicken panini sandwich with sundried tomatoes. That was really good, but I'm kind of a panini girl. And then I think the veggie taco is going to be a big favorite among people looking for something lighter or maybe vegetarians," she said. "Because coming to a sports event, I think that's an area where sometimes you think, 'Oh, all I can get is nachos or French fries.' And that's something that has a lot of flavor, it's really good, it's lighter and it doesn't have any meat on it."
But if she had to narrow it down to one choice?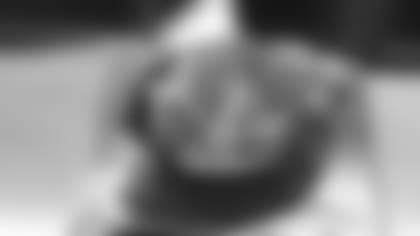 "I like the tots a lot. You think about fries and tater tots and it's usually just going to be a basic dish, but with the cheese and bacon and the sour cream, it's like a baked potato, but better and easier and just delicious."
Marc Mullins, anchor and reporter for RTV6 keeps it pretty basic when it comes to game day food.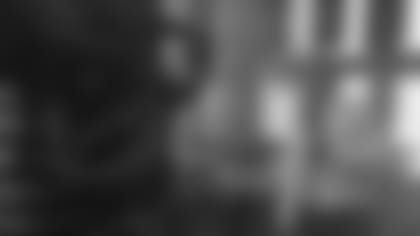 "I'm a classics guy, so I'm always good with hotdogs with ketchup and relish, but it's good to see that the menu has expanded," he said.
And some of the new takes on the old classics were a hit with him.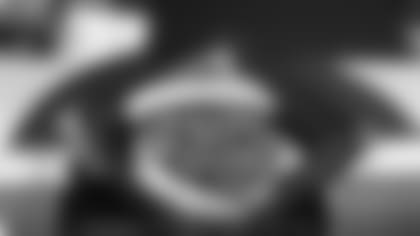 "Loved the barbecue beef. That's a good pick. And I've got to tell you, the chicken sausage with the coleslaw on top was pretty good too," he said. "I think fans are going to be pretty impressed."
Even an old school guy can shake things up a little.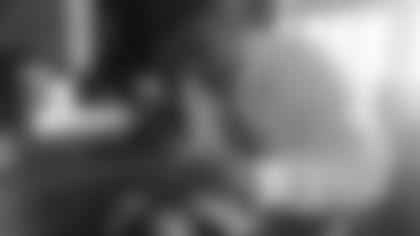 "Now that the options are here, you can't say, 'I'm just going to get the standard every single time,'" said Mullins. "You've got to try something new – live a little."
You hear more about the food at baseball and basketball stadiums, said Liz Biro, food and dining reporter for the Indy Star. And there's a good reason for that.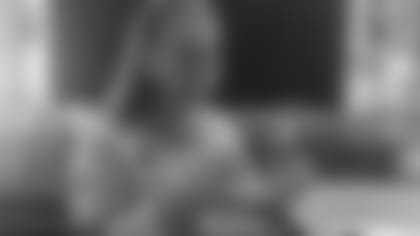 "Football stadiums are all about the fans and they're so into the game that they don't always think about food," she said. "You're there to cheer the team, you're there to stuff your face, you're there to drink your beer, have some soda, whatever it is you enjoy and just throw down and have a good time with your friends."
But that doesn't mean you can't do all that while enjoying some great food.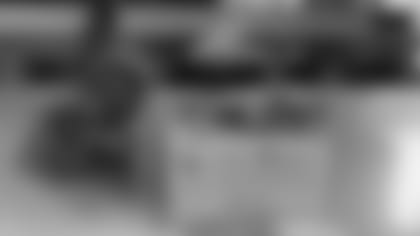 "I'm a big fan of eggrolls because they're easy to hold. You can hold up your number one sign and your number one finger and still have your eggroll in one hand and say, 'Go Colts!' It was really nice," said Biro of the quesadilla eggroll. "It was moist, it had a lot of spice to it, which means I can have a great drink, a great beer with that or something."
Dogs are always a hit at the stadium. And there was one in particular that grabbed Biro's attention.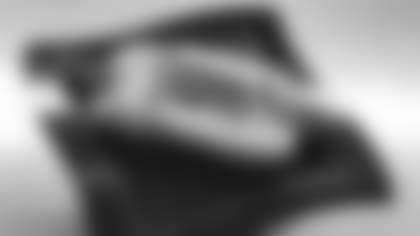 "This chicken dog with the slaw is so colorful and so beautiful, I was drawn to it immediately. It was the first thing I wanted to taste. It's a fan favorite to have a dog, but then it's kind of dolled up, feels a little healthy with that slaw on it. And then just really juicy and wonderful in a great bun."
Stadium food is a staple for Colts photographer Matt Bowen while traveling with the team. So, he appreciates having options on game day that don't necessarily scream football food.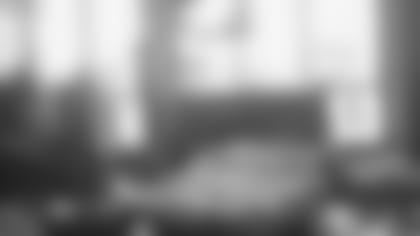 "Everything was very tasty. It didn't taste like stadium food. It tastes like you're in a restaurant and you're ordering a nice dinner, but in smaller bite-sized portions."
"It's nice to know you can skip going out beforehand, come here super hungry and actually have a decent meal," said Criscuolo.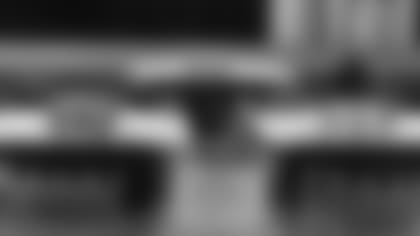 And don't worry, your old favorites are still there too. See you at Lucas Oil Stadium on Sunday!
And just so you know – you may want to skip breakfast.
For more photos of the new menu items at Lucas Oil Stadium, click here.