On Sunday, Reggie Wayne became the 15th member of the Colts Ring of Honor. 
And the celebration lasted all weekend long.
The former wide receiver gathered with friends, fans, former teammates, and members of the Colts organization at Gary Brackett's CharBlue Steakhouse on Friday evening for a dinner and auction to benefit the Julian Center.
"When Reggie came into our league, he came in very quietly. He was our first round pick in 2001, but we didn't pick until number 30. In 2001, there were six wide receivers chosen in the first round and Reggie was the sixth. We knew that we stole Reggie," said Pete Ward, Chief Operating Officer for the Colts.
Reflecting back on Wayne's career, Ward remembers the game in 2003 when it all took off. 
"Our regular season opener was at Cleveland and the Browns had just tied the game late in the fourth quarter. It was 6-6 and Peyton is driving us down the field. There's two minutes left and we're at midfield and it's third and 10, critical down. Peyton fires a bullet at Reggie, 15 yards downfield at Reggie's shoelaces. And Reggie, with his legendary fingertips, digs that ball out of the dirt and makes the catch."
Reggie Wayne's hands made him famous. But it was his heart that endeared him to Colts fans.
"Throughout my career playing, it was never about football," he said. "It was always about the stuff I did in the community and then the impression I left on my teammates and my peers."
The impression he left was undeniable – selfless, hard working, the ultimate teammate.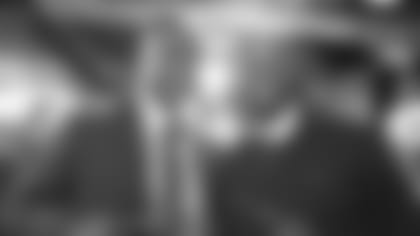 "He's humble. He didn't say much. He let his play talk for him. That's a unique thing for a wide receiver," said former cornerback Marlin Jackson. "He brought out the best in me. He caused me to train harder, to study harder because I went up against him every day in practice. When you go up against somebody that's one of the best at what they do, it causes you to work at a different level."
"I think of a great teammate. I think about the ultimate Colt. I think about the ultimate competitor. I just think about a guy who really was a staple for the Colts and also the community for over a decade here in Indianapolis," said former linebacker Gary Brackett. 
A teammate who lifted up everyone around him – both literally and figuratively.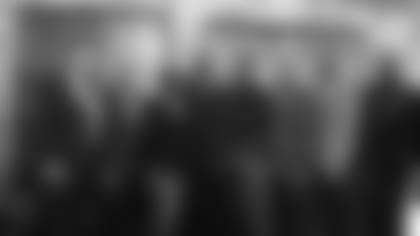 "My last play of my career was an interception against Houston," Brackett said. "I put my arm down and I tore three or four muscles and Reggie was there to pick me up. Just the look in his eyes – he was one of those teammates that was always there for you when you needed him."   
And if he had to, he'd lift the whole team up. 
"The Green Bay Packers game my rookie year, he made some unbelievable plays," said quarterback Andrew Luck. "I think he had over 200 yards receiving, double-digit catches. He caught one, sort of tipped it to himself one-handed. He was wearing the orange gloves in honor of Chuck (Pagano)."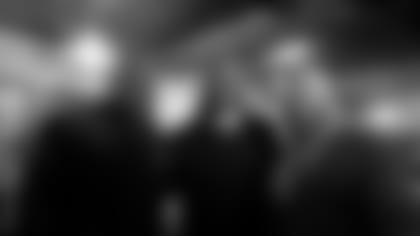 "He led the charge. He put the team on his back that game," said former linebacker and current coach Robert Mathis. "We were heavy underdogs and we had to play up to his standards. We were able to do it and get the win and it was for a good cause and put a smile on Chuck's face."
There's no one that memory means more to than Pagano himself. He showed up on Friday to tell Wayne in person.
"Reggie, you inspired so many different players and people to be so much better than they were," he said. "What you did for me that day, it inspired me to beat the cancer that I had, that disease that I had. I said, 'You know what? If he can do that, I can kick cancer.'"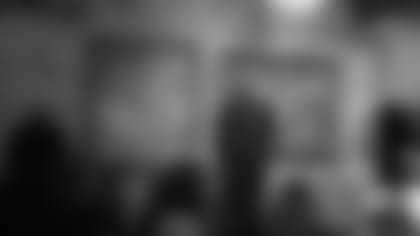 Kicker Adam Vinatieri calls Wayne one of his all time favorite teammates. 
"He worked hard, fun guy to be around, and just an all around awesome athlete. He made the guys around him better. He was always teaching the younger guys and helping out and doing everything right." 
"When I caught my first touchdown pass on Monday Night Football against the Eagles in 2014, I dove and scored and lost the ball," said tight end Jack Doyle. "I remember Reggie was the one who grabbed the ball and took it to the guys to make sure I got it the next day. That's him as a person, him as a player, him as a teammate – just looking out for me."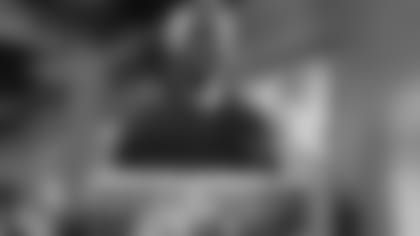 Former tight end Dallas Clark remembers a guy who at first, he had little in common with.
"In the locker room talking about Iowa and he was talking to me about Louisiana and our college experience – how we came from completely different parts of the world. He couldn't wrap his mind around where I grew up and I couldn't wrap my mind around where he grew up."
Through football, they found out they had more in common than they thought and were able to form a brotherhood that will stand the test of time.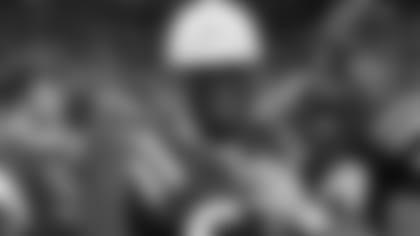 "Playing with a guy who had the exact same passion for the game and that selflessness that he had, he was a great example for all of us to follow."
At halftime during Sunday's game against the Tennessee Titans, Wayne made one of the grand entrances he was known for at training camp – coming out of the tunnel in the sidecar of the Colts motorcycle.
Many of his former teammates were lined up on the field to greet him.
"Colts fans, it's a special afternoon for us here. It's like old homecoming week having everyone in and having this man right here," said Colts owner Jim Irsay. "I know the Pacers down the street had their Reggie chant, but it turned down here to this part of the block for this man. So, one more time, REG-GIE, REG-GIE, REG-GIE…" 
The canvas dropped and the confetti popped to reveal Reggie Wayne's name on the wall of Lucas Oil Stadium – a timeless honor to a lasting legacy.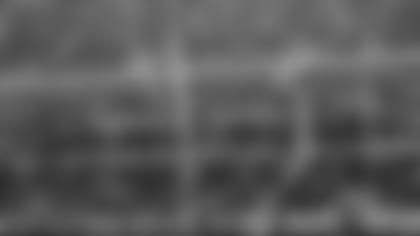 "He's one of the best in the National Football League," said former wide receiver Bill Brooks. "Marvin and Reggie are the cream of the crop. I'm just honored to be up there with those guys."
Reggie Wayne has always had a special place in the hearts of Colts fans. 
Now, he has a special place in the stadium they call home.