It was like one of those holiday movies with multiple storylines that all overlap along the way. Two weeks before Christmas Eve, seven families struggling with different circumstances.
Only this was real life – and in real life, strangers don't just come along and deliver Christmas miracles.
Seven families. Seven miracles. And one thing bonded them all – the Mock family.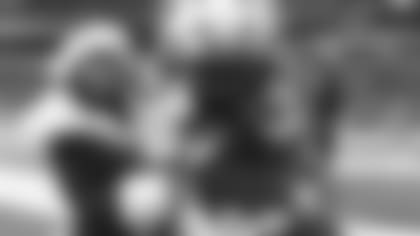 Trey Mock is better known as the guy who plays Colts mascot, Blue.
Now in his 11th season, along with performing on game day, for school shows, and at various appearances every week, he's using Blue to reach out and do more.
"I come home every single day and I have seen something amazing or have been a part of something amazing in the community. And it's obviously through the Colts, but it's also with the platform of Blue," he said.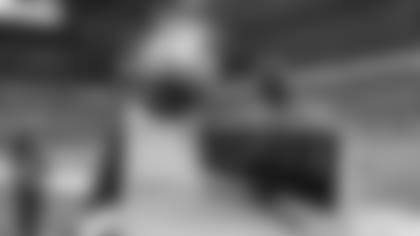 Last spring, Trey told his wife, Ali (a former Colts cheerleader), that he felt called to give back.
"We built this beautiful home in 2013 before our first child was born. I was like, 'Do we need this?' There are so many people that are hurting. I've always had that sense of, 'Is this too much? Should we be doing something else with what we have, with what we've been blessed with?'"
So, with a three-year-old son and a four-month-old daughter, they sold their home and downsized so they could invest more in those around them. And as the holiday season approached, they decided it was the perfect time to do so.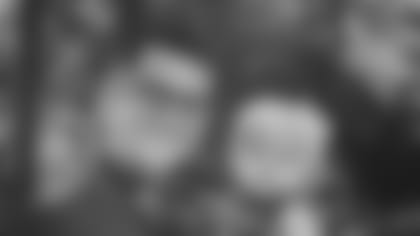 "We've always talked about helping families," said Ali. "We say every year we should do something for other families instead of buying presents for our family because we just don't need anything."
Trey reached out to his friend, Stacy Lozer, because of her contacts in the public schools and the Indiana Department of Child Services.
"We were at an event and he said, 'Can we have a cup of coffee?' And I said, 'Sure.' We'd never had a cup of coffee," she said. "He told me what his family had committed to and when he told me, my heart knew that we would do whatever we could do."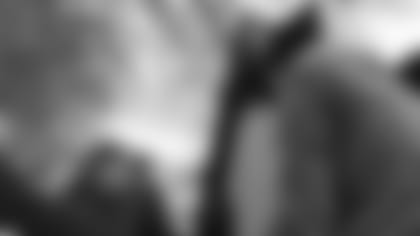 Trey asked Stacy to come up with five families in need of the holiday spirit. She came up with seven families and asked them to choose.
"We looked and we said, 'We can't say no to any of these families. So, we'll take all seven,'" he said.
And that, said Trey, is when the first miracle occurred.
"At the last minute, one of the families had their employer step up and say, 'We're going to take care of all of your needs this Christmas.' So they, with the same type of heart we were trying to demonstrate said, 'Hey, we don't need anything. Go help other families.'"
Along the way, friends and family found out about what they were doing and asked how they could help.
The spirit was alive and spreading.
On Friday, they shopped all day.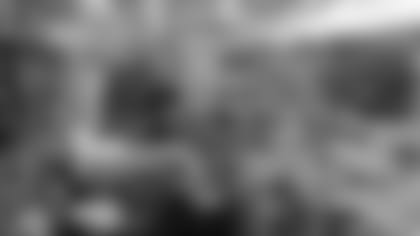 They filled Blue's sleigh.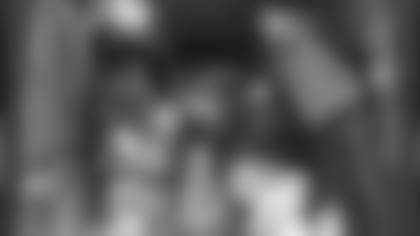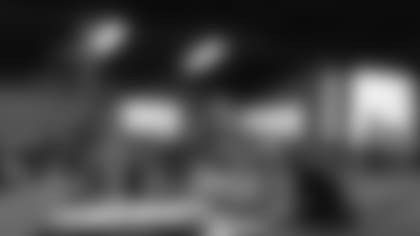 And on Saturday, with friends and family in tow, they set out to bring Christmas to the six remaining families.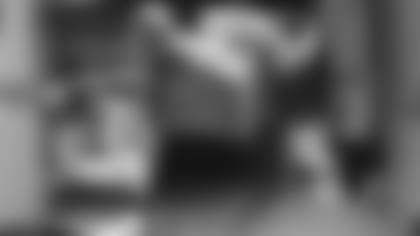 At one home, it was a single mom living with her grandmother, working to finish high school while raising her one-year-old son.
They brought clothes and toys, but what moved her to tears were five months of bus passes. She takes two buses each way to get her son to daycare and herself to school every day.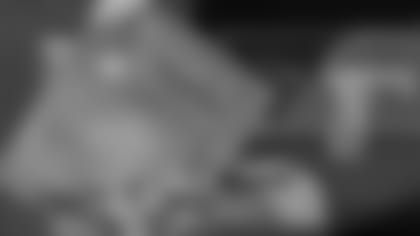 For this young mom, the miracle of Christmas was being able to get to school, her goal of graduating, and starting a new life for herself and her son.
For another mother, Christmas was the pain of wanting to give to her teenage children knowing they deserved it, but not being able to provide it.
After putting gifts under the tree, including tablets for school and an American Girl doll the daughter never let go of, Blue arrived to spread some much needed cheer – but there were also tears.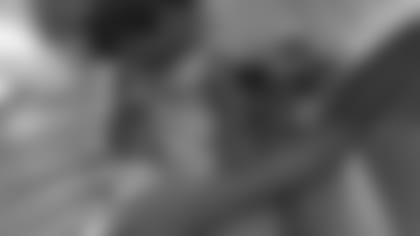 As they opened up, they shared their story. There were three families and five kids living together under one roof – the mom, her sister, and their cousin. Behind on rent, they were facing eviction the following week.
Call it fate, luck, or divine intervention, but the amount they owed was the cash leftover from shopping in an envelope in Stacy's car. When Trey handed it to the women, it was a true Christmas miracle.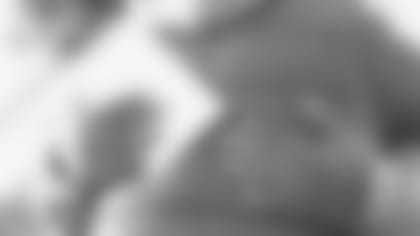 "I feel like some hearts were changed," said Trey. "The boy who was very much the protector of his family and at 13, does not need to be the protector of his family. And then you could just see him at the end become a 13-year-old boy, like a kid at Christmas – and not have to be the man of the house."
When it was over, it was the boy who stood at the door wishing everyone a merry Christmas as they departed with teary eyes and happy hearts.
"After that spirit came through and left, he smiled at us and waved at us and he knew that it was good and that what happened gave them a sense of security for at least 30 more days," said Stacy.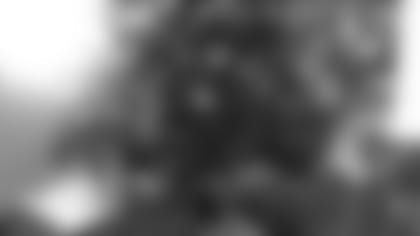 Another mother raising her ten-year-old son has so little to give she wonders aloud if taking in her three-year-old half brother was a mistake.
But what she doesn't see is that she has something money can't buy.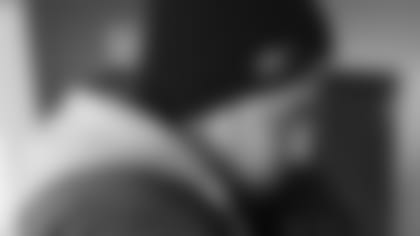 "There are a lot of families that have so much and they're so disjointed or disconnected versus families that have so little but understand the value of family," Stacy said. "And we saw that tenfold."
Every stop brought a little holiday magic – in a big blue suit.
"Bye, Blue," said the 10-year-boy as he waved to him from the front door.
"You're teary-eyed," said his mother as she wiped a tear from his face.
"I don't feel teary," he said, blushing.
A few seconds later he whispered to her, "That was so cool."
"The magic comes when Blue shows up," said Stacy. "There's just something about that – even I get silly giddy at 50 years old when Blue comes in. We all change."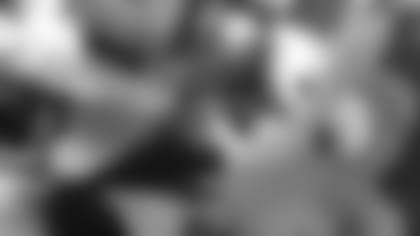 For a grandfather raising his two grandchildren, life hasn't been easy.
His grandkids were three and five in 2012 when he took them in. A year later, he lost the woman he calls the love of his life. He's now raising a seven-year-old girl and a nine-year-old boy on his own. He wants to give them everything, but his income barely allows him to give them what they need.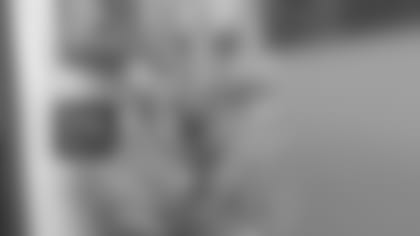 "God has been good to us," he said.
On Saturday, Blue and his crew arrived bearing gifts. They rearranged the living room and added bunk beds for the kids. It was the first time they had beds of their own.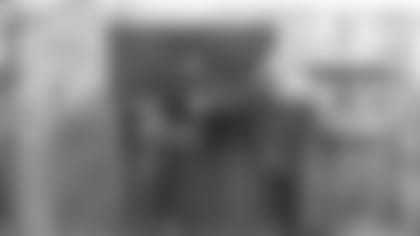 "This is the best day of my life," said the boy. But he quickly changed his mind.
Trey invited the three of them to the Colts game the next day. They sat in the front row. The little girl, who Grandpa calls Princess, rode in the car with the Blue Crew for the t-shirt toss and the boy got to be Junior Blue.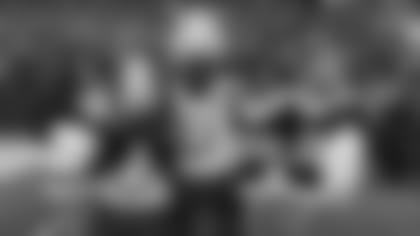 It was the Colts' Christmas game and Blue and his crew delivered gifts to fans in the stands, including a TV for a soldier, a pink unicorn for a little girl, gift cards, electronics, and pizzas.
But for one family, the best gift of all was a memory they'll cherish forever.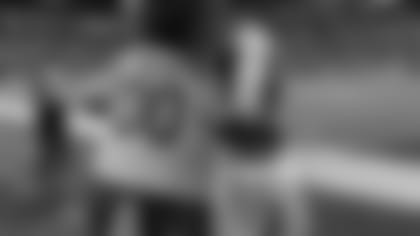 A mother and her five kids flee their home in the middle of the night because it was the moment she knew she had the strength to leave.
Another mother and her four daughters living at an extended stay hotel. It's not ideal, but it's better than living in their car – and they've done that too.
Whether it was a first bed, a first coat, or a first Christmas tree in years – in the end, the biggest gift was hope.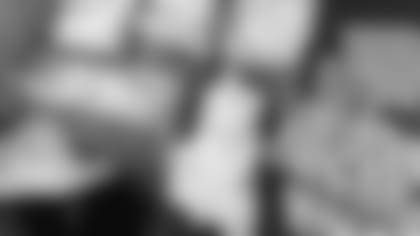 That somebody cares. That somebody loves them. And that anybody can make a difference to somebody.
"I'm a teacher," said Ali. "And he's a mascot. We just made some lifestyle changes and haven't really thought anything of it looking back."
But looking forward, it changes everything.
"If we could encapsulate the spirit of Christmas and hold that with us 365, this world would be a better place," said Trey.
And that's what they intend to do.
Whether it's in God, Santa Claus, a big blue horse, or the human spirit, sometimes you just have to believe.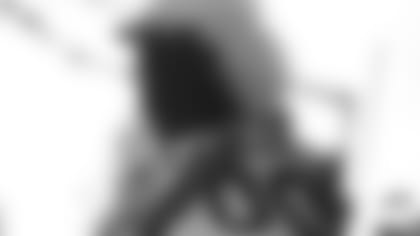 And Christmas is a time to believe.