Gene Huey has a saying, "Pull back the bow string and receive the gift of the story."
Standing on the Colts practice field last year, I engaged the former Colts running backs coach in a conversation. And the story I received was truly a gift.
The longest tenured coach in franchise history, Huey played defensive back in the American Football League and came up through the college ranks coaching wide receivers and running backs.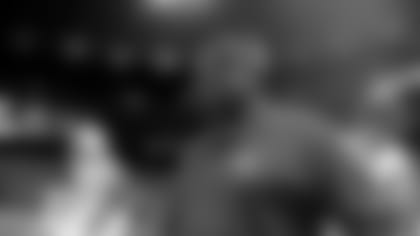 "I ended up getting a chance through Ted Marchibroda and four other head coaches including Tony Dungy to work here at the Colts for 19 years," he said as he gazed at the banners on the wall. "I think I'm correct in my math – of the 21 banners that are hanging up there, I was here for 19 of them."
For Huey, it goes back to his upbringing – in a place that bred many of the football greats.
"There are five quarterbacks in the Pro Football Hall of Fame in Canton from Western PA – there's Joe Namath, Jim Kelly, George Blanda, Dan Marino and Johnny Unitas."
But the player he was most inspired by isn't in the Pro Football Hall of Fame.
"As you grew up in Uniontown, PA, you had people like Sandy Stephens. He went on in his career in college and you watched him on black and white television in the Rose Bowl. He led his team, Minnesota, to the National Championship," he said.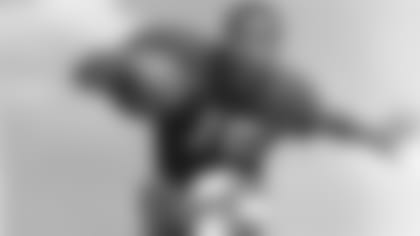 "And then, his childhood buddy at that time growing up in Uniontown was Ernie Davis. He and Ernie were friends growing up as youngsters and Ernie moved away to Elmira, New York at age 12 and went on to Syracuse and played and was the first African American to be voted to the Heisman Trophy. And Sandy Stephens and Ernie were one and four in the Heisman vote getting in 1961."
A second round pick in the 1962 draft, Sandy Stephens had the opportunity to play in the NFL – just not as a quarterback.
"At that time, people who were aspiring to play quarterback who happened to be African-American, it was unheard of. People were not going to allow that to happen, not to go on to the level of the NFL," Huey said.
Stephens did go on to play quarterback in the Canadian Football League. And his story inspired many others along the way, including Hall of Fame head coach Tony Dungy.
"Sandy was a pioneer," Dungy said. "Sandy quarterbacked at a time when it was unusual. He was the first African-American quarterback to lead a team to a National Championship. And he did that at Minnesota."
Stephens inspired Dungy to follow in his footsteps to Minnesota.
"I met Sandy Stephens on my recruiting visit up there. I was 17 years old and I was just overwhelmed because that's what I wanted to do. I wanted to be a quarterback who led my team to a National Championship. I thought, 'It's happened once at Minnesota. That might be the best place to do it again.' He was one of the big reasons I went there."
And when his college career was over, Dungy found himself at the same crossroads Stephens did when it came to his professional career.
"I led the Big Ten in passing and was told I needed to switch to defensive back or go to Canada. I had a chance to go to Canada and could follow Sandy Stephens again in doing that, but I decided I wanted to play in the NFL. So, I switched and became a safety."
But the tide was beginning to change.
"The next year, Warren Moon his senior year, he was the Most Valuable Player in the Rose Bowl. He didn't get drafted either and he had the same choice. He went to Canada, won five straight Grey Cups and then came back and became a Hall of Fame quarterback in the NFL."
Sandy Stephens was an NFL quarterback before his time.
"Probably a different era, a different time, and then years later, it kind of changed and we started seeing quarterbacks with this skillset get more of an opportunity to play in the NFL," Dungy said. "We saw Robert Griffin and Russell Wilson and Dak Prescott and these guys have success. But Sandy Stephens, I would have to say, is the forerunner of all of that."
Coaching would become Tony Dungy's calling. And that's where he would leave his mark.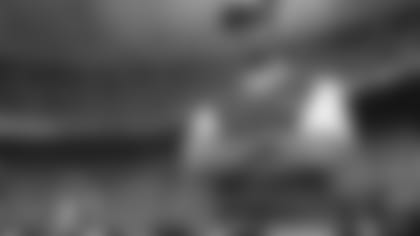 "We're talking about leadership. Sandy doing it and winning the National Championship in college, Doug Williams leading a team to a Super Bowl Championship, that shows that leadership comes in all forms and all colors," he said. "And those were the two last barriers in the NFL – quarterback and head coach. I had a chance to follow those guys and then when you win a Super Bowl as a head coach, that was kind of the last barrier."
Along the way, Dungy inspired others. Just like Sandy Stephens inspired him.
"I had a dream. I wanted to play quarterback in college and I saw that this African-American had been able to do that and do it successfully at the highest level in Minnesota. That inspired me to go there and do it and try it. And now, when I have young coaches that tell me, 'Hey, what you did winning Super Bowl XLI inspired me,' it does make you feel good."
As society changed, so did football. And football helped change society.
Given the chance, could Sandy Stephens have been another great NFL quarterback from Western Pennsylvania?
But the men he inspired know they wouldn't have gone on to make NFL history without him.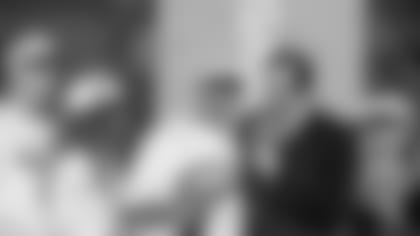 And that itself is a legacy.