Growing up in Hollywood Hills, Florida, at times Jabaal Sheard benefited from the kindness of others – especially around Thanksgiving.
"I remember as a kid, sometimes my mom would go up to the park and grab a turkey," he said.
Today, he's the one providing Thanksgiving for others.
"Growing up, I knew a lot of people that didn't get meals. I just figured it would be a great time to help someone in need."
He teamed up with Jeremy Brown, owner of Nameless Catering, gathered some teammates, and on Monday afternoon – three days before Thanksgiving – they delivered Thanksgiving meals to families from the Keenan – Stahl Boys and Girls Club in Indianapolis.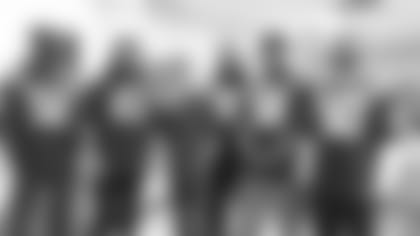 "We're got two boxes – Thanksgiving in a box," Brown said. "We've got all the essentials – salad, rolls, dressings, desserts, and we've got turkey, stuffing, green beans, gravy, everything."
It's not the type of catering Brown is used to doing, but it is something he's interested in doing more of.
"I'm thinking about creating more of these and potentially taking them other places as well – even outside of this special event with the Colts," he said.
But giving back is nothing new for Brown and his company.
"We generally try to donate between $200,000 and $250,000 worth of food each year to various organizations and this seemed like a pretty great one to do," he said. "Child hunger is a real thing. And especially around the holidays, it's that much worse. So, any time we can jump on things like this… "
And so were Sheard's teammates.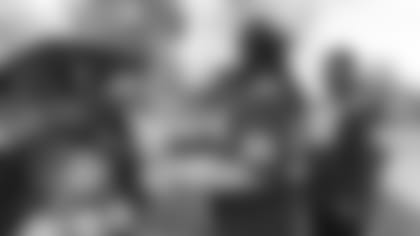 "These guys, they're always giving back in certain ways and hopefully it blesses them too, to be able to be out here and help give back," he said.
"Family and food – those are two big things you think about when you think about Thanksgiving. Spending it with the ones you love and eating the food you love," said Tarell Basham.
It's something many of us take for granted. But for Travis Clark, giving his daughter, Rylie, a traditional Thanksgiving dinner just wasn't in the cards this year.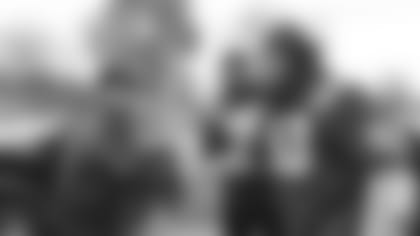 "It's really hard for me because I'm raising my daughter and I'm a disabled American veteran and I'm on a fixed income," he said. "It's really nice because without this, we'd probably be eating bologna sandwiches."
A welder who helped build the retractable roof on Lucas Oil Stadium, Clark never imagined that the Colts would end up giving back to him.
"This is absolutely wonderful. It's a wonderful thing to gather the community together and have the boys come out and do what they do," he said.
For Sheard, it's who he is.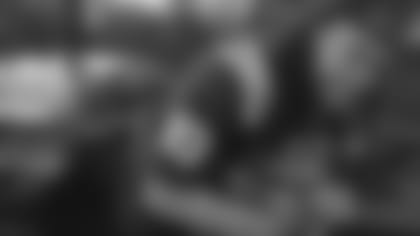 "I'm just trying to give back. It's always been in me. I've always wanted to give back and help others."
Gratitude is what drives Jabaal Sheard. It started with others helping him. Now, life has come full circle. He started a foundation, the Jabaal Sheard Foundation, to give back to single parent households and at risk youth.
"To see these little kids smile and families happy – hopefully, they'll sit back one day and they'll appreciate it."
It may even inspire them to give back – just like it did for him.