In 2016, Colts mascot, Blue, did something that had never been done before. He brought the NFL mascots together in Indianapolis to share ideas, support one another, and raise the bar on all of their programs. 
It was the dream of Trey Mock, the man behind Blue, that the NFL Mascot Summit would become an annual thing. 
Three years later, it has.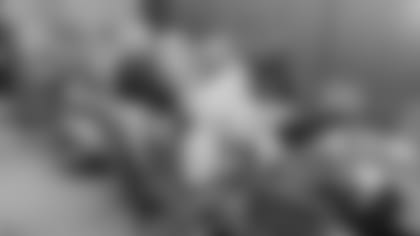 "Summit is an opportunity for us to get together and do deep dive conversations on different things," said Mock. "I think bringing in a new perspective is important and each year, we've brought in guest speakers to give us an outside viewpoint or maybe even an internal one."
This week, Mock invited Roger VanDerSnick, Chief Marketing Officer for the Colts, to speak to the group on the direction of the NFL, marketing themselves and their programs, and building relationships with their executives.
"To be able to not only hear from an executive, but then have a Q and A afterwards – which we did for probably 20 minutes – that was a huge thing for them," Mock said.
He also brought in mascots from other leagues – Stuff from the NBA's Orlando Magic and Bailey from the NHL's L.A. Kings.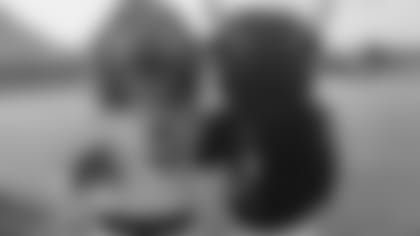 "I just felt like we needed to get a perspective from another league's mascot. What are your best practices? What are you guys doing that you really like? What are you doing that you don't really like? Are there any things that you do in your league that might lend itself to our league that we've never thought of?"
The man who plays Bailey was blown away by the summit, the guys, and the way they all interacted.
"When they share their best practices, everybody is listening and everybody is paying attention. You can tell that they're really interested in how that can work for them and not just trying to one up each other like, 'You did that, but I did this.' It's more of an, 'Oh my gosh, this is great. We can all work together and build it for everybody as a whole.'"
He even took some ideas back himself.
"I'm excited just to go back and tell the NHL guys what took place here. It doesn't even matter if I got one idea for me to use, I got an idea for the whole thing," he said.
For Andrew Johnson, the man behind the Texans' Toro, the Mascot Summit is something he looks forward to every year because no one else really understands what they do on a daily basis.
"This is a great group of guys. They're so collaborative and willing to share ideas and talk through issues that we're having," he said. "Some of them are two steps ahead of you and you're trying to get to that point and some of them are two steps behind you and you can help bring them up and build them up to get to where you're at."
In doing so, they've gone from rivals to friends and now - family.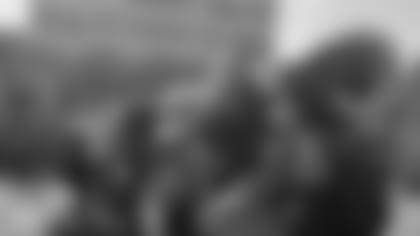 "That's attributed to Trey Mock," Johnson said. "There's not another guy who has stepped up to try and build a conference and a community to this level. He's had this vision that if we're able to take NFL mascots as a whole to the next level, then the league is going to have a certain level of respect for us. He had that vision and he's made it a reality."
And this year, Mock was rewarded for it with the NFL Mascot Dan Meers Lifetime Achievement Award – which is named after the original recipient, Dan Meers, the human behind the Chiefs' K.C. Wolf.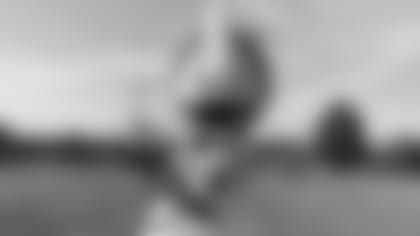 For Mock to receive the honor on his 37th birthday made it that much sweeter.
"To be honored this way by my peers for something that I don't feel like I am old enough to deserve, I'm very honored and very humbled," he said. "I'm not only not at the end of my career, I feel like I'm just peaking and Colts fans – as far as I'm concerned, I'll be around for a long time."
Mascot of the Year went to the Panthers' Sir Purr. He also took home Video of the Year. The Jaguars' Jaxson de Ville won Social Media Post of the Year and Stunt of the year. Along with the Lifetime Achievement Award, Blue also won Skit of the Year and Anchor in the Community.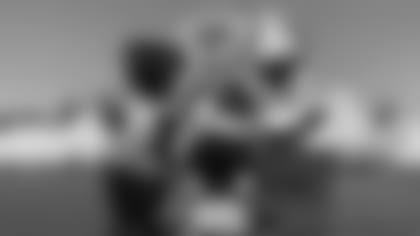 "It's always great to be Mascot of the Year," Mock said. "But I think Anchor in the Community is probably the most meaningful. Because at the end of the day, putting together a cool skit or making a funny social media post – that's all well and fine, but when you are making an impact in the community – that's really what this is about."
They wrapped up the week as they always do – with the Mascots vs. Peewees game at Carmel High School. And just like every year, the proceeds from ticket sales go to support a worthy cause – this year, it was Cure SMA.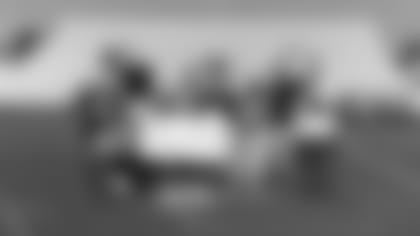 For the Vollmer family, whose youngest son, Graham, was diagnosed with spinal muscular atrophy at eight weeks old – having the team they love embrace them back, spread awareness, and help them raise money is overwhelming. 
"We try to raise our voices and you can only go so far until everyone comes in around you and lifts you up," said Graham's mom, Adrienne. "Blue offers to use his platform and it makes a huge difference. It makes a huge impact."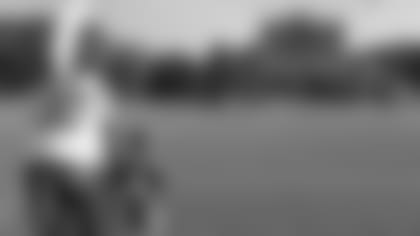 Mascots love to make people smile, they love to make people laugh, but what they love most of all is to make a difference – one fan at a time.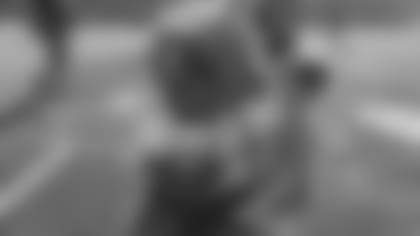 The mascots beat the Peewees once again.
Because when the NFL mascots come to town, everybody wins.
"It's a once in a lifetime thing," said Chip Stein, head coach of the Carmel Pups. "I've got kids from three years ago calling me up, 'Hey, can we come down to the sideline?' They're still fired up about it. This is a story they'll tell their kids."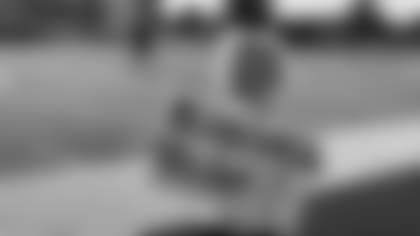 Making memories and making a difference - that's what sports are about.
That's what life is about.
And no one knows that better than a mascot - because that's what they do every day.