The NFL Combine is a once in a lifetime opportunity for college football players to showcase their skills going into the NFL Draft.
But it's also an opportunity for younger players to get up close and personal with the NFL.
On Saturday, 100 Indiana high school football players and coaches representing state championship teams were invited to attend the NFL's second annual Play Football High School Football Forum during the NFL Combine.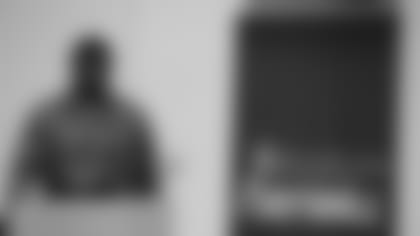 "We wanted to reward their teams going to the state finals and advancing their seasons, but we also wanted to engage them in a way that makes a little more of a lasting impact," said Roman Oben, Vice President of Youth Football for the NFL. "I really believe in making their life better on Monday morning when everybody goes back home."
They started with breakfast and watched the quarterback and wide receiver drills live from Lucas Oil Stadium. From there, they were off to the NCAA Headquarters where they had lunch and participated in a panel discussion on transitioning to college and beyond.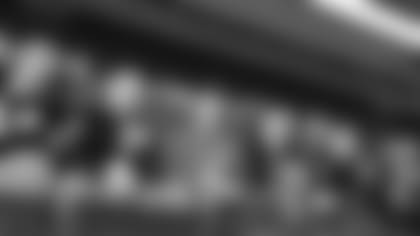 Colts linebacker John Simon talked about his journey to the NFL and shared some lessons he learned along the way.
From quarterback to nose tackle in high school, playing different techniques in college, transitioning to outside linebacker in the NFL and to a 4-3 defense this season, there was one thing he always put first.
"I always did what had to be done for the team. That's one of the lessons I want to leave you guys with – is do whatever you can for the team."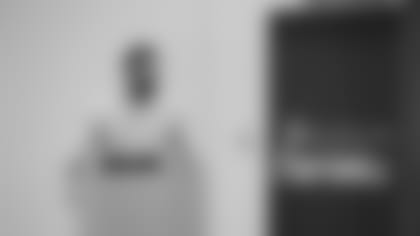 The average NFL career is less than two years. Going into his sixth season, Simon attributes his success to being a team player and a hard worker.
"The higher you climb this ladder, everyone is good, everyone is fast, everyone is strong. Find out what separates you from everybody else or you'll never stand a chance," he said. "I'm not the biggest, I'm not the fastest, but every time I'm on the field, I make it a point to be the toughest guy out there."
It started back in high school, when he would sneak into the school gym after hours to work out.
"I worked extremely hard, I found a way to enjoy it, and I think that's another thing that set me apart from most people because I continue to go seven days a week to this day," he said. "It's a continual grind. You have to find a way to enjoy it – because if you don't enjoy it, then you're in the wrong profession."
Jeff Brown grew up in Speedway and came into the Colts organization as ball boy at 16 years old.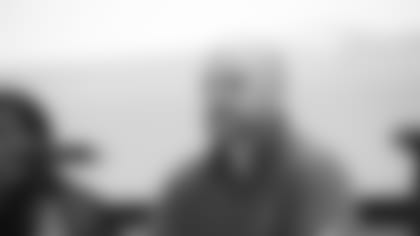 "Saturday morning I was scrubbing footballs and I did that for a long time," he said. "I just kept coming back."
Now the director of operations for the Colts, what got him to the NFL is the same thing that got Simon there – hard work.
"Although I was just scrubbing footballs and catching balls and making sure that guys had what they needed, I must have impressed the right people in order to stick around," he said. "You've got to be willing to do whatever job is asked of you at that time – that's my advice. And not necessarily looking for the next opportunity, just make sure you're doing the best job you can at that position."
There are many opportunities in football – on the field and off – from playing to coaching to administrating, the students heard from professionals on all sides of the game.
"The players we have, they're pretty responsible, but just hearing from professionals and hearing from someone else besides the people that are around all the time is very valuable," said Adam Berry, head coach of the Pioneer Panthers.
Berry and his fellow coaches are doing more than building a football team. On the field, they're rivals. But off the field, they're working together to build young men. And they're using the game they love to do it.
"You can see how these coaches care for the kids," said Mike Prior, Youth Football Commissioner for the Colts. "They don't care so much that they won the state championship, they're more trying to reward these kids in life – to help transform these kids into being better people and citizens outside the game of football."
And the NFL has their back.
"You're not in this business to make a million dollars coaching, but the lives you impact – these coaches that have been coaching for 10, 20, 30 years – that's a lot of people in the community that they've helped birth into leadership positions," Oben said. "We're always glad to really localize this and work with the Colts. It's not about us, it's about them and their community and we're always happy to do that."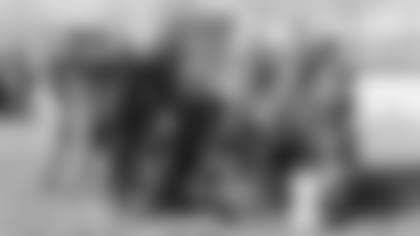 The NFL wants to use football to inspire young people to reach their dreams – no matter where they take them.
Because for many of these kids, football is just a start.
But the lessons they learn will help them succeed for the rest of their lives.
*Photos: Gregory Payan/AP *