The NFL Scouting Combine is a home-grown event. It started in Indianapolis, it's grown up in Indianapolis, and it's helped Indianapolis grow into the city it is today.
"Indianapolis has been proud to host the Combine since 1987," said Chris Gahl, Senior Vice President of Marketing and Communications for Visit Indy. "It's grown from just a handful of media and 300 players to thousands of people and we welcome that."
Over the years, it's evolved into a fan friendly event as the NFL opens the doors a little more each year. A growing number of spectators are now invited inside Lucas Oil Stadium to watch prospective NFL players run through drills on the field.
And for the second year, the NFL Combine Experience – a celebration of all things NFL football – is free, open to those who register, and offers something for every NFL fan.
"You can actually see the athletes participating in the bench press. There's also the Lombardi Trophy – the Colts' trophy, if you will. Probably one of the more unique things is the NFL Network stage. You can see a lot of celebrities and commentators and athletes and coaches and owners coming and going," said Gahl. "There's also a miniature Radio Row where national broadcasters are commentating from Indianapolis about the Combine. So, if you're a sports fanatic, an NFL fanatic – it's see and be seen here."
And it's not just Indianapolis fans coming to do that.
"We have invested a significant amount of money in NFL cities outside of Indianapolis like Chicago, Detroit, Cincinnati – asking their fans, inviting their friends to come to Indianapolis to be a part of the Combine, to get up close to see players, NFL Network, and prospective players."
That's what Steven Newton did.
A Colts season ticket member from Richmond, Indiana, Newton invited friends over from Columbus, Ohio to participate in the Combine events.
"We came last year and it's just a great experience," he said.
They got autographs from many of the people they see on TV on Sundays, including the AFC South coaches.
"I'm in my Colts gear and they're cool about it. I'm like, 'Best of luck to you.' And they're like, 'Do you really mean that?' They're great sports about everything."
They also stopped to chat with the Colts Cheerleaders.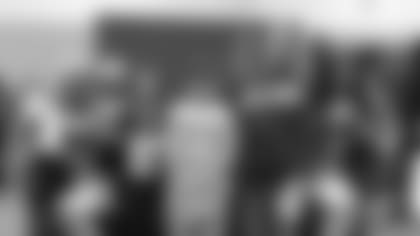 "It's good to see some Colts fans, even though there are some other fans around. We like to give them a hard time about whatever colors they're wearing," said Bailey.
"It's fun getting to know people that cheer for different teams, but still want to stop by and hang out with us for a bit," Alexis said.
Bailey and Alexis cheered on NFL Network's Ian Rapoport as he pumped iron on the mock bench press. And when it got too heavy for him, Bailey had to bail him out.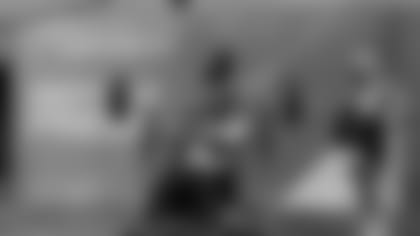 "She's obviously been working out," he said.
Along with prospective NFL players, fans can also interact with former players – like Colts wide receiver Reggie Wayne, who signed autographs on Friday afternoon.
Back in 2001, when he was an NFL hopeful – fans weren't a part of the Combine. After interacting with them this week, he thinks they're a great addition.
"That's what's exciting about it. The fans are who run our league. So for them to be able to be here, experience it and see it – it's one thing watching it on TV, but you don't get that same feel of being in the stands," he said. "I'm excited they're here. I didn't know what to expect at first, but now I really feel like it's a great idea and hopefully, we can kind of broaden it and bring it into a bigger light."
Once a low-key affair, the Combine is now one of the NFL's biggest offseason events.
The spotlight it shines on Indianapolis is priceless.
"It's 2,000 credentialed media from all over the world who are talking about not only the Xs and Os inside the stadium, but also the host city," said Gahl. "And that's invaluable. It's immeasurable when you look to market a city."
But the truth is, Indianapolis offers the Combine a lot in return – mostly in convenience and ease of doing business.
"All of the nuts and bolts of testing these players and putting them through all of the rigor can seamlessly happen within steps of where the players are staying," said Gahl. "So, if you look at the business of conducting an event like the Combine just for the 300 athletes and the coaches and the NFL, it's very easy. It's very successful."
For Indianapolis to become the center of the NFL for one week a year is a unique experience for fans.
"We hear from our visitors, they love to dine at restaurants this week, they love to be in the hotel lobbies because they see all the celebrities. We know the Mannings are here, we know that all the NFL owners are here, all the major sports media, and so it's like the Super Bowl – only in Indianapolis."
The NFL Combine is a tradition in Indianapolis.
And it's one they hope to continue for years to come.