Lindsay Langford grew up in Shreveport, Louisiana the daughter of two very active adults.
"My dad was in the YMCA basketball league at age 40, he would play flag football, we would travel to his games – so, it was just something that I grew up in. My mom played tennis a lot, taught aerobics at our family YMCA. It was just bred in me."
She went to college thinking she'd be a trainer, but quickly changed her mind.
"My first two years were athletic training and then we got into taping ankles and I thought, 'Oh, these feet are not for me.'"
Thankfully, something else caught her interest.
"I always knew I wanted to be in sports, but I took a nutrition class and thought, 'That's really cool.' I had not thought about that before, then got more entrenched – but I knew the final goal was sports nutrition."
Only her thinking was a little ahead of its time.
"It was definitely a discouraged route," she says. "Our field was so small then, there were only a handful in the country. I remember my advisor saying, 'You need to have a backup plan.'"
Undeterred, Langford continued down her chosen path – and helped pave the way to the field that exists today.
"I graduated in 2004, when there were only a handful of sports dietitans employeed to work in collegiate athletics. Now, almost every Division I school has at least one, if not full departments of sports dieticians to cover all NCAA sports. Our field has grown astronomically."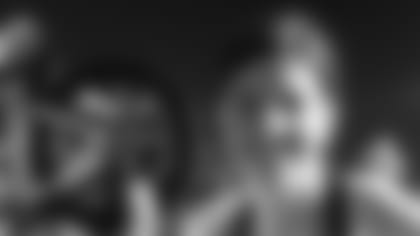 A cycler at the University of Alabama (where she got her undergraduate degree), Langford's first job was training endurance athletes in Colorado Springs. She moved to Indianapolis with her husband for his job and ended up landing her dream job.
"I work with the Colts and the Pacers. I split my time between the two teams," she says. "I'm here three to four days a week."
Langford works with the Colts players educating, coaching, and counseling them on nutrition. And she has more tools than ever to help her do it.
"We have a Bod Pod where we test their body fat, their muscle mass," she says. "Every guy has been assigned a weight and body fat percentage where we feel he can be the most effective player.  If a player needs a structured meal plan to help him achieve these goals, I design a plan, educate, and walk him through it in the dining facility."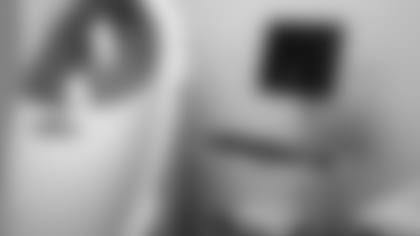 She can even analyze their sweat to determine how many electrolytes they lose and come up with a custom hydration plan for each player.
But before she can do any of that, she has to get to know them.
"The thing I feel like I've really learned being here is that first and foremost, they have to trust you. Being present and available was a strong emphasis from my direct report, Head Strength Coach Darren Krein."
It's part of a holistic approach to athletics – one she believes in and she's happy to be a part of.
"The NFL is very slow to hire females in the actual operational side of things. There are a fair number of male dietitians in the league, but there are only a small handful of females. Coach Krein felt strongly about hiring a female to fill the role of nutrition coach," she says.
"If you think about it generally with these guys, who raised most of them? And who introduces food to most of them? That's a strong connection."
Langford walks the field during practice with her fuelbelt. And she's almost always around during mealtime to consult with players – to give suggestions, offer advice and encouragement – but only if they seek it.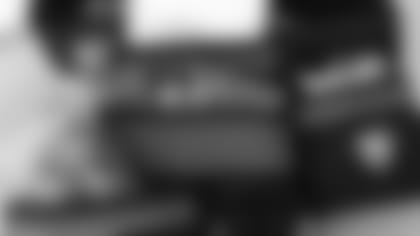 "It's generally very casual. We have formal education sessions, but I enjoy working with a player in their comfort zone around food.  We usually get more accomplished with this hands-on approach."
It's a give and take. She gives advice and gets feedback from the players – what they like and don't like, what works for them and what doesn't. Just like feeding her own kids, getting buy-in from players is key.
"My title is dietitian, but my subtitle should be salesman. And then parent too," she jokes. "I have two little boys and when they try new things, I get super excited. I feel the same way with them – I've got 90 other boys in there."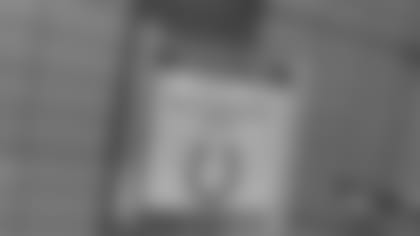 Many times, her best sales pitch comes from another player.
"It's really nice to have some of those nutrition spokesmen to help share the word and the vision and just the power of nutrition. Not everyone buys in, but I really do feel like we have a really high compliance rate and interest when it comes to nutrition."
"Everyone has to eat," says Langford. "And everyone loves food."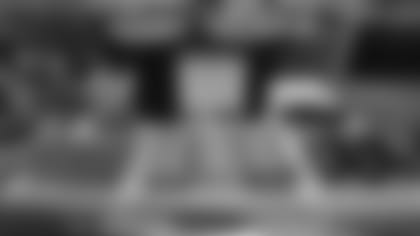 And the right foods can extend the life of a player – on and off the football field.
"It's super rewarding to know that I hopefully have had a small piece in the longevity of their career – let alone how they play on Sunday."
The most basic piece of advice Langford gives players is something anyone can incorporate into their diet.
"Color on your plate at each meal is so super simple, but it goes a long way," she says. "Everybody generally eats plenty of protein, plenty of carbohydrates, but we lack the healing beneifits of fruits and vegetables. It's a cliche philosophy that I'm sure you've heard a parent say before, but it couldn't be more true."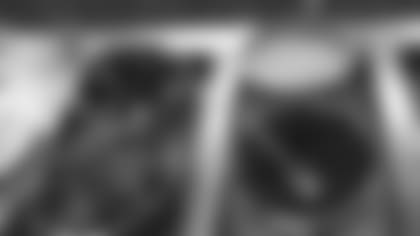 Mom said, "Eat your fruits and veggies to grow up big and strong."
And mom was right all along.