It sounds like a storyline from a movie – the steely veteran on his way to NFL history loses his longtime teammates before the start of the season. Paired with a couple of rookies, he's charged with getting them up to speed before the start of the season – in a little over a week.
Only for Colts kicker Adam Vinatieri, it was real life.
Punter Pat McAfee shocked the sports world (and the Colts) with his retirement in February. The team released veteran long snapper Matt Overton in May. After a competitive training camp and preseason, Rigoberto Sanchez, an undrafted rookie out of Hawaii beat out veteran punter Jeff Locke and second-year linebacker turned rookie long snapper Luke Rhodes won the job over Duke long snapper Thomas Hennessy.
"Vinny, Rigo, and Rambo – that's the new Fourth Down Army," Vinatieri said back in September. "Rigo is punting the crap out of the ball. He kicks off well. He's never held before, but you would never know that. Luke looks like a Greek God. He's a big, strong guy up front that will protect well and run down the field and tear guy's heads off."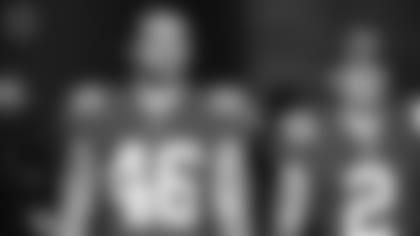 But in transition, it was his own head Vinatieri was hoping not to lose – because for kickers, it's all about consistency.
"I guess I'm a creature of habit," he says. "I wear the same kind of cleats I've always worn. I do the same thing in my warm ups. Change is sometimes a little bit scary."
For a guy who doesn't like change, starting his 22nd NFL season with all that change – well, it could have been a nightmare.
"There were a few growing pains trying to feel out the situation in the beginning," he says. "But for a guy who's never held before and a guy who's never snapped before, those two guys worked their butts off to do a great job and I'm very, very appreciative that they care enough to do what they do."
The new Fourth Down Army is running like a well-oiled machine.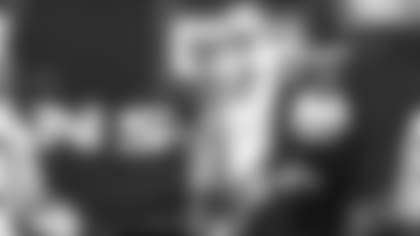 Rhodes is snapping, blocking, and making tackles – maybe even a little too many for Vinatieri.
"He's a linebacker that snaps, not the other way around," he says. "He wants to run down there and make every tackle. And I'm holding my breath like, 'Don't get hurt!'"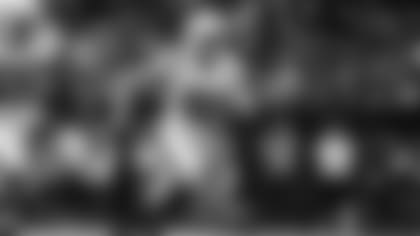 Vinatieri is 17 of 18 on field goal attempts, 4 of 4 from 50-plus yards, and he just passed Hall of Famer Gary Anderson for second place on the list of all-time NFL points.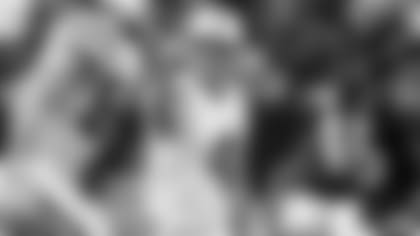 "We've put in a lot of extra work, especially on the field goal snaps to get the location of the laces right," says Rhodes. "We just go out there wherever they put the ball down and we'll snap it and Vinny will kick it."
"We try to go out there and do our job so we can make Vinny's job even better," says Sanchez. "I ask him as many questions as I can. I try learning from him on life in general. He's a wise man."
"He's about our age combined," says Rhodes. But, he adds, "You wouldn't even be able to tell."
He keeps things light. He keeps things entertaining. And he keeps them on their toes.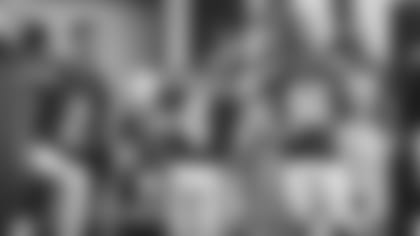 "Vinny is a funny dude," Sanchez says. "He's sarcastic, he's funny, he's outgoing, and then when it's time to go – it's go time for him. He's always locked in when it's time to go."
Vinatieri credits his young protégés with being wise beyond their years, which makes it easier for him to do his job.
"For Rigo to come in and have to fill some pretty big shoes of Mr. Pat McAfee and he's done a great job of punting and kicking and holding when he's never done that before. He's got a really calm mind – nothing really rattles him. He's a really well tempered young man that does a good job and Luke's done a great job as well."
And for two young players to go from competing for a roster spot to starting on special teams and ultimately, chasing history alongside Adam Vinatieri – it doesn't get much better.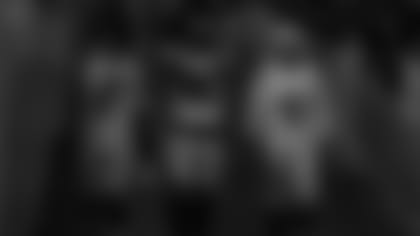 "It's definitely been a dream and I'm enjoying every single second of this," Sanchez says.
"It's a joy to be a part of that journey that he's on," says Rhodes. "He's ready to chase the next Anderson. Obviously, he's been here for a long time and he passed a lot of point scorers along the way. And to be here for hopefully the end of it and to get up to number one is truly special."
Adam Vinatieri knows NFL history is within reach. With 2,442 career points, all time leader Morten Anderson has 2,544. Still, he's not counting.
"Go do your job and let the numbers chip away and let you guys tell me when I pass somebody," he says.
Rambo snaps them. Rigo holds them. Vinny kicks them. And we count them.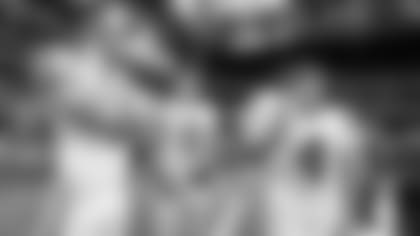 Greatness doesn't just happen – it's a collective effort that's earned over time.
And the new Fourth Down Army is earning it one point at a time.