The bride wore white. And she was married by something blue – something big, furry and blue.
For Trey Mock, the guy who plays Colts mascot, Blue, it wasn't the first wedding he officiated. But it was the first one he officiated in costume.
"One of my former assistants, Janelle, asked me to officiate her wedding. They were dear friends and I was like, 'Yeah, I'd be honored.' So, I got ordained online and that was 2015."
"I'm always trying to scheme up new and different ways to raise the bar for mascots. I was thinking of all the cool experiences that I've had in my life and I thought about officiating that wedding and I was like, 'Oh man, wouldn't it be amazing if I could officiate a wedding as Blue?'"
So, he put the feelers out.
"We sent out an email to season ticket members. It basically said, 'Is any season ticket member interested in having their wedding officiated by Blue?' And I'm not going to lie, there were a lot of people that were skeptical of anybody being interested at all."
Many people may have been surprised by the response, but Mock was not one of them.
"We had seven season ticket members reply within 24 hours that they were interested. We didn't want to just randomly pick, so we asked for a little more about their story. And the people that responded first, we actually went with them. It was Jennifer and Joe."
Writing on behalf of both them, Joe said, "The love of my life and I were set up on a blind date and have been inseparable ever since. One thing we have in common is our blue blood. We are both die-hard Colts fans through thick and thin. Watching our favorite team is a stress release and brings a smile to our family. It would mean the world to us for the experience to have the mascot of our favorite team join us together forever in front of so many."
It was just the couple Mock was looking for.
"You could just get a sense of how much the team means to them. But more importantly, how much they love each other," he said. "It just had a sense of family. And at the end of the day, my mascot program and all of our 20 people that help on game day, we're a family. The Colts as an organization is a family. Our brand brings families together."
And on Thursday night, they brought two Colts fans together – for life.
It was a big stage. The Colts were hosting their only prime time game of the regular season against the Denver Broncos. And just before it started, they hosted Joe, Jennifer, and their families on the field.
"Please direct your attention to the Northeast corner, for the wedding ceremony of two longtime Colts season ticket members, Jennifer Hardey and Joseph Swaim," said Colts public address announcer Mike Jansen.
Wedding bells rang and "Here Comes The Bride," played as Jennifer's dad walked her down the aisle while being pushed in his wheelchair.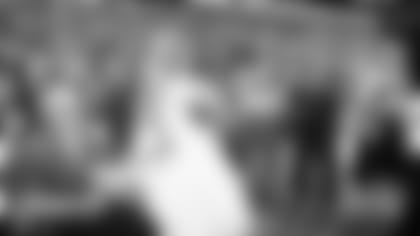 It was her dad who made Jennifer a Colts fan when she was young. And it was his failing health that caused her and Joe to move up their wedding – originally planned for next spring.
"He wanted to walk me down the aisle," she said. "That was his main goal – fighting to get me down the aisle."
But doing it in front of more than 60,000 people was a little unnerving.
"You're nervous enough being a bride walking into your wedding day, but then to be in front of thousands and thousands of people – it was, 'Wow!'"
She saw Joe, locked eyes with him, and they got through it the same way they'll get through many things in life – together.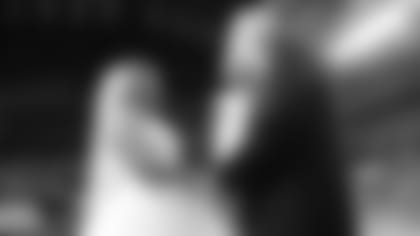 "For me, once I saw her, I was completely calm," said Joe.
As the announcer read Blue's cue cards, Jennifer and Joe repeated their lines – vowing to have and to hold, to love and to cherish, until death does them part.
"By the power vested in Blue by the State of Indiana and the Internet, Blue proclaims that you are now husband and wife."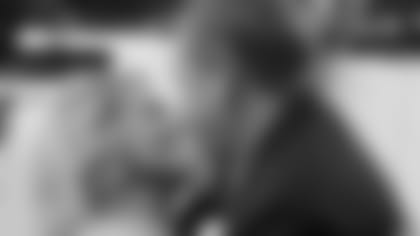 Joe kissed his bride. The confetti cannons went off. And before they left the field as husband and wife, Blue had one more surprise for them.
"The Indianapolis Colts and the NFL would like to send you on a very special honeymoon. Jennifer and Joe, you are headed on an all expenses paid trip to Super Bowl 52."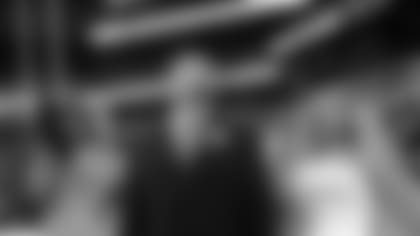 "I wasn't expecting that one," laughed Jennifer.
Afterwards, they went back to their banquet room to eat, drink, take pictures, and sign their wedding certificate.
"Nothing will ever top this," Jennifer said.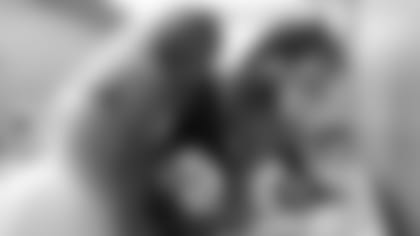 For Mock, that's what it's all about.
Because that's what Blue is all about.
"People are like, 'Oh, you're a professional mascot. What does that really mean?' I really think at the end of the day, it is the business of love. All of the things we get to do – hospital visits, the Christmas giveaway that we did, and this – I just love being a part of something like that," he said. "Who doesn't want to be in the business of love?"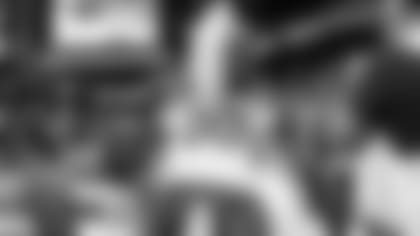 Congratulations, Jennifer and Joe!
We wish you a lifetime of happiness.