Jase Johnson was born a smiley, happy baby boy.
Six years later, he's still a smiley, happy boy – who's battling a debilitating disease.
"When Jase was four, he was diagnosed with Chiari malformation, it's where a part of your brain hangs low and it presses against the spine," said his mother, Ashley McKinney. "He's had decompression surgery, but his Chiari was a pretty long one, it had already been sitting there since birth."
As a result, the symptoms he had before are still there.
"He was having a lot of leg pain. He fell and he hit his head and had to get stitches and they wanted to do an MRI just to make sure there was no damage from that and that's when they found his Chiari."
Unlike some diseases, this one has no cure.
"You can't get rid of Chiari, you can only make room for it. When they did Jase's first surgery, they had to shave off his first neck bone and half of his second one."
Riley Hospital for Children is like a second home to Jase and his family. During a recent visit there, they met a local radio host from 1070 The Fan.
"We met Dan Dakich at Riley. We were going through a huge struggle and we did a Go Fund Me page and Chris Ballard donated to it and when I sent him a thank you letter, he reached out and wanted to hear about Jase and he's kept in contact with him ever since."
On Friday, General Manager Chris Ballard invited Jase out to watch Colts practice. He arrived at the Indiana Farm Bureau Football Center with his mom. They had a private tour of the Colts memorabilia room and stopped by to chat with Bob Lamey, the Voice of the Colts, before heading out to the practice facility.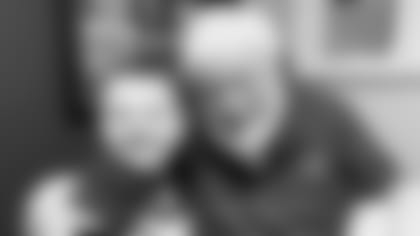 "He loves the Colts," said McKinney. "He watches the Colts games with me and his dad every Sunday."
As Jase stood on the practice field, Coach Chuck Pagano came over and introduced himself. After chatting for a few minutes, he asked, "Who's your favorite player?"
"T.Y. Hilton," Jase responded.
"Would you like to meet T.Y.?" asked Pagano.
Pagano walked him across the practice field.
"T – this is Jase," he said. "He's six years old. You're his favorite player, you and Andrew."
"Oh, great seeing you," said Hilton.
"Can you do the T-Y?" asked Pagano.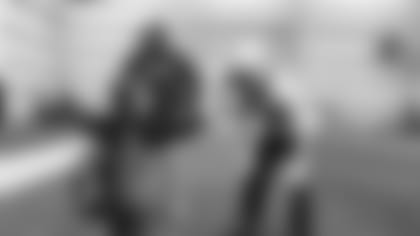 "T-Y," Jase exclaimed, as he formed the letters with his arms.
"Yeah!" laughed Hilton. "Nice!"
Then Pagano signed a football for Jase and gave him a hands-on lesson in ball security.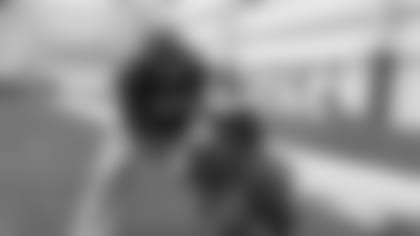 "You've got a great smile," he told him.
Afterwards, Ballard spent time with Jase while the two tossed a football back and forth.
It was something he wouldn't have been able to do just a few years ago.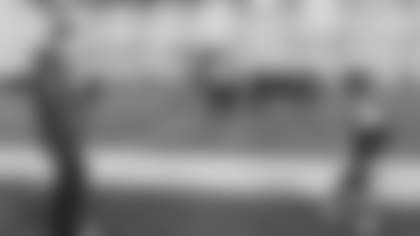 "He wanted to be a football player. When he was put on restrictions that he wasn't allowed to play football, it really got him down," said McKinney. "And when Andrew Luck got hurt a couple years ago and he came back, it really inspired Jase that he can come back and do whatever he wants."
For Jase, it wasn't just meeting the Colts. It was meeting the players who've inspired him throughout his journey – and continue to do so.
When practice was over, the defensive linemen and Coach Gary Emanuel came over to see Jase and sign his football.
And so did quarterbacks Jacoby Brissett and Phillip Walker, along with tight end Jack Doyle.
"Jase, I'm Jack," he said. Nice to meet you. Did you have fun at practice?"
"Yes," he emphatically replied.
Asked what he says when Doyle scores a touchdown, Jase responded, "Doyle rules!"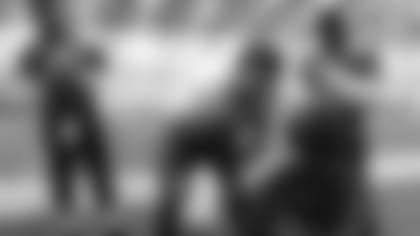 Jase has another surgery scheduled five days before Christmas.
Watching him handle all he's been dealt and do it with a smile on his face not only makes his mom proud, it pushes her to do the same.
"Watching him, I've been inspired enough to get my special education license," she said. "Seeing him go through everything and maintain honor roll at school and win awards at school, it's given me the courage to go back to school."
Adults can learn a lot from kids.
"They teach us," she said.