It's been a big offseason for Colts tight end Jack Doyle. And on Saturday night, he talked about it at the Blue Evening, the signature annual event for members of the Colts female fan club.
Interviewed on stage at the Colts facility by Colts.com's Caroline Cann, Doyle talked about growing up in Indianapolis, playing football for Cathedral High School, and attending Western Kentucky University. It was there that he met his wife, Casie, who heads up his own female fan club.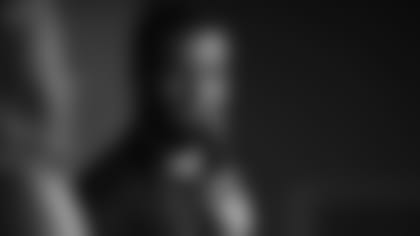 "It started with my mom from the beginning and the sacrifices she made in getting me involved in as many sports as possible," he said. "From as early as I can remember to being an NFL player and even college because I was dating Casie at the time, they've been nothing but awesome."
And Casie has been by his side for the wild ride that is the National Football League. An undrafted free agent out of college, Doyle started his professional career with the Tennessee Titans and was released before the start of the season.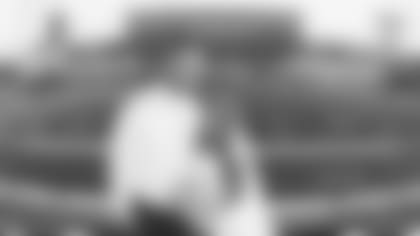 "She just got to Nashville and we were planning on, 'Where are we going to live in Nashville? What are we going to do?' I'm trying to find a place. I'm planning on signing with the practice squad. And then we got the call and it's like, 'No more Nashville.' We packed up my little F10 truck at the time and we made the four or five-hour trip from Nashville to Indy and it's a ride I will never forget and I know she won't either."
Back home again in Indiana, Doyle started out as just another guy in the Colts locker room. Then, he proved he could do anything asked of him – and more.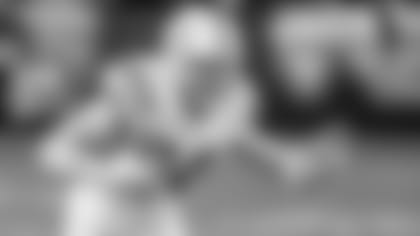 "I was lucky to come into a great tight end room with Coby (Fleener) and Dwayne (Allen) from the beginning, who took me under their wing, were not shy, told me what I needed to work on, showed me the right way to be a pro. I learned a lot from those guys," he said. "It's been a fun journey and now, to be looked at as the leader in the tight end room."
It may be a surprise to him, but those who know Jack Doyle aren't surprised by his success. And many of the people who helped him get there are still a big part of his life.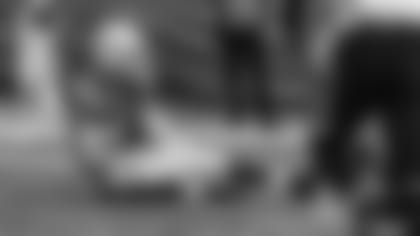 "A big one for me is Coach O'Hara, who was my coach at Cathedral. He's now at Eastern Hancock County. He was a huge mentor for me. From an early age, he was a family friend and still is a mentor to me."
With the help of the Colts and the Blue Ladies, Doyle was able to raise more than $7,000 for the Catholic Youth Organization, a cause that's near and dear to his heart.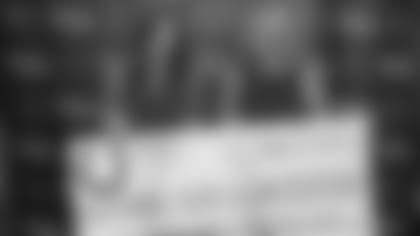 "I grew up in CYO sports. My parents made the sacrifices to put me in as many sports as possible and to drive me everywhere, to coach me to do everything – that's what CYO is," he said. "It's all volunteers, it's all parents that give up time with their kids to coach other kids. I think it's important to have good role models from a young age and I know CYO does that. And that's why it's special to me."
The last year has been special for Doyle in many ways. He worked his way up to starting tight end, then star tight end, signed a new contract with the Colts, and became a lifelong mentor himself.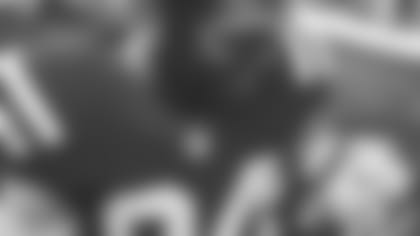 "This offseason has been different for me, being a dad for the first time – but obviously, a ton of fun," he said. "Ronan is nine months. We call him the training camp baby. He was born in August, the busiest time of year for us."
As the offseason training program wraps up, he waits with eager anticipation as that time of year rolls around once again.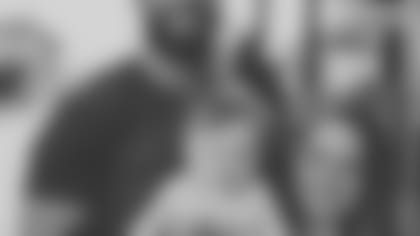 "It's definitely been the best offseason OTA program that I've been a part of. From starting in the weight room to the football field and the way guys are working, it really gets you excited for what we can do this season."
Jack Doyle is doing everything he can to make it a great year – for himself and his teammates.
And his wife, his mother, and the Blue Ladies will have his back every step of the way.