Last week, Jabaal Sheard went back to the place where it all began – Hollywood Hills High School.
"This was my first time playing football when I came here," he told the South Florida Sun Sentinel. "I always wanted to play and I was too big for little league. My friends that I would hang around were like, 'Let's go out there, they've got practice tomorrow.' And it was all go from there."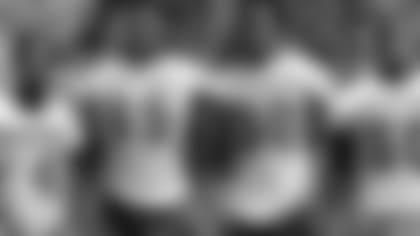 On Thursday night, the Colts linebacker returned to his alma mater for a jersey retirement ceremony in the school gym.
"It's something I never thought would happen. You've got to appreciate the school for respecting what we've done here," he said.
And he appreciates everything they've done for him.
"The whole coaching staff here, they saw a fit for me, made an opportunity for me, they pushed me, they pushed me hard. They put me at defensive end and I guess it was the right position because that's the position I've been playing ever since. They made me into the man I am today."
He also credits his mother and his friends.
"It's just been a great support system here at Hollywood Hills."
They gave him the foundation to build a dream on. And he was able to build that dream into a career.
"I didn't think I'd be playing in the NFL until I got drafted," he said. "Going to the league was huge. Once you get your name called on draft day, that was just the greatest moment ever."
Drafted by the Cleveland Browns in the second round of the 2011 NFL Draft, Sheard was signed by the New England Patriots in 2015 and played in Super Bowl LI the following season.
"I'm blessed just to have that opportunity. To make it that far, everybody wants to win a championship. That's something I've wanted since high school. We wanted to win state," he said. "Being a part of history, I'm a Super Bowl champion. Nobody can ever take that away from me."
Signed by the Colts in 2017, he's confident he'll be back.
"We'll get there again next year."
Sheard still calls South Florida home. Every summer, he returns to host a football camp in Hollywood Hills.
His advice for kids with NFL dreams?
"Just keep your head down, trust the process, trust your coaches, give your all every chance you get and give some more – always compete, always push yourself, never give up."
And now, there will never be another 90 for the Hollywood Hills Spartans ever again.