Tuesday was a day off for Colts linebacker Jabaal Sheard – his only day off of the week. He could have spent it any way he wanted to. But what he wanted to do was spread happiness.
"I know it's Breast Cancer Awareness Month and I thought, 'What can I do to bring someone a smile?' And I thought of flowers."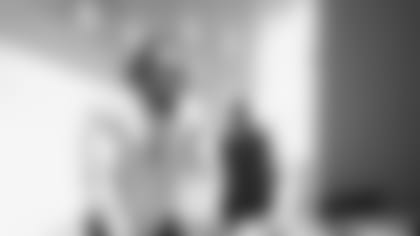 "Hey, beautiful. I've got some flowers for you," he said as he strolled into Heidi Reimer's examination room. "It's Breast Cancer Awareness Month. I just wanted to come out and put a smile on your face."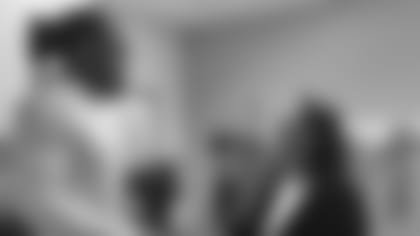 "Thank you very much. You did," she responded.
They chatted about football. He joked that the flowers were the least he could do after Sunday's loss to the Jaguars.
"We'll get you a win next week," he said. "Just watch and cheer. That's all I need."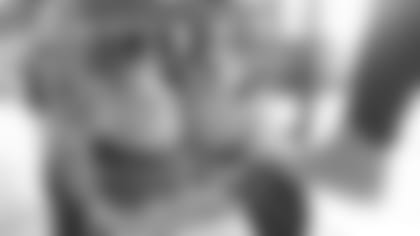 "Oh my gosh, aren't you just the sweetest thing? And he wore pink shoes too!" said Laura Jessie when Sheard walked into her room with flowers.
"Nobody has ever given me flowers for being sick," she said.
"Well, I'm happy to be the first," he responded.
"If I knew you were coming, I have the perfect shirt – it says, 'Hell yes, they're fake. The real ones tried to kill me.' I would have worn that," she said.
They laughed and chatted about everything from cancer to social issues. She said she wished she had put makeup on. He told her she looked beautiful anyway.
As Sheard moved from room to room, he saw laughter and tears – and in return, he received hugs and even some treats.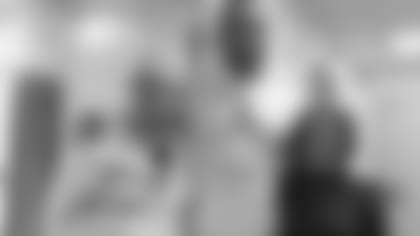 "I think a lot of patients, while they're here for routine checkups, are nervous to be here," said Dr. Anna Maria Storniolo. "When it's completely unexpected and a complete surprise – even being handed flowers was a surprise – but to see a big professional football player taking time out of their day is a big deal."
And flowers make everyone feel special.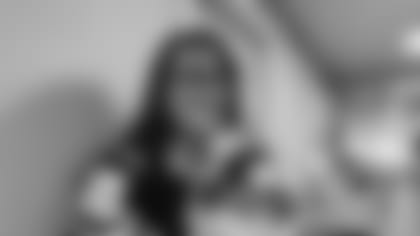 "We're here for a few minutes to break up their day, but the flowers are going to stay. It's just a way to continue that joy and be a symbol of hope and community and that personal moment of kindness," said Lindsay Potter with Random Acts of Flowers. "Those flowers are really a symbol of the joy that was given to them in an otherwise difficult situation."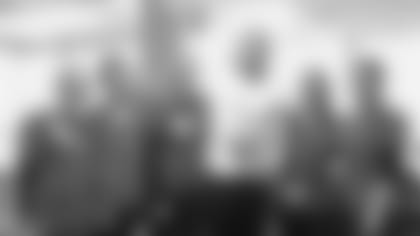 Spreading joy is what Random Acts of Flowers does. It's what they've been doing in Indianapolis for the past year. Using donated flowers and donated time, they've delivered 18,000 arrangements to hospitals, nursing homes, and healthcare facilities in the Indianapolis area.
"People always ask us, 'Why Indianapolis?'" Potter said. "Indianapolis is really special. It was made for this kind of service – people wanting to give back to each other, having a team that wants to give back to the community that we can partner with – all of our volunteers, everyone just coming together is really special."
On Tuesday, Jabaal Sheard found himself on a team with one mission – to spread happiness. And together, they succeeded beyond all expectations.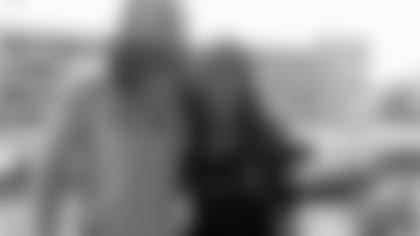 "It felt great," he said. "It brightened up my day just to see a couple people smile."
And that's the beauty of spreading joy, the more you give – the more you get.