Rudy Alvarado grew up in the Los Angeles suburbs, where he's spent much of his life as a Colts fan.  
"It was all because of Peyton," he said. "I watched him in Tennessee in college and really loved his game. He was drafted by the Colts and we didn't have a football team here."
Alvarado was a fan of Manning on and off the field – from his work ethic to his laser rocket arm and even his comedic talent. 
Then, Andrew Luck came along.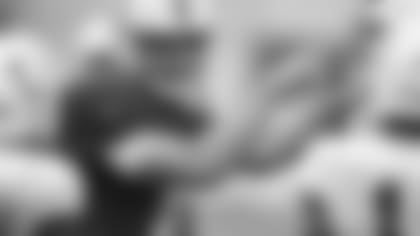 "Andrew Luck is probably not as comedic as Peyton was, but same thing – the work ethic, the sheer athleticism the guy has, and the neck beard. How can you not like the neck beard?"
Today, L.A. has two NFL teams.
 "And I'm still a Colts fan," he laughed.
It was a lifelong dream of Rudy's to visit Colts Training Camp. 
And this week, that dream came true. 
Rudy, his wife, Thea, and their children, Caleb (7), Ayden (5), and Aaliyah (3), flew in from L.A. on Tuesday night.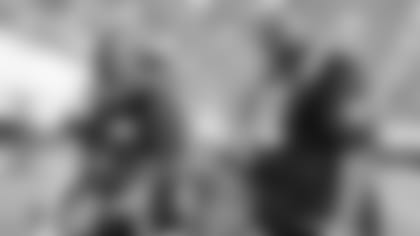 "My beautiful wife here, this was my Father's Day present from her," he said. "She's actually not a Colts fan. She's a Rams fan, unfortunately."
On Wednesday morning, they were among the first in line for the Colts' indoor practice at Grand Park. For Rudy, it was a treat just to be surrounded by Colts fans.
"In L.A., as you can imagine, there are not very many Colts fans. Look at this – this is awesome."
And he was looking forward to giving his kids a peek behind the curtain.
"They watch the games with me, but they don't get to see the work in practice. So, teaching that to them is great."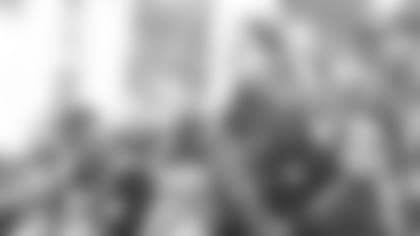 Over the years, his love of the Colts has rubbed off on his kids. 
"When we're watching them on TV, if T.Y. scores, they get up and go, 'T-Y, T-Y, T-Y.'"
When practice was over, the Colts had a surprise for Rudy and his family.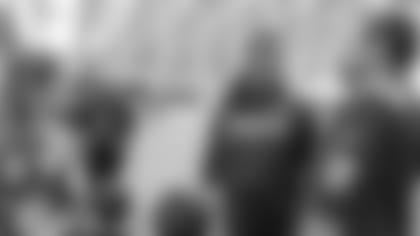 "Hi. I'm Chris. How are y'all? Nice to meet you," said Colts General Manager Chris Ballard. "I can't tell you how much we appreciate you coming."
They were also welcomed by Westfield Mayor Andy Cook.  
"Welcome to Westfield," he said. "We're thrilled to have you here."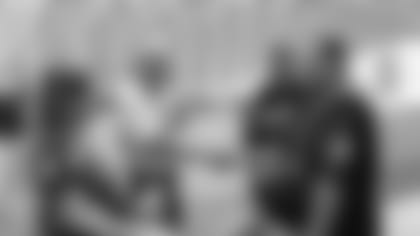 Ballard invited the Alvarados to sit in the family section during Thursday's practice and Rudy said they felt like they had been officially welcomed into the Colts family. 
"We might be those in-laws that stay longer than they should," he joked.
As for Thea, let's just say the Colts are growing on her.
"I bought her this jersey maybe two years ago," Rudy said, "and this is the first time she's ever worn it. I didn't even know she brought it."
"He bought it for me for Mother's Day and it was kind of a joke," she said. "He didn't think I would actually wear it. And then I had to pack the kids up for our trip and I threw it in. I figured what better time and place to wear a Colts jersey than at Colts Training Camp?" 
Asked if there's room in her heart for two teams, she said definitely.
"This is an experience, so you have to embrace it fully."
After Thursday's practice, they got up close and personal with the Colts, chatting with players and getting autographs. 
They even had the opportunity to meet Coach Frank Reich.
For a family that traveled across the country to get up close and personal with the Colts, the trip surpassed all of their expectations – except one. 
"My son was actually wondering when they were going to play a game for us," Thea said. "He was kind of surprised that we were just here for practice."
The Alvarados will attend the Colts' Friday Night Lights practice before heading home on Saturday.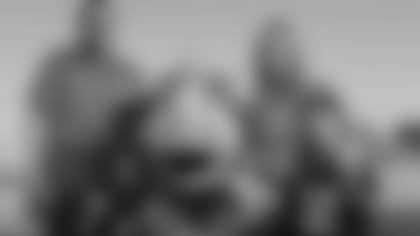 When they return to L.A., Rudy hopes they'll bring one more Colts fan back with them – and that Thea's Colts jersey will get a little more use.    
"When I'm home and watching the games and T.Y. scores a touchdown and the kids are doing their T-Y dance and I'm jumping, I'm hoping she's going to do it as well."