Adam Vinatieri was intrigued by car racing before he ever stepped foot in Indiana.
"When I was in New England, I was the grand marshall for a race up in Loudon, New Hampshire," he said. "There was a Busch Series race and there was an IndyCar race. Being there that weekend just got me fired up. I don't know too many red-blooded American boys who don't love fast cars."
When the Colts signed him in 2006, the star kicker found himself in the Racing Capital of the World - and he embraced it wholeheartedly.
"If you live in Indy, you've got to be excited about racing. That's just part of living here, I think."
And he quickly developed a personal tie.
"Jack Miller and I got to be friends when I first moved here. I knew his racing background. He was an IndyCar driver. We both had young boys at the time. His son, Jack Jr., got into go-karting, which got my son excited about it," he said. "A.J. wanted to play football and baseball as well. If you get into racing, it's kind of a one sport forever kind of thing if you're going to be good at it, so he backed out a little bit, but I've always followed Jack Jr., I call him 'Little Jack', throughout his career."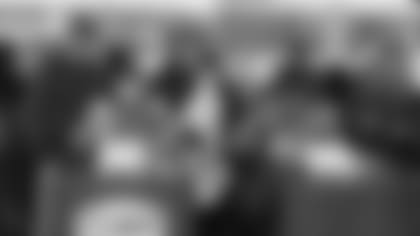 A few years ago, his relationship with Miller took him from racing fan to owner.
"Jack Sr. wanted to start a team and I said, 'Yeah. Let's get involved with it,'" he said. "My role has always been to talk to our drivers as an athlete."
Going into his 24th NFL season, Vinatieri has plenty of experience competing at a high level - and he enjoys sharing it with young athletes.
"My role is little short spurts. When you're racing, you're obviously doing it for several hours - staying focused and concentrating on what you're doing. But I think there are similarities in pressure and focus and stuff like that," he said. "When you're in the car, you've got someone chirping in your ear and telling you stuff. But you're definitely out there by yourself and communication is a big key in all of that."
Just like football, racing comes down to teamwork.
"The best driver can't win anything without a good crew and a good car and a good mechanic and all that stuff. When the driver gets to drink the milk on the finish line, that is a culmination of a lot of hard work by a lot of different people."
Miller Vinatieri Motorsports races in the USF2000 Series, which calls itself the first step on the road to IndyCar. Their drivers, Jack Miller Jr. and Eduardo Barrichello, both come from racing families. Dr. Jack Miller is a three-time starter of the Indianapolis 500 and Rubens Barrichello is a former Formula One star who raced in the Indy 500, winning Rookie of the Year in 2012.
Earlier this month, the Road To Indy Series brought the MVM team to the Indianapolis Motor Speedway for the first time and Vinatieri was able to take a more active role.
"I'm not going to lie to you, being up there waving the green flag - I spent about four laps on top of the tower and I was like, 'This is awesome.' You've got such a cool view from up there."
Having a vested interest gave him a whole new perspective and a new appreciation for racing.
"Just being a part of that and being in the infield and being in the pits - it's special. As a fan of the sport, it's cool doing that, but then when you have a little skin in the game - where you've got people you know that are in it, your own drivers who you want to see do well - it gives you a new sense of excitement. I was kind of nervous for them. I guess I can understand what my mom goes through when she watches me play football."
While he's still competing himself, Vinatieri will continue to take more of a backseat role as owner.
"I don't go to all the training and all the different races and stuff like that because it's usually during the summertime and I'm busy with other stuff," he said. "At some point, I'll retire and I'll have more free time and I want to be a little bit more involved in it later on."
Adam Vinatieri is still chasing the Lombardi Trophy.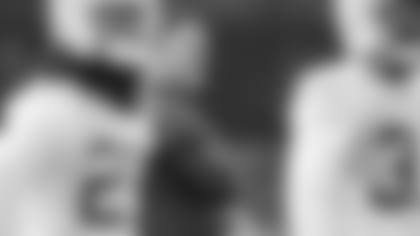 And someday, he hopes to chase the Borg-Warner Trophy.
"Little Jack says he wants me in the crew changing a tire when he's running the Indy 500. I told him, 'No chance. I don't want to screw something up and be the cause of anything negative happening.' But I'll definitely be there in the garage or on pit row supporting and being a part of it. That would be super awesome."
He'll eventually stop kicking, but Vinatieri will never stop competing.
"I'll be more of a spectator with an added interest," he said.
You can never count him out on game day.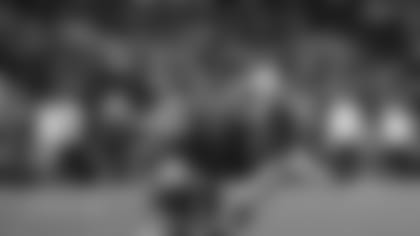 And he hopes to bring that same mentality to race day.
"I'm not all in because I'm not knowledgable enough about it. But I bet Joe Gibbs didn't know a whole heck of a lot about it until he started. Now, he's pretty impressive."
Part of winning is knowing what it takes.
Adam Vinatieri knows what it takes to win.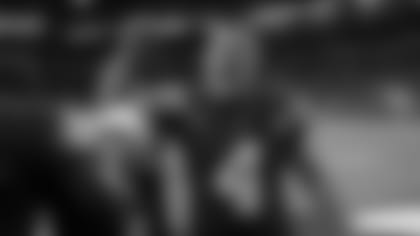 And he doesn't have to be in the driver's seat to do it.