For Marlin Jackson, football was just the beginning.
It brought him out of the projects of Sharon, Pennsylvania, got him to the University of Michigan, took him to Indianapolis – where he was part of a Super Bowl winning team.
He loves football. He's grateful for every opportunity football gave him.
But what he does now is his real passion.
"There's a lot of opportunity in this world, but sometimes it's hard to see through your own circumstance," he said.
That's the focus of his Fight For Life Foundation, which helps kids develop the tools they need to set themselves up for success.
"Dream, believe and achieve – I tell kids that all the time. If you can see it and if you have a passion and a faith inside you to believe in it, you will work to make it a reality and you will achieve whatever you set out to accomplish."
Knowing he was only addressing part of the problem, he took it a step further and established Revive Property Group to bring new life, new construction, and new opportunities for home ownership to neglected neighborhoods.
On Friday, during the Circle City Classic Coaches Luncheon, Jackson was honored for his work with the Major Taylor Award.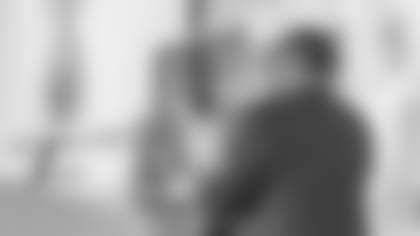 "Marlin is amazing and his story is amazing and we're blessed to be able to thank him for his service and for his athletic accomplishments, but more than anything else, for the character that he presents and the man that he is," said Darryl Peal, Managing Director of External Engagement and Strategic Partnerships. "He looks beyond athletics and beyond his own personal self to give back to communities. So, we're fortunate to be able to celebrate him today."
For Jackson, it's not about recognition. But he was humbled and honored to receive an award whose list of recipients include Muhammad Ali, Tony Dungy, Jerry Rice, and most recently, Robert Mathis.  
"Winning this award, it really connects and aligns with who I am and what I'm fighting for," he said. "Coming from the ghetto and being in the ghetto for generations – grandmothers, mothers, aunts, uncles, cousins, growing up in Section 8 housing and the effect that can have on your mind and your aspirations and your goals – not seeing the opportunities that exist out there in the world."
Helping others to see those opportunities became his calling.
"That's why I feel there is a need to fight – fight for life for those who may not have a voice that is strong enough to be heard."
That's what Marshall "Major" Taylor did. Born in Indianapolis in 1878, the world-class sprinter and cyclist excelled at athletics while battling racism and breaking barriers.
"He believed that there was more to each and every individual and that we were all created equal," said Jackson. "And he fought for that right and he stood for that."
He paved the way for the next generation. 
For Jackson, the next generation includes his three boys.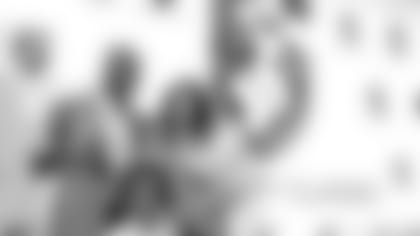 "Being a young man that never met his father and with a mother that's struggled with drug addiction and alcohol problems, it means the world to me to have my own family," he said. "It's about our families, it's about our communities, because from the very beginning, our families have been ripped apart and that's why I work relentlessly right now to make sure that our kids are not making the same mistakes repeated by those who came before them."
For Jackson, football was just a start. 
And that's also true of the college players who attended the luncheon on Friday.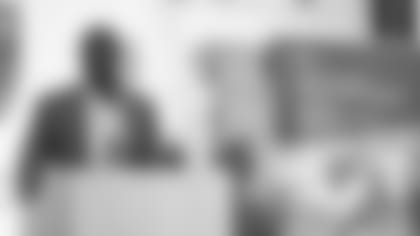 "Football is not the end, it's just the beginning of a bright future for all of you," he said. "All the skills and the things you learn on the football field are all transferrable trades that will allow you to succeed in whatever it is you choose to do with your life."
Jackson's former Colts and Michigan teammate, Cato June, is a coach at Howard University. The Bison will play the Bethune-Cookman Wildcats in the Circle City Classic at Lucas Oil Stadium on Saturday.
For June, being able to attend the luncheon and see Jackson honored made it extra special.
"Being back is always nostalgic. You go in the stadium and you see the Super Bowl banner up, it's one of those feelings that will never go away," he said. "You can always cherish that moment. You cherish the friendships more than anything."
For Jackson, it was one more moment to treasure.   
"For me, it's up there with the Super Bowl, the Big Ten Championship – this is life. This is recognition for making a difference," he said. "The legacy that was left behind by Major Taylor and what he went through and what he stood for and the type of mindset that he had – for me, it's inspiring to be recognized in his light."