Growing up in West Chester, Ohio, just north of Cincinnati - as a kid, Ryan Kelly dreamed of playing in Paul Brown Stadium as an NFL player.
On Sunday, his dream came true.
And when he stepped onto the field, the center for the Indianapolis Colts had his own cheering section.
Along with his parents, Kelly had his grandparents, aunts and uncles, cousins, his girlfriend and her family, high school friends, and many, many acquaintances in attendance.
"I have a lot of support from back home. Obviously, it's pretty rare to have a guy from your high school in the NFL," he said. "It was pretty cool to see people reach out to me that I hadn't talked to in years."
"We're so excited for him to be so close to home for the first time in seven years," said his mom, Ann. "We've got more than 50 people here today."
After playing college football at the University of Alabama, Indianapolis is a nice change for the Kelly family.
"It's 500-plus miles to Tuscaloosa and it's 100 to Indianapolis," said his dad, David.
The downfall to playing 20 miles away in Cincinnati?
"It's a lot colder than Alabama," David said. "Where's our roof?"
But it's nothing they haven't done before. You see, for David and Ann Kelly, traveling to college football games was practically a part-time job.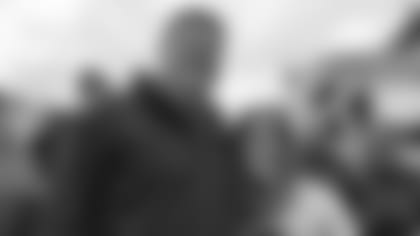 "Our other son played for the Naval Academy, so we would split time – my wife would go to one game and I would go to the other and then we'd reverse it the next week," he said. "We bought a new car and the first year it had 40,000 miles on it. And we also had to fly because in the SEC, you're playing in Florida, you're playing in Louisiana, that's a long drive from the Midwest."
So when Ryan was drafted by the Colts, they were thrilled – and so was he.
"We tried to get my grandparents to come to at least one game when I was at Alabama," Ryan said. "It was a little bit tougher to get them around at Alabama because you had to park really far away and get them bused to the stadium. It's a little easier now with the parking passes. They definitely come to a lot more games now that it's so close."
Kelly didn't necessarily grow up a Bengals fans, but he did grow up in Bengals country.
"I loved the NFL, but I was more of a college fan. I was a big Notre Dame fan growing up," he said. "But that's your home town and that's your NFL team. We always watched them every Sunday and my dad was a pretty big fan growing up."
And now that he's in Indianapolis, his family is completely behind him – and the Colts.
On Sunday, their team went home with a loss.
But Kelly and his family went home with some special memories – that will last a lifetime.