"With D.T. (David Thornton) being here, with Robert Mathis being here, just having that opportunity to come back and participate in an internship here," it was like a family reunion.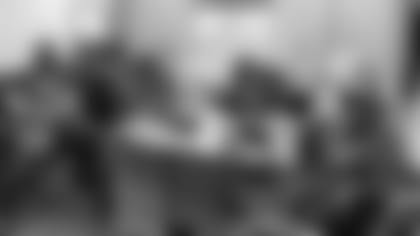 "Those memories start to come back and fly around. You get a sense of, 'Yes, that was 10 years ago now when we won the Super Bowl, but that was a big deal.' We were fortunate to be around a bunch of great coaches and great players. A lot of guys never get that opportunity to be around some of the greatest football minds of all time. I've been very fortunate in that aspect." 
Former Colts great Reggie Wayne was also on the field working with the wide receivers, as he's been doing this offseason.
"It's awesome because a lot of times growing up, you've been coached by guys that either never played or didn't play the position," said June. "To have Reggie Wayne or Robert Mathis, who better to teach you how to sack strip or how to rush the passer?"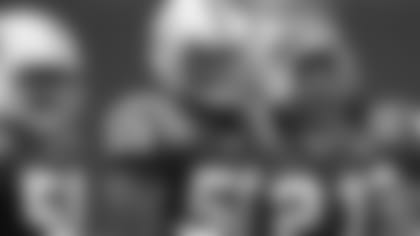 June takes great pride in being part of such a special time in Colts history and being part of such a special group of guys.
"Tony Dungy drafted me and gave me an opportunity. I took advantage of the opportunity while I was here – grew as a player, as a person. You're 23, 24, 25, you're growing up as a man as well. You can't really say enough about that part of your life as a young man. And then to be a part of something great that will never ever be forgotten, it kind of leaves you speechless when you think about it."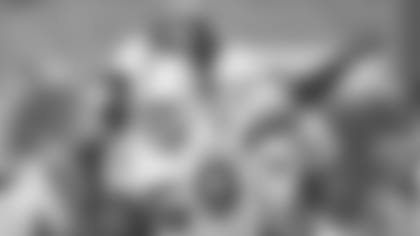 After a seven-year NFL career, June was finished playing. Or as he jokes, the NFL was finished with him. But it didn't take him long to move on to the next chapter in life.
"I had set myself up on a timeline. I said, 'If I don't get signed in camp,' I didn't want to be one of those guys who are in the gym working out waiting on a call. I wanted to go ahead and get into the next thing. Because you look at it like, let's say you play eight to 10 years in the NFL, you're 10 years behind your graduating class. They're 10 years into their career. They're probably onto their second or third career by the time you're just starting your true career." 
June found his next calling and his true career coaching football.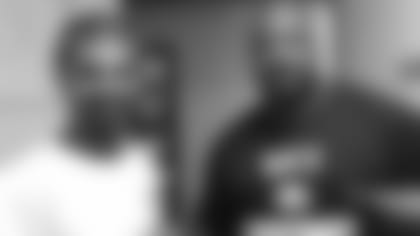 "As a player, you spend your entire life preparing for the moment you get to the NFL and playing on Sundays and when that's over, you have to find something that you're just as passionate about. When you get into coaching, that football rush – it comes back."
He got his first coaching opportunity at another place where he has fond memoires – Anacostia high school back in D.C., where he was a decorated athlete and scholar, co-class president, a member of the National Honor Society, and where he led the Indians to a state championship.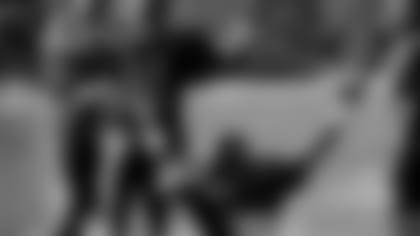 "I had the opportunity to go back and be the athletic director and head coach in a different capacity," he said. "It was bigger than football. You're over there changing lives."
After four seasons at Anacostia and one season at C.W. Flowers High School in Maryland - in 2016, June got an opportunity to coach at Howard University.
"It was one of those deals where I wasn't really chasing it, but I started to put myself in position like, 'Ok, if I'm going to do this, let's at least go all out,'" he said. "They had a running backs job open and they asked me would I be interested and I thought, 'You know what? Why not?'"
Now the safeties coach at Howard, June said returning to the NFL as a coach would be a dream come true.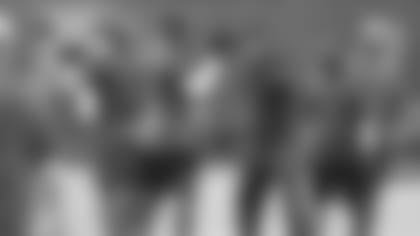 "I won't say a dream because sometimes when you're dreaming, you're not really working towards anything. It's a goal to be a head coach in the NFL, major college football, whatever. I wouldn't blink to come back to the NFL and get that experience. To be amongst the elite in anything, if you have any competitive nature, that's where you want to be."
It wasn't a dream that brought Cato June to the NFL as a player, it was hard work. And that's what will bring him back to the NFL as a coach.
"I always said as a player in college, 'There's no way I could be a college coach. I couldn't do it. They don't have a life.' But when I started coaching high school ball and I'm the head coach, so I'm making my own schedule – I found myself spending the same amount of time. Why? Because I want to win. I want to be great. I want to get better." 
For Cato June, time doesn't matter when it comes to football.
"When you fall in love with something, you fall in love with the process – time doesn't become an issue because it's the process you fall in love with and you're actually enjoying yourself as you're trying to reach another goal."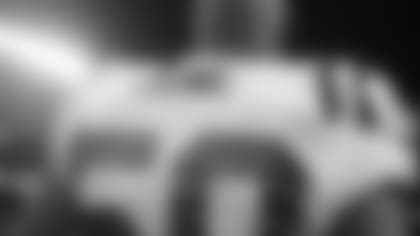 And that's why it's only a matter of time until Cato June reaches his next goal in life.