Mike Estridge wanted to be a firefighter for as long as he can remember.
"I've been a firefighter going on 43 years," he said. "I started when I was a teenager coming out of high school. I got involved with a volunteer program here in Indianapolis and I went on to become a city fireman after that because they weren't paid and I needed to get a paid job."
At 18, he was finishing high school in Speedway, managing the varsity basketball team, and making runs with the Wayne Township Fire Department.
Now a lieutenant in the Indianapolis Fire Department, he's housed just down the street from Lucas Oil Stadium and on game days, he works there as a paramedic.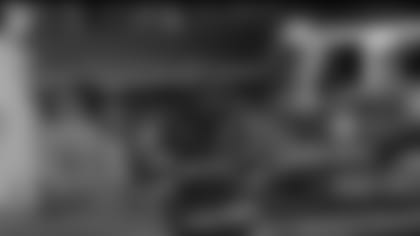 Over the years, Estridge is credited with saving property and saving lives – but today, he finds himself fighting for his own life.
In 2015, he went in for a routine colonoscopy and was diagnosed with colon cancer. They removed 10 inches of his colon along with his appendix and he started chemotherapy.
"I was cancer free up until June of this year. I had a reoccurrence and now, it's in my peritoneum, which has been diagnosed as terminal," he said. "It's just one of those cards you're dealt in life that you didn't see coming."
Colts chaplain Eric Simpson got to know Estridge through his family members who worship at his church. He ran into him at the stadium on game day occasionally and they struck up a friendship. 
"I've been walking with them," said Simpson. "He's battling every day. We're praying, we're holding out hope for the best. But I think he's preparing, he's trying to build memories with his family and take advantage of the time he does have."
And Simpson helped come up with a way for him to do that.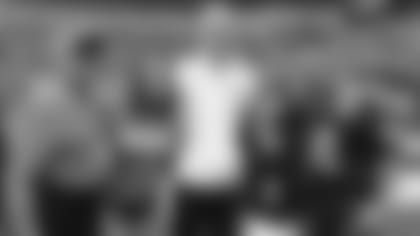 "I felt like what I know of Mike and his life and his story and what I know about the Horseshoe and this organization, I just felt like those things should come together. Everything that Mike stands for is so much what the Colts organization is about – serving the community. And I just felt like it was the kind of thing that we would want to do, to honor Mike and his family that way."
In September, before the Colts played the Cardinals in their first home game of the season, Mike went to work like it was any other game day – because that's what he's doing these days.
"I'm going to work right up until I can't work anymore because I think I'd go nuts if I didn't have what I've been doing my whole life," he said. "I came in and everything was normal. And then all of the sudden, they come and get me and say, 'We've got to go downstairs.' And I thought, 'Ok.'"
Actually, it wasn't quite that easy.
"I went up there with Mike (Jr.) and introduced myself," said Traci Morgan, assistant to Chief Operating Officer Pete Ward. "I asked him if he could come with me for a minute and he basically said, 'No.'"
"I said, 'No, it's really ok. We have a special surprise for you.' And he said, 'Well, I can't leave my post.' So I said, 'Ok. But we really need you to come with us. And your coworker knows.'"
"Once he knew his spot was covered, then he agreed to come – still reluctantly, but he did."
She took him down to street level where he was surprised by his family and then, she escorted all of them down to the field.
"He had this stunned look. And he kept asking me, 'Why are you doing this for me?' I just told him his family wanted him to be recognized for everything he has done."
"Chuck was standing in the tunnel as we came around the corner and we introduced him to Mike," said Morgan. "I think everyone just respectfully gave them their space." 
"I met Coach and had a conversation with him about what he went through and keeping my faith and staying strong," said Estridge. "It was, 'Keep the faith. We'll beat this. We will beat this.' So, between he and I and the good Lord, we're going to make it happen."
Chuck had a family, a team, and a city behind him during his fight with cancer – and so does Estridge.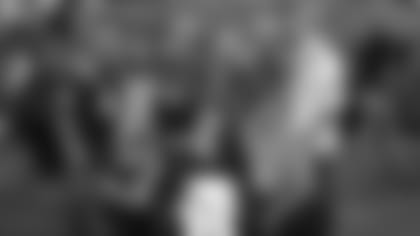 "As a family, we're all Colts fans," said his son, Mike Jr. "I think for him, just to be able to see the family come together – we're a small family, but it still takes coordination for us all to get together."
As part of the Colts family, the Estridge family can now count a few more members.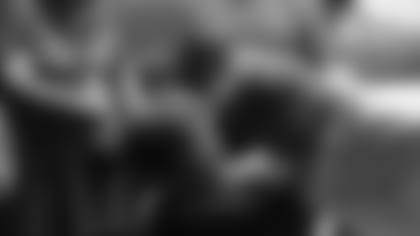 And together, they have a memory they'll hold dear for life.