Born and raised in the Catholic Church, Father Douglas Hunter says his priestly story began back in fourth grade.
"My mom would always set up for mass on Sunday mornings and I would always help her and one morning, one of the sisters there asked me if I'd ever thought about becoming a priest. I said, 'Maybe.' She came back later and said, 'Hey, would you like to be an alter server?' And I said, 'Sure.'"
Little did he know his fate and his faith were sealed that day.
"One thing led to another and here I am, serving mass every Sunday," he says. "I just thought, 'Well, ok. This is where God wants me. I'll be a priest.'"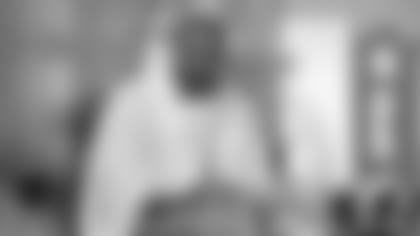 He was tested along the way, but no matter what life threw at him, he always found his way and found himself back in the church.
"I went to high school over at Cardinal Ritter and my freshman year, my dad passed away. I found him dead. For me at 15, that was a traumatic experience. From that, I was always depressed. But it was my good Catholic community that surrounded me and helped to see that I was ok, to help bring me out of that depression."
By that time, he had thought seriously about becoming a priest, but his grades had suffered and he had trouble getting into college.
"In the meantime, I got on IMPD's Civilian Volunteer Police Unit. It's one step above their explorers. I was too young to be a police officer, so it gave me something to do while trying to figure out what I wanted to do with my life – because at that point, I thought priesthood was not an option."
He ended up in charge of the IMPD Explorer Program and McGruff the Crime Dog. He also worked as a school resource officer at Perry Meridian High School.
All the while, thoughts of the priesthood were always at the back of his mind.
In 2005, he enrolled at Marian University to study business administration and human resources management.
"From 2005 to 2009 I kept looking at, 'Ok, God. If this is what you want me to do, where do you want me?'"
In 2009, he applied to the Archdiocese of Indianapolis and got his answer.
"Everything transitioned well, everything just fell into place," he says. "God just took care of everything for me. Things I tried to do in the department, the doors kept closing. But everything in the church just kept opening."
He was ordained a deacon in April of 2016. And on June 25, 2017, Father Douglas Hunter was ordained a priest by the Roman Catholic Church – a commitment he made for life.
"I can't just one day wake up and say, 'Ok, I'm not a priest anymore.' This is until I go home and meet Jesus. It's a done deal. There's nothing I can do to unchange it."
He loves what he does and God continues to open doors for him.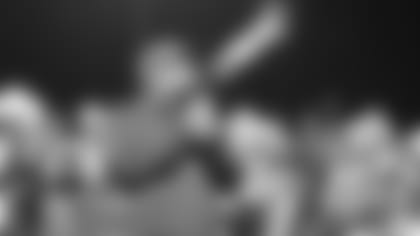 An associate pastor at St. Pius X, he also serves as chaplain at Bishop Chatard High School. Last July, he was asked to meet with Colts General Manager Chris Ballard, who was new to Indianapolis at the time.
"I told one of my cop friends, 'Hey, I'm going over to meet Chris Ballard. Is there anything I should know?' He's like, 'You don't even know who you're meeting, do you?'"
He didn't. But since then, he's had an opportunity to get to know Ballard and he's been brought on as a team chaplain.
"I met with him and we talked and he told me what his expectations were and asked me if I'd be open to that and I said, 'Sure.' Chris has been very gracious to me. It all just keeps coming together and I'm like, 'This is a blessing and a privilege.'"
During the NFL Combine, he met Coach Frank Reich, who went to the seminary himself. And he spent time that week networking with other team chaplains. For a guy who grew up a sports fan in Indianapolis, it's a dream come true.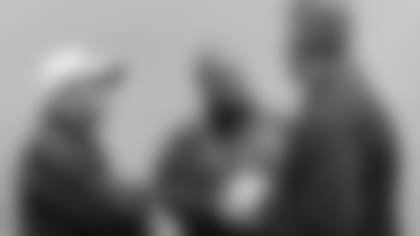 "I just love the competition. And so many people that I've come to know over the years are part of the NFL in many different ways. It's the people behind the scenes who help make all of this come together."
When the players return, he looks forward to getting to know them and offering his support.
"What people forget is, when the pads come off and the TV cameras are off and everyone goes home, athletes are regular people. They deal with things at home, at work, just like you and I deal with and they need that spiritual component to help maneuver through life."
And he's excited to work alongside the other team chaplains, Pastor Ken Johnson and Pastor Eric Simpson. He says they may represent different denominations, but they're all on the same team.
"Not only do I serve the Catholic community, I serve the entire community because we all come from different faiths and different backgrounds and different settings within our lives, but we all have a common goal in loving Christ."