It was a Monday morning at Colts training camp. Practice was over, but wide receiver Daurice Fountain was still on the field catching passes from quarterback Chad Kelly.
"You've got to do the stuff that's not required," he said. "I want to be a great pro in this league, so I know I've got to do the extra things."
It's a lesson he learned the hard way his rookie season.
"I didn't make the team initially. I was the only draft pick that got cut. I knew something had to change. It definitely took a toll on me," he said. "I was not in a bad place, but I was in a sad place last year."
On October 26th, he lost his beloved grandmother, Luella Fountain, who's now memorialized on his left arm.
A self described mama and grandma's boy, Fountain grew up in Madison, Wisconsin raised by strong women - his mother and two grandmothers.
The loss of one of them rocked his world.
"I definitely had a lot on my plate. I just prayed. I kept faith. It was praying every day, but I'm not going to lie - it was hard times," he said. "Last year was probably some of the hardest days of my life."
One month later, almost to the day - all that changed.
On November 25th, Fountain became a father.
"We were playing Miami. I had to text D.T. (David Thornton), our player engagement person and tell him, 'Hey, my girlfriend is in labor. I've got to go - my daughter is being born!' And he was like, 'Oh, yeah. Of course.' It was so long. I didn't realize how long labor takes. In the movies they make it look like it's, 'Boom! Boom!' It was so long. I had the game on TV. We were just sitting there waiting and waiting."
When Cienna finally arrived, she changed his life forever.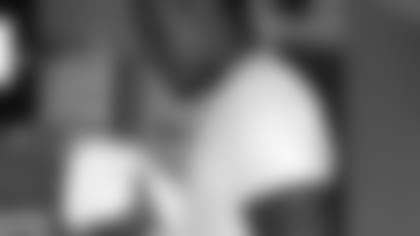 "It's something different when you first see your child. I can't even explain the feeling. It definitely motivated me. At the end of the day, I have to take care of another life. She's a part of me."
She also changed him as a player.
"I've always been a self-motivated person. But it definitely made me go hard. I know there are days when I'm tired and I'm just like, 'I can't do it.' Then I look at my phone, my screensaver, and I see that picture of her smiling and I'm like, 'I've got to do this. I've got someone depending on me back home,'" he said. "I'm going to put in the work, I'm going to do the things I have to do to become the player that not only they want me to be, but that I want to be, and the player I need to be in order to support my daughter."
When his rookie season wrapped up, Fountain put his head down and got to work - at the APEC training facility in Fort Worth, Texas, with Olympic gold medalist Raymond Stewart, with receivers coach David Robinson and others. He toned up and trimmed down, shedding almost 15 pounds in the process.
"There were days where I didn't stop. There were times when my trainers would tell me, 'If you're going to go hard all these days, you have to take a day's rest.' I was just going hard every day. It kind of was bad for me because I think it was the reason I was a little banged up coming into camp this year."
Hard work wasn't something Fountain needed to learn. It was something he knew, something he saw every day growing up.
"My grandma who passed away, she would work day shifts, night shifts, and it was continuous. My mom, she pretty much does that now. And the thing is, they never complained. I got home from school and they always made sure I had dinner and whatever I needed. At a young age, I looked at that and I was like, 'I know they're tired. They're still doing what they're doing with a smile on their face.'"
A first generation college student, Fountain graduated from Northern Iowa in three-and-a-half years. It was a big achievement for him and his family.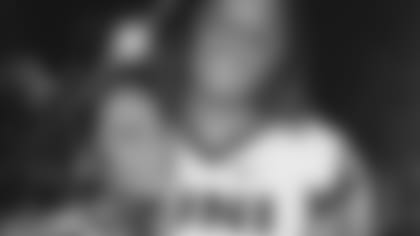 From college to the NFL, his biggest cheerleaders never wavered - cheering him on in good times and bad.
"When I got cut and moved to the practice squad, it didn't even phase them. They were still wishing me good luck on game days and everything."
Raised by women, they also taught him how to treat a woman.
"I know what a queen looks like," he laughed.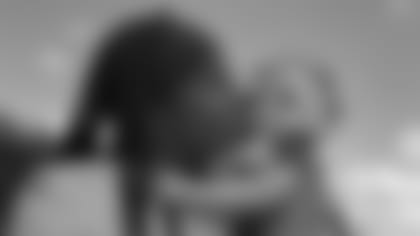 His little princess has him (and his hair) wrapped around her finger.
"Especially now - she's nine months now and she has so much personality. She smiles and laughs and tries to talk. She's crawling now. I could be rehabbing at home and she crawls in the room and climbs on the bed looking for me. It definitely brightens my day."
As training camp came to a close, Fountain's hard work was paying off. He was making plays, making an impact, and making everyone take notice.
Then, the unthinkable happened.
During the last practice, while scrimmaging against the Cleveland Browns, he got tangled up with one of the linebackers. Fountain heard a snap.
"The only thing I remember from that moment is that when it happened, both of our eyes got big. I thought when I heard the snap that he hurt something. But then once I realized that I was falling down - he started to cry, I looked down, and I was like, 'It's me.'"
The physical pain came later, but the emotional pain was instant.
"With an accident like that, I don't think you initially feel the pain. It's more of a shock," he said. "The initial shock of seeing my ankle bent out of place like that is what really scared me. It was horrifying."
He had a moment of, "Why me? Why now?"
"You can't get better by being negative. You've got to keep your spirits up as much as you can in order to make this process as comfortable and as smooth as possible."
And his daughter is helping him do that.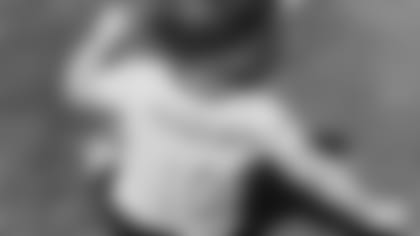 "A lot of people tell me how fast children grow. Being away during camp, I can see so many changes now. The energy she has in the morning, it inspires me to get out of bed and go work to catch my dream."
His recovery is going well. He's lifting and catching passes off the JUGS machine.
And last week, he put out a message to fans: "I'll be back."
Through all the ups and downs, Daurice Fountain is still smiling, still grinding, and still blessed.
He's blessed with the opportunity to play the game he loves.
He's blessed with coaches and teammates who challenge and guide him.
He's blessed with a family that supports and encourages him.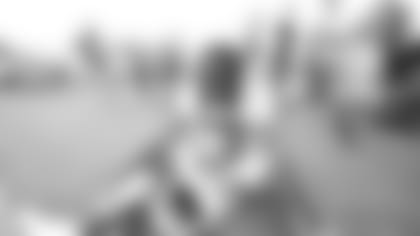 And he's blessed with the love of a little girl - his biggest fan - who inspires him every step of the way.