They're the women behind the Colts.
While their husbands go to work under the bright lights of the NFL, they work quietly behind the scenes.
"We do what we do so they can do what they do," said Kristin Ballard, wife of General Manager Chris Ballard. "Just knowing that we're behind them, we're supporting them, everything is taken care of at home so they can go out there and do their job."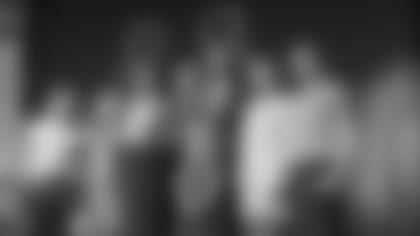 But they're not just holding things down at home. Like the rest of the Colts organization, it's important to these women to have the back of the entire Indianapolis community.
"The wives, we don't have our husbands a lot of the time, especially during the season," said Ballard. "And we want to give back and we want to be a part of it. I think that's our way of being a part of the organization is by servicing the community."
And that's what they did on Wednesday.
"The Colts always are so generous, sending us a lot of people over to volunteer," said Sarah Estell, Senior Director Marketing for Gleaners Food Bank. "And today, we have the Colts Women's Organization. So, we have the wives of the coaches and players back there sorting meat to put out into our food pantry here at Gleaners."
Just like their husbands, the women of the Colts aren't afraid to roll up their sleeves and get to work – even in less than ideal conditions.
"The wives are back there picking up big, heavy boxes of things, moving them around in our cooler, sorting pounds of meat, so they're really putting in the work today," said Estell. "It's kind of funny to see them back there in the orange coats we have for everybody instead of their Colts blue."
And when the players show up?
"When the players come out here, a lot of times they end up packing backsacks – which is very needed and we send out more than 9,000 a week – but that's little cans of macaroni and granola bars."
The women weren't there to outdo the men or even to break the stereotype of the NFL wife – if anything, it's just who they are.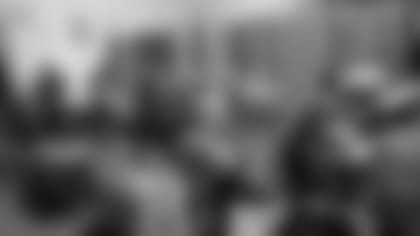 "We don't want to be there just to stand around and do little things. We're here to make a huge impact and I think that's why we like to do the big jobs," said Ballard. "We have a lot of determined wives in there. So, when they heard that this was the hardest job, they definitely wanted to be in there. I think it was a challenge and we all love a challenge."
And a challenge is exactly what they got. The women moved pallets around, broke boxes down, calculated loads, and sorted frozen food. It was giving back, working out, and team building – all at the same time.
Asked if their husbands would be surprised, Ballard responded, "I think they would know that's probably the place where we would be. I don't think they would be shocked at all."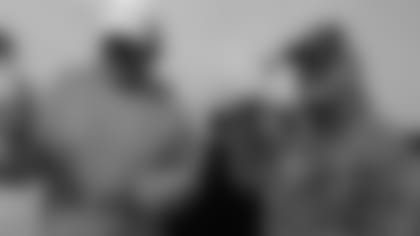 At Gleaners, it wasn't what they expected. But it was a pleasant surprise – and a great example.
"I think it really just says a lot to the community, that anybody can make an impact in any way. Whether it's donating, whether it's coming in and sorting loose cans, or whether it's really rolling up your sleeves and moving around those heavy boxes and sorting pallets and getting all that ready for our food distributions at our pantry – anybody can make an impact."
For the women of the Colts, that's what it's about – giving back and having each other's backs.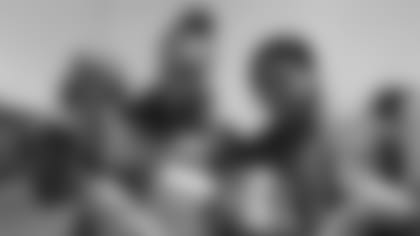 "That's the community that we want to have in the Colts organization," Ballard said.
It's also the community they want to have outside of the Colts organization.
So, they're helping to build it.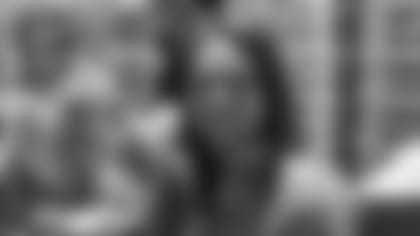 And they're not afraid to get their hands dirty in the process.
For more pictures, click here.