For Wayne and Carrie Addison of Greenfield, Indiana, the last 18 months have been a struggle.
"The whole thing started in 2016," said Wayne. "My granddaughter was diagnosed with spina bifida. We were going through that and going to the hospital and Carrie kept coughing and coughing. We couldn't figure out what it was."
They thought it was asthma or a virus. From May through October, they ran test after test. In the meantime, their granddaughter, Brynlee, was born on August 30th.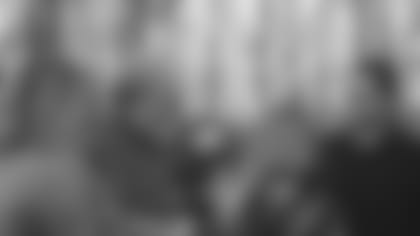 "She had to have surgery the first day she was born, but she's doing very well now," Wayne said. "From that worry, we went straight to Carrie. In October, we found out she has lung cancer. She's never smoked a day in her life."
Carrie endured six months of intensive chemotherapy and radiation. She now goes in every three weeks.
"One day at a time, that's what we've been doing. We've still got to fight and we're just going to keep going, one day at a time."
Five days before Christmas, there was a knock at the door.
"Hi, are Carrie and Wayne home?"
It was Colts guard Jack Mewhort, along with the Colts Cheerleaders and Blue.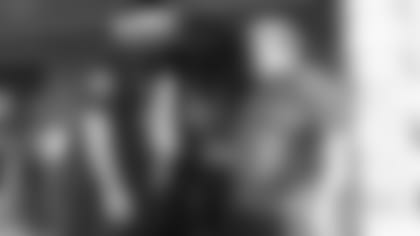 "Hi, I'm Jack. Let me give you a hug," he told Carrie. "I heard you guys have been going through a hard time. We just wanted to stop by and show our appreciation and we're going to send you to the Super Bowl."
"Well, thank you," said Wayne. "That's very nice. I don't know what to say. What does a person say to something like this? It's amazing."
"Hopefully, this gets your mind off what's going on and puts a smile on your face," said Mewhort.
They chatted and posed for pictures as reality set in.
"I would never have thought that I would be able to go to the Super Bowl. That's just beyond any thought that I ever would have had," said Wayne. "The Colts are amazing. It's been a tough year this year, but I love to watch the Colts. They mean a lot to us."
And the fans mean a lot to the Colts.
"Sometimes, you take it for granted and then you get reminded of the platform you have and the way that you can cheer people up like this when they're going through a struggle like this family has been going through," Mewhort said. "It's incredible."
It also puts things in perspective.
"I'm dealing with a knee injury, which compared to what this family is battling is nothing. So, it makes me feel really lucky that I can give back and show our gratitude and bring a smile to their face."
The Colts are always grateful for their fans. But after going through a tough season, they're even more appreciative.
"This is where you find out who a true fan is and we found out we have a lot of them," said Mewhort. "You realize how much people really care about the team. Even though we didn't do as well as we'd like, they were still there supporting us."
And that's why the Colts take every opportunity to give back, even showing up to surprise fans with a once in a lifetime opportunity.
This week, the Addisons are off to Minneapolis for Super Bowl LII.
And Mewhort has a message for Colts fans.