The Colts have much to be grateful for. 
"This is a season of giving thanks for what we have and obviously, we as an organization are so blessed to have so much and so many wonderful fans supporting us," said Vice President of Marketing Stephanie Pemberton. 
To show their appreciation, the team put together a game plan – to bring Thanksgiving blessings to as many Hoosiers as possible.
"This is an opportunity for us to say thank you back to the community and to make sure that these families have a Thanksgiving where they're not stressed about, 'How am I going to provide for my family' or 'How am I going to put a meal on the table for my children?'"
It started early Monday morning at Lucas Oil Stadium. Colts players, cheerleaders, staff members, partners, and volunteers came together to distribute 2,000 Thanksgiving meals in a drive-through fashion.
"It's everything from turkey to pumpkin pie to cranberry sauce, gravy, potatoes, vegetables, all of it," Pemberton said. 
While staff members and volunteers assembled the items and filled the bags, the players did the heavy lifting.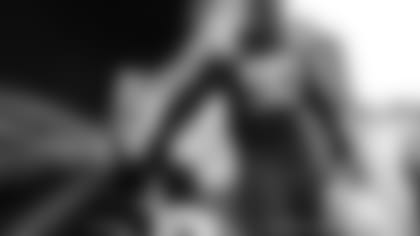 "I mean, nothing about a turkey is light," said tight end Eric Ebron, who argued it should have counted as one of their lifting sessions for the week.
Still, the players moved the birds quickly, efficiently, and easily.  
"We have to move a lot bigger people than this," Ebron said. "So, I hope we're able to move these pretty easily."
Joking aside, he was happy to help. 
"I wasn't always fortunate, so it's a gift to be able to give back to people that might not have it," he said.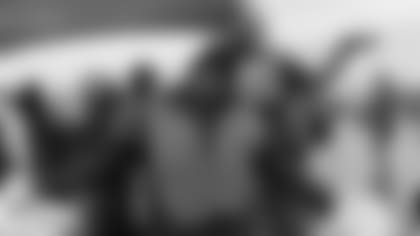 Amy Harwell represents the Martindale-Brightwood neighborhood. A regular at Horseshoe Helpings, she serves both as a volunteer and cheerleader. 
"It's something to do for your community, to work with people you don't know, to meet other people – because this is a beautiful thing," she said. "The guys had a beautiful win yesterday. So, why not continue to cheer? Happy holiday! Happy Thanksgiving!"
Cornerback Pierre Desir was grateful for the inspiration. 
"You need it on gameday. You need it out here to stay warm," he said.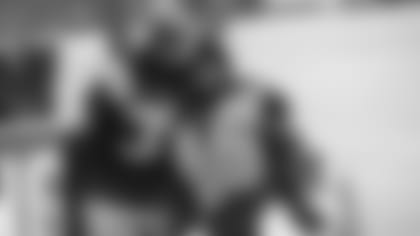 But the smiles on the faces warmed his hands and his heart.
"Even some of the kids that you see in the car, they just light up knowing that they get a great meal - and to come from us just shows the community that we care." 
Unlike the fans who cheered the Colts to victory on Sunday, the fans who showed up at Lucas Oil Stadium on Monday may never have been inside. 
"You're interacting with people who probably can't come to the games very often," said Colts cheerleader, Sammy. "I love having appearances like that because you really get to see what the Colts community is all about." 
And it was an opportunity to show them what the Colts family is all about.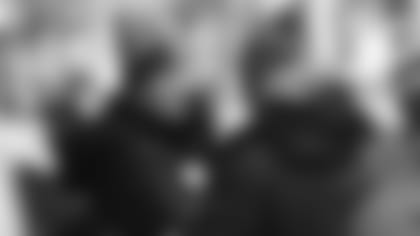 "It brings the families and friends and girlfriends and wives and everybody together," said Kristin Ballard, wife of Colts General Manager Chris Ballard. "That's what Indianapolis is about. It's about coming together and serving the community. It's an awesome feeling to see all these people out here. We do it year after year and more and more people come out."
It takes a village to raise a family. And it takes teamwork to feed a village.
"We want to say thanks to all of our partners, U.S. Foods, Meijer, Lucas Oil, Citizens Energy Group, without everybody's support and everyone coming together, we wouldn't be able to accomplish this," Pemberton said. "Everyone steps up in a big way to make this happen." 
When the last car pulled away and the final "Happy Thanksgiving," was heard, the event was over – but the giving had just begun.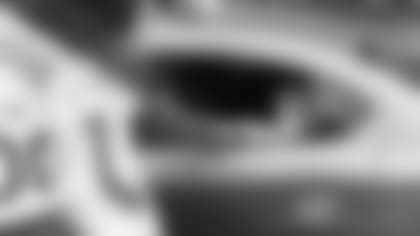 Later that evening, the Colts defensive backs gathered at the Edna Martin Christian Center to bring Thanksgiving to families on the near north side.
It's a tradition that started with the men who came before them.
"I feel honored to do something that was started by Mike Adams, handed to Darius Butler, and given to us. We're just going to hand it on down the line," said cornerback Kenny Moore.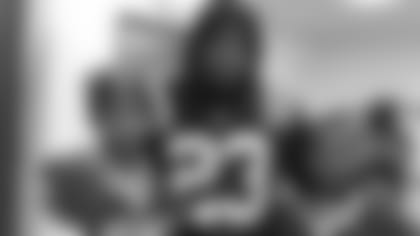 "They set the groundwork and we're all following in their footsteps. They set the precedent and we're just trying to continue to uphold that," said safety Matthias Farley. 
They don't want to let their former teammates down and they don't want to let their community down. 
"Any time you do something multiple times, I think people start to depend on it in a way," Farley said. "You get to see faces and that makes you want to play harder and it makes you feel like you're more a part of the city that you're playing in."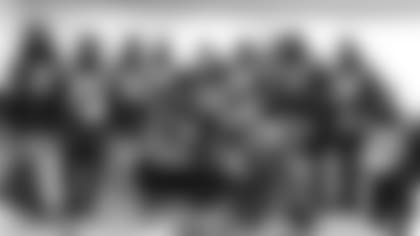 For safety Mike Mitchell, a newcomer to the Colts, it was the perfect way to show his gratitude – to his new city and his new team.
"I had different opportunities, but this was really the right fit. Every day that I spend in this building, I realize that more," he said. "I'm just super grateful to be with the Colts organization with the leadership that they have under Mr. Ballard and Coach (Reich)."
And he's been a great fit for the Colts – on the field and off.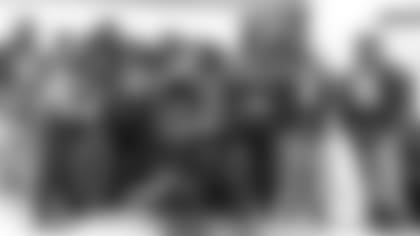 "Football is such a small part of what I actually do and who I am as a person. While it is a part that makes me unique, it's really just a small part of the package. A lot of what I focus my time on is my moral character and the things I do," he said. "I do believe if you're in a situation to help, you help. If you're in a situation to do, you do."
With the help of the City Colts youth football league, Mitchell and his teammates handed out turkeys and grocery bags packed with all the Thanksgiving essentials and carried them out to the cars of grateful neighbors.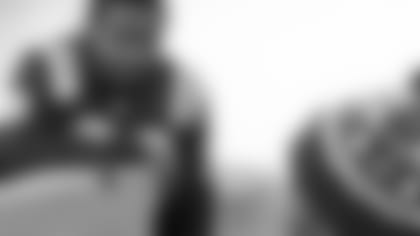 And safety Corey Moore took it upon himself to send the boys home with something that will last even longer.    
"I just told them that hard work can take you anywhere in life. I just tried to give them something. Besides giving away things, it's something they can really use in life," he said. "Your word is everything. Try to give them something good that they can take home."
Across town at the Chase Near Eastside Legacy Center, the Colts linebackers gathered to spread Thanksgiving blessings of their own.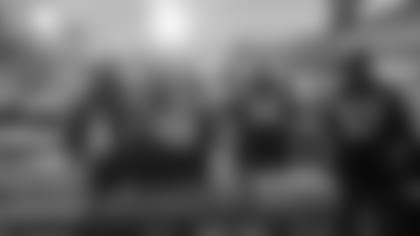 "Just to see the families and let them see our faces and know that we care. We care about more than just football, especially with the holidays coming up," said Najee Goode.
Rookie Darius Leonard gave back to both of his cities on Monday. 
"It was amazing, especially because I did one back at home in Lakeview, South Carolina as well. Mine took place at 1:30 yesterday afternoon. I couldn't be a part of that physically, but I came here and we did something in the afternoon, so it felt like I did both," he said. "It was a great feeling. I went to bed with a smile on my face."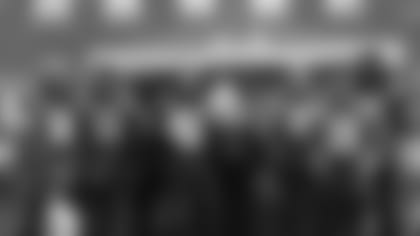 The offensive skills players were all smiles at the Mary Rigg Neighborhood Center, where they embraced the opportunity to give back to the community that supports them.
"Our team is built around community," said quarterback Jacoby Brissett. "I think it's more important than the game at a certain point. It's part of what we do it for, to be able to give back and provide for people."
"Wherever I've been at, I've always felt like I was forever indebted to that community just for taking me in," said rookie running back Nyheim Hines. "I'm in a new state, new city, and they've welcomed me with open arms."
For guys who have people shoving food at them on a daily basis, it puts things in perspective. 
"We're always complaining about how we eat the same food every day," said rookie running back Jordan Wilkins. "But to a lot of other people, they would be extremely blessed."
The giving continued on Tuesday afternoon.
Defensive end Jabaal Sheard held his own Thanksgiving just down the street from the Colts facility.  
Assisted by his teammates on the defensive line, he gave out dinners and warm coats to families in Pike Township.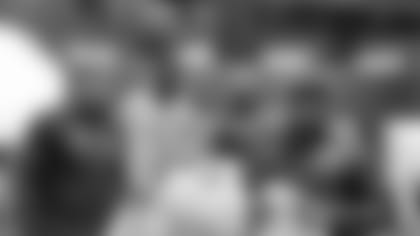 "It's very humbling just to see a smile on a kid's face. Everyone is appreciative of it," he said. "I'm thankful for my teammates who came out and supported, Chef Suzanne, and the YMCA that helped put this together."
For the YMCA of Greater Indianapolis, it was truly a blessing.  
"We always give out coats and gifts during the Christmas season and this year, because of us moving into a new facility, we weren't able to do what we wanted to do," said Executive Director Monic Hill. "So when Jabaal called us, it was just a perfect opportunity, it was placed in our hands and we ran with it."
For Suzanne Rockwell, a private chef who counts several Colts players as clients, it was something she couldn't say no to.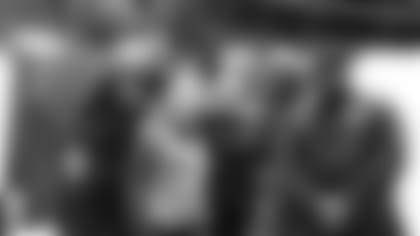 "It's kids and it's Thanksgiving and people are hungry. And nobody in Indianapolis should be hungry," she said.
"It's definitely a blessing being able to bless others," said Sheard. "It's just part of the culture here, always giving back."
From Lucas Oil Stadium to neighbors to the north, south, east and west – the Colts gave back to the community that's given them so much.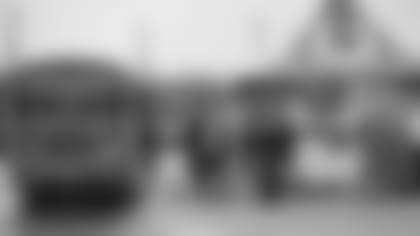 And that's what Thanksgiving is all about.