"Welcome to faith and family day with the Colts," said Pastor Ken Johnson to the young athletes gathered on the field at Lucas Oil Stadium.
During a particularly challenging season, the Colts chaplain said there's something he hears often from fans.
"They say, 'You're not praying hard enough.'"
But Johnson has another way of seeing it.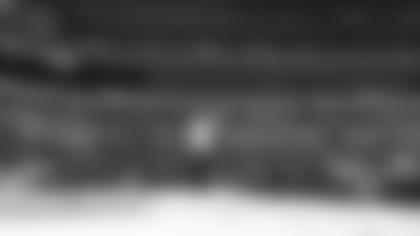 "Sometimes, adversity is what you need to build character and to go through some things that God can deliver you from. Sometimes in the midst of our hardships, you've got to remember they're meant to make you strong."
Last Sunday after the Titans game, Colts players, coaches, and cheerleaders gathered with the Colts chaplains, Ken Johnson and Eric Simpson, to share their stories of faith with students with the Fellowship of Christian Athletes.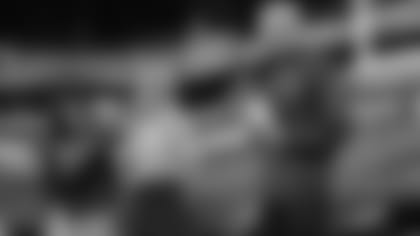 For Sammy, a three-year veteran of the Colts Cheerleaders, her challenge came early on.
"My very first year, it was two days before auditions and I was heading to work one day and I got in a very serious car accident. I was hit by a semi on the interstate. I went to the hospital and the doctor told me I had a broken back and he had no idea how I wasn't paralyzed, if not dead."
When she made the team the following season, she did so with an appreciation for things she once took for granted.
"I am so blessed to be walking and to be dancing on this field each and every week. I want to use that as a message to you – never let yourself be a victim of your circumstance. You are always meant to push forward and to strive to be something so much more than you ever thought possible."
For five-year veteran Leanna, her test came last season – and so did her triumph.
"Ultimately, I feel like God carried me onto this team," she said. "He's the reason I'm here. He gave me this platform for a reason."
The reason, she discovered after an appearance last year.
"I was the target of a hateful act that went viral. The way that I reacted was uncommon – it was to forgive."
What was shocking to some, for Leanna was second nature.
"That was a game changer for a lot of people. I don't think they were expecting that," she said. "One of the reasons I was so willing and able to forgive so easily was because I had been shown that same grace by God over that past year."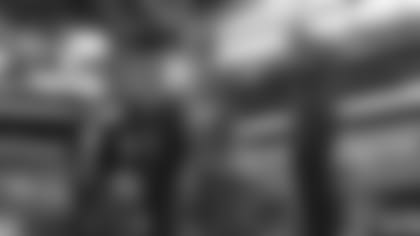 Seeing young players grow is one of the things Greg Williams loves most about his job coaching the Colts defensive backs.
It was a growth moment of his own that brought him into coaching in the first place.
"I remember praying as a kid, 'God, I just want to go to the NFL,'" he said. "And God works in funny ways. Everyone has a journey and God said, 'Yeah, you're going. Just not when you think you're going.'"
Williams played college football at the University of North Carolina. As his playing career was winding down, he was training in Arizona. One day, he got a sign – on his car.
"It said 'Looking for youth basketball players' and at the very bottom it said, 'Also looking for coaches.' I'm 25 at the time, I'm thinking, 'That could be fun.'"
He gave it a shot, coaching 9 to 11-year-olds in basketball – and a coaching career was born.
"When I got done with that season, I decided coaching was my calling. That's probably what God is calling me to do. From that point on, I really pursued coaching in football."
And it took him all the way from the YMCA to the NFL.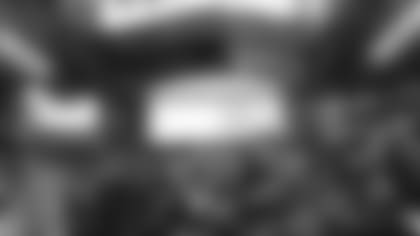 Safety Clayton Geathers' faith was tested when he sustained a neck injury last season.
"You don't know if your career is over. You don't know if you're going to play another down – I didn't," he said. "He gave me a glimpse of it before the injury. And then the descent was the injury – a little setback. And it really tested me as a person and it really tested my faith – it did. And I felt like He was just preparing me for this moment – for the breakthrough."
The breakthrough came last week. During his first play back against the Titans, Geathers had a quarterback sack (it was later called back by a defensive penalty). 
Cornerback Rashaan Melvin has been tested his entire career.
"Ever since I entered the NFL in 2013, I've been dealing with injuries – not just injuries that I can come back and play, but injuries that kept me out of the league - injuries that put me on injured reserve my whole rookie season. My second year, I was out of the league for 10 weeks. My third year, I had shoulder surgery that kept me out of the league for quite a bit."
Melvin injured his hand playing against the Titans last week. He's still being tested. And he's still being blessed.
"For me, it's been a rollercoaster ride. But it's always been a blessing."
Setbacks are sometimes blessings in disguise.
"It's never your plan," said Williams. "It's God's plan."
"It might not be when you want it, but he'll be right on time," said Geathers.
"I wouldn't be up here standing in front of you guys or be able to live out a childhood dream if I didn't believe in Him," said Melvin.
Faith, family, and football.
And the greatest of these is faith.