Dr. Anna Maria Storniolo stood in the middle of the infusion room at the I.U. Health Simon Cancer Center on Tuesday morning – just watching as patients interacted with the Colts players, cheerleaders, and Colts mascot, Blue.
"I didn't intend to walk over here. But I walked over, frankly, to lift my spirits because I knew everybody over here would be happy," she said. "Sometimes, what we do isn't that joyful because we have to deliver news that isn't that great. But there isn't a person over here that isn't smiling."
And pretty soon, she was smiling too.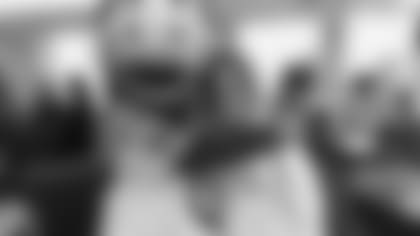 . "He was obviously emotional and excited about it, so to be able to be beside him doing that was special."
. "They tell us how strong we are, but they're the ones in here dealing with problems and fighting for their lives. It just puts things into perspective."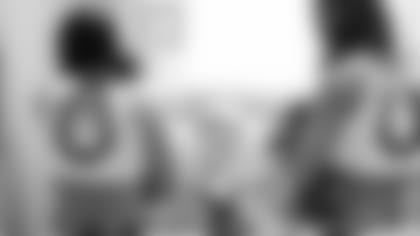 "It's totally different – having a different job today, but still having the same interest of helping patients and making them feel good," said Lori. "I have to realize that I'm there to cheer people up and not help people in that way."
At times, that was easier said than done.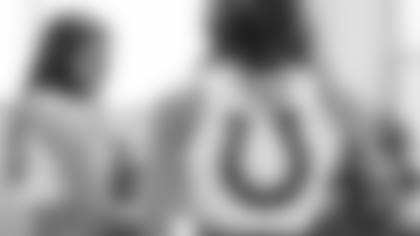 "In one of the rooms, the IV pump was beeping and Lori and I were both looking at it like we wanted to touch it and do something, but we knew that was not our job today," Lauren laughed.
Their job on Tuesday was simply to lift spirits, spread joy, and give hope.
And that's what they did.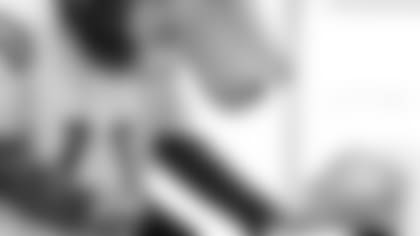 Many spirits were lifted, much joy was spread, and lots of hope was given. And in return, they got back even more.
"I think what they get out of this is understanding that there's a world out there where people are really, really ill and fighting for their lives and also they understand how incredibly cool it is that they can be ambassadors of joy," Storniolo said.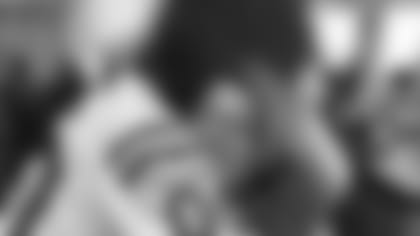 "To really know that they are goodwill ambassadors and sparking somebody's day must make them feel really special."
The IU Health Simon Cancer Center visit is one of several Colts events related to the NFL's Crucial Catch. For more information, visit www.colts.com/crucialcatch.