Stephanie Burnham has always been interested in sports.
"I grew up with three older sisters, so it was surprising I even got into sports," she laughs.
But like most kids growing up in Sydney, Australia, Burnham played sports herself.
"At my school it wasn't required, but everyone played sports. You played Saturday morning and every term there was a different sport. I did rowing for quite a while. I also played soccer, field hockey, all of those."
She went to college at the University of Canberra and got a degree in sports media.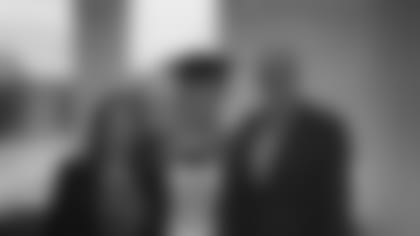 After graduation, she landed her first job working for a small sports organization.
Along with being a big fan of sports, Burnham is also a big fan of America.
"I knew I wanted to work in sports and Australian sports are great, but I knew about the NBA and the NFL and NHL. So, I always saw that as the big dream."
The U.S. is a mecca for world-class sporting events. And as someone new to the game, Burnham felt a calling.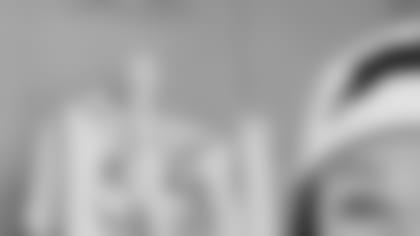 "I started thinking of ways I could learn more about sports and how everything works. I thought, why not learn from the best? So, I randomly reached out on LinkedIn to about 100 people that worked in the NBA and NFL. I was so lucky to have probably about seven people reply and three of those were with a yes and the others were no.
One of those people was Matt Conti, Assistant Director of Communications for the Indianapolis Colts.
"He said he probably wouldn't be able to have me over, as I was traveling during the season and it was a bit too busy here. But he offered to have a phone call and teach me anything I wanted to know. So, that's how I first got into contact."
In the meantime, she planned a trip to the U.S. and spent time last October visiting the Baltimore Ravens, the Tennessee Titans, and the Jacksonville Jaguars.
"It was amazing," she says. "I was really surprised at the access I got. The people at every organization were so nice and so helpful and really wanted to teach me all I wanted to know."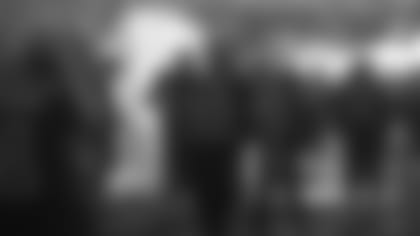 When it was over, she went back to Australia with even bigger dreams.
"It was a little bit bittersweet because I came over and I saw the top sport and how amazing it can be. In Australia, we're a little bit behind. So coming back, I did bring a lot of ideas. But a lot couldn't really be implemented because we are different. Still, I learned so much."
Over the last year, Burnham has been working as a digital content producer for the South Sydney Rabbitohs, a professional rugby team owned by actor Russell Crowe.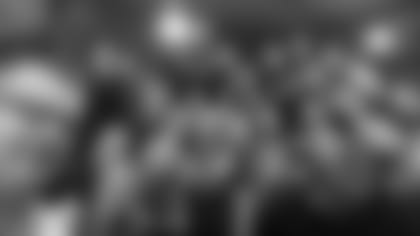 During that time, she stayed in touch with Conti, who gave her some advice.
"He said, 'Look, if you want to get into this, it's probably good to get a training camp internship.' I sent my resume out to every single team and sent one to Matt too and here I am now."
Since arriving in Indianapolis at the end of July, Burnham has been working with a team of interns assisting the Colts PR staff.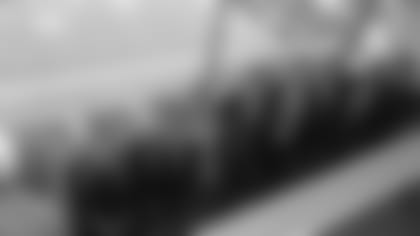 "I think it's a great organization," she says. "Their PR staff, they're not just great at their jobs, but they're really good people as well. And it's been great working with the other interns. We've all learned so much from Australian culture to American culture and it's been very entertaining."
The experience has taught her a lot about herself.
"I think personally, I'm really proud of myself and I don't think I was before. But after doing these trips, I was proud that I could go sit by myself at a restaurant and have dinner and meet new people and build on my confidence as well."
Her family is also proud.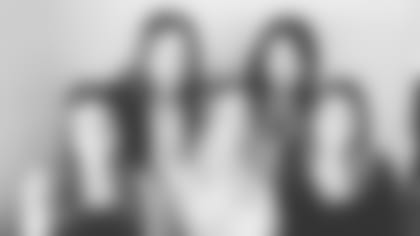 "Last year, my dad passed away just before my trip over here. That was extremely difficult and made it really hard to come over. But I'm very supported by the other members of my family. I'm really lucky that my mom and my sisters and even my extended family are so supportive."
And while it's only been a few weeks, Burnham has already become a part of the Colts family.
"I've fallen in love with the Colts," she says. "I don't know if it sounds cheesy or cliché or anything, but I think putting on that jersey and putting on a shirt that has that horseshoe logo, that's something that a lot of people take pride in."
And now, she's one of them.
Just like the players, Stephanie Burnham is chasing a dream.
"It's really inspiring to see 90 guys out here, all fighting for a position. I kind of feel like I'm in the same boat, being an intern trying to find a position."
She's put her life on hold, thrown herself out there, and immersed herself in the game – all for the chance to land a permanent job in the NFL.
"It's been expensive, that's for sure. I don't know where I really get the urge from, but this is my goal. That's the dream. And I'll put whatever I can into coming over and doing it."
She's already proven that – to herself and others.
"Even my mom and my sisters were like, 'We didn't believe you'd actually do it.' And that was the same with my dad as well. I kind of wanted to prove to him that I could do it. Unfortunately, he wasn't there to see me do it."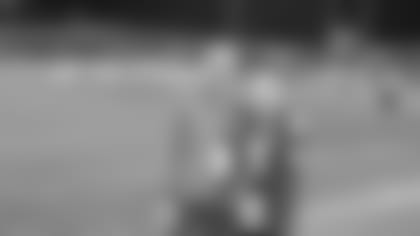 But surely he's watching, beaming with pride, and cheering her on every step of the way.