On Tuesday morning, law enforcement officers from different departments and different communities stood shoulder to shoulder on the Colts practice field.
"It's great," said John Conley, Chief of Police for Butler University. "The Colts are such a big part of the community and to be part of that and for the Colts to look at what we do and show the appreciation means a lot to everybody."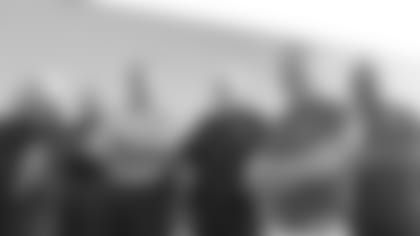 Standing beside them was Steve Randall, otherwise known as Tex, a police officer of 29 years, he now works team security for the Colts.
"I know the Colts support our law enforcement throughout all our communities. And we thought it would be a good time to bring them out here and introduce them to our new general manager and just give them an opportunity to spend a little time out here at the complex and get a break from the normal stressors of the day," he said.
What they could never have imagined, was how badly they'd need it by the time that day arrived.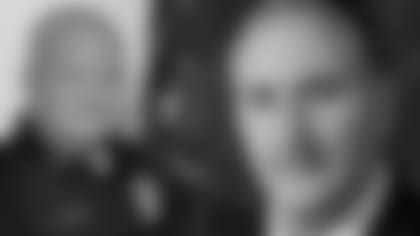 "Obviously, with the passing of our Southport brother and our deputy chief in Indianapolis, it's a tough time for law enforcement right now," Randall said. "We had planned this well over a month ago and the tragedies occurred within the last week – it's tough for all law enforcement. Especially those leaders that now have to put plans in place to honor those that have served for so long."
"We're all very close. We're a tight knight group of people, no matter what color shirt you wear. So, it's nice to be together with everybody," said Doug Carter, Superintendent of the Indiana State Police.
They may wear different colored shirts, but they wore matching black bands over their badges.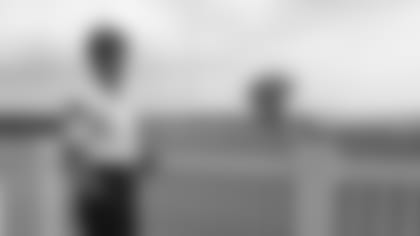 Across the field were members of the Indianapolis Fire Department. Battalion Chief Rita Reith wore the same black band over her badge.
"We love our brothers and sisters in blue, we really do," she said. "That is a partnership that you just can't put a dollar amount on. It's really a good working partnership. And what affects them affects us and vice versa."
But they've also got a healthy rivalry between them.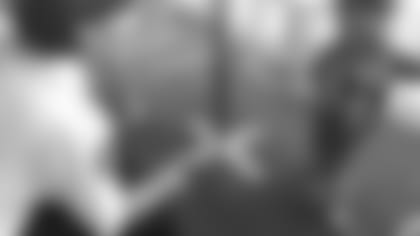 "Now of course, we're back here with all the food and they're out there," she joked. "They'll be like, 'Oh, the firemen are with all the food.'"
Many little boys grow up thinking they want to be a police officer or a fireman. So, I asked some big boys which of those professions they'd choose if football wasn't an option.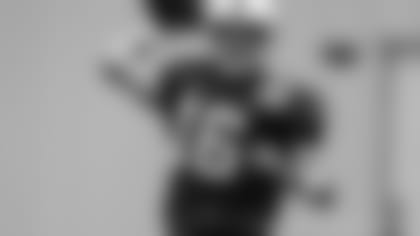 "I really do respect both jobs. It's impressive what they do," said quarterback Scott Tolzien. "I'd probably say firefighter. My dad has some close firefighter buddies and they're always telling stories about the times in the firehouse together, making meals together. It's that team atmosphere, I guess."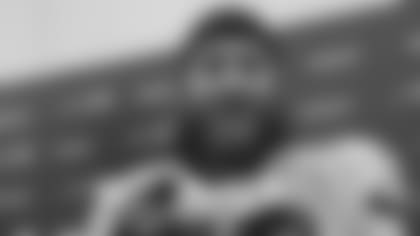 "I'd go firefighter because my dad was a volunteer firefighter for like ten years when I was younger," said offensive lineman Joe Haeg. "I would always go over there. My cousin lived really close by. We would always mess around, climb the ladders, probably get in a lot of trouble – but it was fun."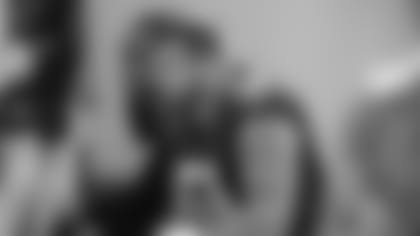 "I'd be in trouble if I didn't say police officer, because my wife's whole family is police officers," said linebacker John Simon. "A lot of respect for both, but I don't want to get in trouble."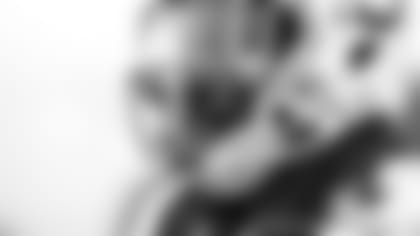 "I would say police," said wide receiver T.Y. Hilton. "I want to arrest the bad guys. And I want to ride around with the K-9. I like them."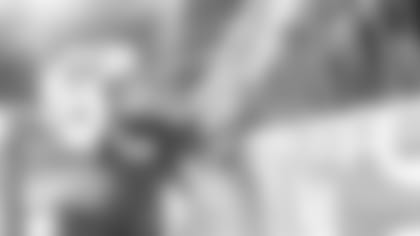 "I think if I was a firefighter, I would probably become the fire chef because there's a chef in house, so you get to cook," said safety Matthias Farley. "It would be very similar to this. A police officer, yes you're in a unit at times, but a firefighter, you're always going out with the same guys. I think that translates well to football."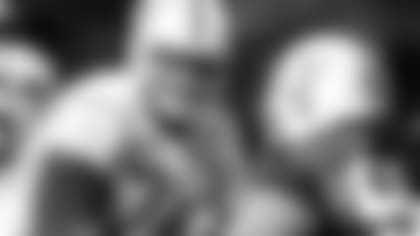 Tackle Zach Banner was conflicted.
"You're going to do that to me? You do one and you get pulled over, you do the other and they don't respond when there's a fire at your house," he joked. "I have an uncle who's SWAT team in L.A. and my best friend in the world is getting licensed to become a firefighter."
But if he was forced to choose?
"What would be cooler in a Maxim photo shoot if I could wear nothing but that and have my abs showing? I think I'd look good in a firefighter's uniform."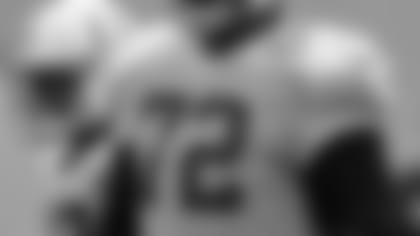 At 6'8" and 350 pounds, Banner would like to suit up as a fireman. But he's probably best suited as a police officer.
"I can't get through windows. So, I'm going to be a great cop. If you see me walking up on the scene, do you think people are really going to mess with me?"
The players all agreed on one thing.
"We'd be in a world of hurt if we didn't have either of them," Tolzien said. "Obviously, appreciative of what both of those departments do. To let them watch a practice, that's the easiest thing in the world for us."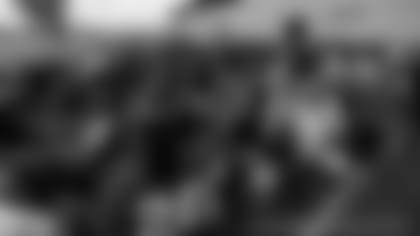 Whether on the field or on the streets, the Colts have the backs of the boys in blue – and their brothers in the firehouse too.