Jeremiah George was never considered a blue-chip prospect. Born and raised in Clearwater, Florida, George excelled at his local school at linebacker and running back. He earned the team's defensive MVP award on three separate occasions. He collected over 150 tackles as a senior. He led his team in rushing yards that same season, as well. Yet, he found himself empty-handed when it came to a scholarship from a top-tier school.
In an attempt to impress the coaching staff and possibly earn a scholarship to Florida State, George attended the 'Seminole Showcase' in the spring of 2010. The coaches tried him at both linebacker and safety due to concerns surrounding his 5-foot-11-inch frame. During a break in the showcase, George needed to take a bathroom break. He sprinted off the field in search of a restroom. Just down the hall, he saw a small, but muscular man talking on the phone. It was Derrick Brooks, whose NFL career included a victorious Super Bowl XXXVII appearance, 11 Pro Bowls and eventually a first-ballot Pro Football Hall of Fame selection.
"I run over, I've still got to use the bathroom, and I said 'Mr. Brooks, can I talk to you for a second?'" George said. "He gets off the phone and I tell him, 'I know you were undersized coming into college and they also asked you to play safety. I am in that same situation. What should I do?'" Brooks told him, "'If you love playing linebacker and that's what you play best and that's what you want to be, then don't ever change. Don't ever let someone tell you that you are a strong safety. Inside, you are always still going to be a linebacker.'"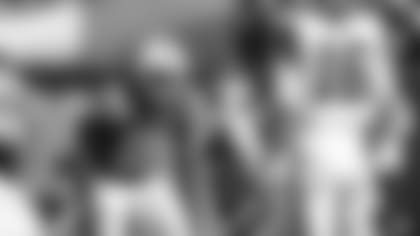 Jeremiah George never looked back. He did not earn a scholarship at Florida State, but that is neither here nor there. He had earned the right to play college football, and he was going to do so at the linebacker position. However, schools still had questions about George's height. Shane Burnham, now the defensive line coach at Rutgers, recruited George at Iowa State. Burnham needed a linebacker, but wanted to be 100 percent certain that George was tall enough to make it at the collegiate level. "He flew down because he wanted to see actually how tall I was," George said. "I remember we had to take a picture because he was about 5-foot-10 and I was right there with him, so I guess it was enough to get the scholarship."
George contributed on special teams units during his freshman and sophomore seasons at Iowa State. During those two years, he played behind future NFL players A.J. Klein and Jake Knott. George utilized his first two seasons at the school to prepare for a starting role. "Each year you could tell that I started to just pick it up more and I started to play a lot faster." Entering his junior year, George emerged as the team's starting linebacker ready to make a name for himself with his coaches and teammates.  He finished the season with 87 tackles, the third most on the team. The following year, as a senior co-captain, he collected 133 tackles, 3.5 sacks, three forced fumbles and two interceptions. He received Iowa State's team MVP award and First Team All-Big 12 honors for his performance. However, his favorite memory from college does not consist of a specific play, stat or award.
"We shocked Oklahoma State, who was the No. 2 team in the nation at the time," George said. "We beat them at home. I still remember it like it was yesterday." He recalls the Oklahoma State upset as his best moment in college, but he says so for a particular reason. While some players find relief in playing at their home stadium, George prefers the opposite. "I love road games. If you think about it, when the opposing team's offense is on the field and they are at home, they have to be quiet. You can be loud, you can be aggressive and you can make a third or fourth-down stop and it goes completely silent," he said. "All they hear is you and your teammates celebrating. I really love being the underdog on the road."
The next step in George's journey included a trip to the combine, followed by the 2014 NFL Draft. He didn't believe that he performed well at the combine, but was selected in the fifth round (154th overall) by the New York Jets. The team relied on Rex Ryan's 3-4 defensive scheme, which George was not completely comfortable with. "In high school and college I ran a 4-3," George said. "It was like speaking English your whole life and then being asked to speak German or another foreign language. I wasn't able to show my strengths as much as I wanted to."
The team released George in his first year with the team. He spent time with the Jacksonville Jaguars (2014), Tampa Bay Buccaneers (2015) and Dallas Cowboys (2016) before arriving in Indianapolis. While not an ideal situation, George learned to grow throughout his early experience in the NFL. "Being bounced around the league a little bit, you learn different terminologies and schemes. You gather that information and I've been able to use it more with the Colts than any other team," he said.
The Colts brought in George for the 2017 mini-camp on a tryout basis. His first challenge would be to make the team's 90-man roster. "All I wanted to do was to show how thankful and grateful I was for the opportunity and also to show that no matter what, I want to be able to compete and play this game." When camp arrived, George did not stray from that spirited approach. "As soon as we got into camp, that's all I continued to show – that I was competitive, I was passionate and loved this game and the rest would take care of itself," he said.
When Chris Ballard took the reins as general manager of the Colts this past offseason, he focused on building a competitive roster. Enter George, who was so passionate in his practice and study habits that a scout had told him in Dallas that they signed him over another player simply because they heard about how hard he practices. During camp, head coach Chuck Pagano even went out of his way to mention George's impressive play, who he believed "nobody knows about.'"
George's performance in camp and the preseason earned him a spot on the team's 53-man roster. He has found his way into a prominent role with the team's defense, despite being brought in as a core special teamer. While there were injuries to the inside linebacker group in the Week 2 loss to Arizona, George was on the field for 79 percent of the team's defensive snaps. He collected five tackles and one tackle for loss. Nonetheless, he remains committed to special teams, despite his increased role with the defensive unit. He understands the importance of playing a role and doing whatever it takes to secure a victory. "No matter what my role is here for the team, whether it be as a starter or backup, I will emphasize special teams because I know it's important and can change the game at any time," George said.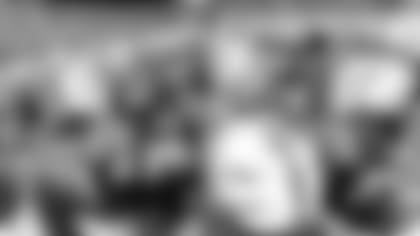 The third-year linebacker feels comfortable in the Colts defense, which is something he may not have been able to say in the past. "I love this defense because it gives all 11 athletes on the field a chance to show what they're capable of and special at doing, whether it's covering man-to-man, covering in zone, blitzing or getting after the quarterback or ball carrier," George said. The Colts inside linebacker group consists of George, Jon Bostic, Antonio Morrison, Sean Spence and rookie Anthony Walker. The crew has led efforts to stop the run and currently ranks seventh best in the NFL with just 73.0 rushing yards allowed per game.
While George may have found his niche with the Colts, he has not changed his methodology since Brooks offered him advice. "I never, never, ever thought about anything else than just working on my weaknesses and continuing to build on my strengths to be the best linebacker that I could be," George said.
This Sunday, it may be wise to look for George in pregame warmups. There is a good chance you will find No. 59 in the center of the pregame assembly, screaming and preparing his teammates for battle. He wouldn't have it any other way. As he puts it, "I am Jeremiah George. I am passionate. I am loud at times. But, it's for a reason. I just love the game of football so much."