There are many football camps for middle school and high school players looking to improve their game. But few specialize in line play. And even fewer are free.
Former Colts guard Dylan Gandy and former defensive tackle Daniel Muir saw an opportunity to invest in young players.
"You've got quarterback camps, wide receiver camps, running back camps, all these different things going on all over the place – which are really, really good. But big guys oftentimes get left out," said Muir.
"We wanted an opportunity for high school and middle school offensive and defensive linemen to come and get coached by guys who used to play at the highest level," said Gandy.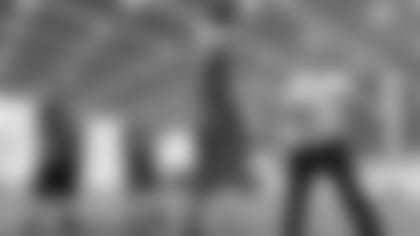 On Sunday, they teamed up with Pro X Athlete to host a free event for young players grades 7 through 12 at Grand Park in Westfield.
"We had our second annual line play event put on by Trench Game, which is a company Dan Muir and I started," Gandy said. "We focus on skills training for offensive and defensive linemen."
And most importantly, they have fun doing it.
"There's so much pressure on kids now a days to perform. A lot of times, they forget to have fun," Muir said. "This is a fun game. So, we wanted to relay that to them. 'Hey, come out and have a ball doing what you're doing.'"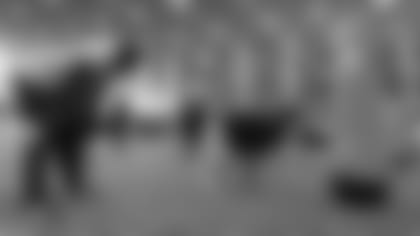 The former teammates they brought in enjoyed it just as much.
"I never wanted to be a coach. This is probably the closest thing I will do to coaching, but it's definitely fun to be able to coach guys up," said former Colts guard Donald Thomas.
When he got back on the field, it came naturally.
"It's like riding a bike, honestly," he said. "You get back into everyday life and you're not doing X's and O's, but you get back out here and a switch kind of flips and you get back in football mode. And then you turn into a coach because you've been coached for so long, you start to give off what you've been given."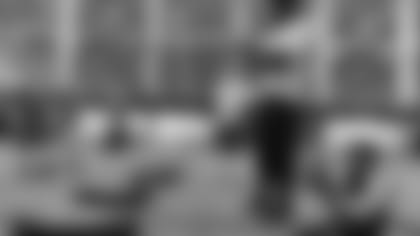 What they've been given, they feel a need to pass on.
"We were coached by some of the greatest coaches in the game and we played with some of the best players in the game and we learned a lot in our time in Indy and other places we played as well," said Gandy.
"I didn't want to trap all those things in me and not be able to pour it out to these guys, so being able to get in the community with a free event like this, being able to pour back into guys is extremely important to me," said Muir.
Surrounded by almost a dozen current and former players with close to 75 years of NFL experience between them – for the young players, it was the opportunity of a lifetime. From position and stance to footwork and blocking, they covered it all – including how to be a good teammate.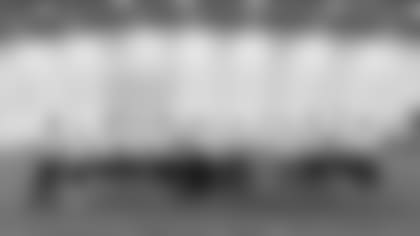 "Being a part of a team is a big deal for me. You grow up with these kids and they become your family," said former Colts offensive lineman Rick DeMulling.
In the end, that's what it's all about.
"I built some of the best relationships I've had in my life with guys that I played with," Muir said. "And being able to see Antonio Johnson, Justin Harrell, being able to see Keyunta Dawson drive up from Tennessee just to come up and help for a couple hours is extremely big for me. I value their friendship and the brotherhood that we've had for years."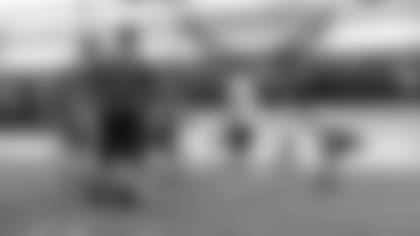 Craig Roederer coaches football at Zionsville High School with Gandy and former Colts guard Ryan Diem – guys he credits with helping to change the landscape of Indianapolis and the culture of Indiana.
"A lot of these guys will tell you, when they first got to Indianapolis, it was all basketball. Reggie Miller was king," he said. "And slowly, Peyton and that group – and these guys were a big part of that – they really started to change the idea of what is important in this state."
They changed the state, transformed the city, and invested in the community.
"I think that was the cornerstone of our locker room here in Indianapolis was being engaged in the community and giving that time back," said Diem.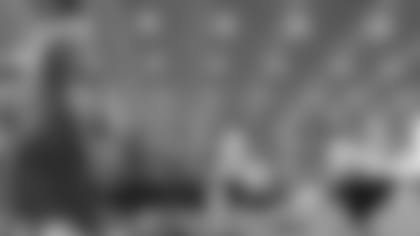 Years later, they're still at it.
"It's a group of high character men putting out a message that these kids need to hear on a regular basis," said Gandy. "Because football is way more than just blocking, tackling, passing, catching – it's about helping develop these young men into great men."
Just like others did for them.
Trench GAME is now powered by Pro X Athlete in Westfield. For more information, visit ProXathlete.com.