It was the past meeting the future.
Fresh off their first practice and before stepping foot on the field, on Friday evening, the Colts rookies stepped into the locker room at Lucas Oil Stadium for their official welcome dinner.
On the ceiling hung banners of teams past. And in the lockers hung jerseys of current players – Andrew Luck, T.Y. Hilton, Adam Vinatieri and others.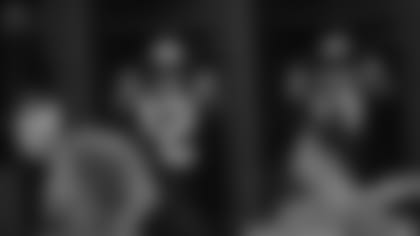 There were also lockers with no nameplates – those yet to be earned.
"Welcome to the Indianapolis Colts family," said David Thornton, Colts Director of Player Engagement. "What a special opportunity that you all have – a chance to earn one of these open spots in this locker room."
Just like the men who came before them.
"There's a great history here in Indianapolis," said Colts General Manager Chris Ballard. "When I got here a year ago, I went to David and I said, 'I want to do something so our young players understand the shoulders they stand upon.'"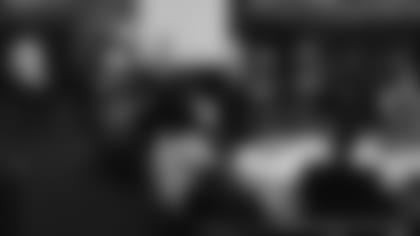 The men who wore the Horseshoe were there to greet them.
"We as alumni are really excited about what's going on here right now," said former offensive lineman Dylan Gandy. "There is a culture change that's happening here that makes us really proud to wear the Horseshoe, as it has in the past."
As former players, they were there to introduce themselves, establish a culture, and become a resource. They also offered the young players some advice.
"Be a professional on and off the football field," said former wide receiver Bill Brooks.
"Keep your circle tight, especially right now in your rookie year," said former offensive lineman Joe Reitz.
"Right now, you're a luxury. You need to make yourself a necessity," said former linebacker and current pass rush consultant Robert Mathis. "Whatever goes into that, you need to figure it out and figure it out fast."
"Don't let this opportunity pass you by without affecting somebody in a positive way," said former offensive lineman Rick DeMulling. "Don't leave this game of football just getting a check."
They're players who established a culture, transformed a city, created a legacy – and they want to see it continue.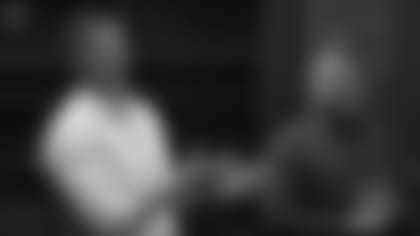 "This city wants to win and they want to win now. And that's why you're here – to win," said former long snapper Justin Snow.
"This community is great. This community will give you the benefit of the doubt," said former offensive lineman Ryan Diem. "I came here 17 years ago and I haven't left. I love it here. This town, they'll appreciate you."
Football is about more than winning games.
"We know that these locker rooms are sacred ground," said Coach Frank Reich. "Out on the field and in this locker room there are things that are said and done and that happen that remain with us, that change our lives, that go beyond what words can express."
But the culture the Colts are building is very much about winning. And it comes down from the top.
"There really isn't anyone else in the entire world who cares about this game more than my dad," said Carlie Irsay-Gordon.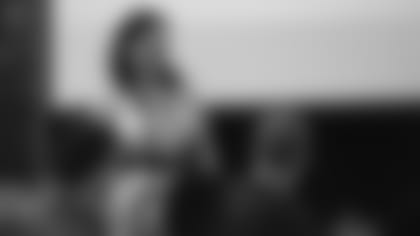 For the Colts rookies, the standard has been set.
"Greatness is not easy. It doesn't come easy. It's going to be hard. It's going to be harder than anything you've ever done," Ballard said. "But I promise you, at the end of the rainbow, it'll be the best feeling you've ever had because of what you've put into it."
The men who came before them achieved greatness. And once you achieve greatness, you won't settle for anything less.
"You stand upon their shoulders," said Ballard. "It's your job to hold up the flag for what they started here."
The Colts rookies have an opportunity.
"Let yourself buy into something that's bigger than yourself," said Gandy.
Like anything in the NFL, it has to be earned.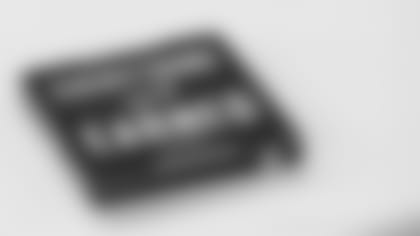 "Hard work is what keeps people around here," said Diem.
Right now, they're taking their first steps. And with every one, they're writing their story.
Those who buy in, work hard, and lead their team will have a chance to earn a locker.
And those who continue to do it – day after day, week after week, year after year – will have a chance to earn greatness.