They gathered in Indianapolis for two days, 40 women from all over the country, all with two things in common - they currently work in football and they're looking to advance their career.
The NFL held its third annual Women's Careers In Football Forum during the 2019 Combine.
It was two days of unprecedented access to some of the top football experts in the world, including NFL head coaches, general managers, owners, and executives - even Commissioner Roger Goodell, all offering one of their most precious assets - time.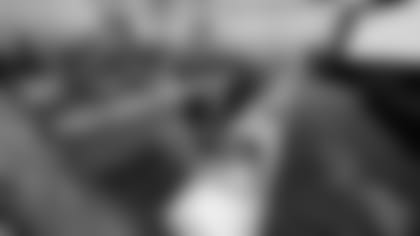 "We're here today for one reason and that's that our clubs know that in order to be the best, you have to consider the entire talent pool and not 50 percent," said Sam Rapoport, Senior Director of Development for the NFL. "We all know that women are vastly underrepresented in football jobs currently at the high school, college, and professional level. And so today, we're working towards changing that."
The goal is to flood the pipeline with female talent in football operations. Right now, it's more of a trickle.
"I do not get many women resumes coming across my email," said Colts General Manager Chris Ballard, who kicked off the forum, participated in the panel, and stuck around afterwards to chat with attendees.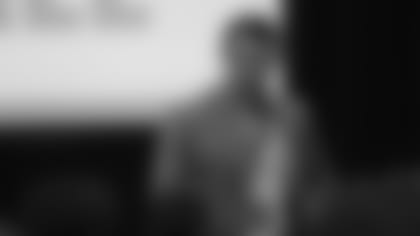 "The reason I got into this profession was because I loved football. I loved connecting with players. I love making a difference in other people's lives. And that was kind of my purpose for why I did what I did and it's led me to where I am today," he said.
He shared some advice with the women that has been passed down in the Ballard family.
"I was raised by a single mother who worked and was very successful as a home builder," he said. "I have five children, three of them daughters, and I talk to them all the time about the same message my mother gave me - which was, 'Don't put limits on yourself.' Don't limit yourself on where you can go in life. Don't let others tell you where your ceiling is - dictate that."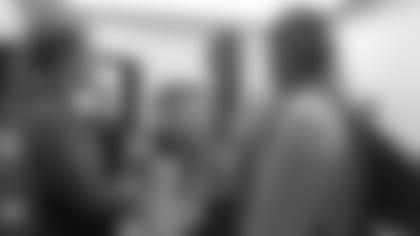 Raised by a strong woman, Ballard now works for an organization with strong women at the top.
"I'm very fortunate to work for an organization led by Jim Irsay, who has three daughters, Casey, Carlie, and Kalen, who are all extremely active within the organization in every aspect of it - from community service to business to football. Carlie is the most inquisitive person I've ever been around when it comes to asking questions about football - always trying to learn, always asking why."
Diversity of thought is something Ballard appreciates. It's something he believes in. And it's something he believes all the women could bring to a team.
The truth is, many of them already are.
A cheerleader in high school, Olivia Mitchell fell in love with football watching it with her father on Sundays. But it was a TV show, "The Game" on BET, that inspired her to turn her love of sports into a career.
"There was a character called Tasha Mack and she was a sports agent," she said. "I saw her and saw how powerful she was as a woman in football and I was like, 'I want to do that.'"
When she arrived at Notre Dame as a college freshman, she emailed every person in the athletics department. One of the first emails she got back was from someone in football.
"I went in as a very timid, very shy freshman in an interview for a recruiting position. From then on, I was a recruiting student through my senior year."
Mitchell still works in the football department, now as assistant director of operations. She came to the forum hoping to get a glimpse of what her job looks like in the NFL.
"I haven't really had the opportunity to have the NFL background or have people in the NFL in my circle. So, being able to open myself up to that is important," she said.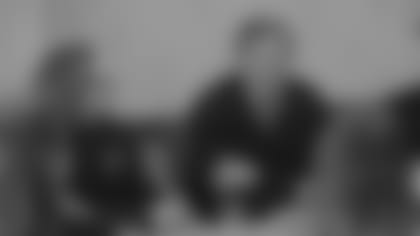 When Samantha Mullet heard her high school was starting a football program, she had to get involved. 
"I went back to the head coach, who was my high school science teacher, and said, 'Can I help in any way?' I was willing to sit in the grass on the sideline and keep stats."
He had something else in mind. 
"He said, 'I don't have time, I'm teaching eight classes and grading papers for 100 students - find me an offense.'" 
She found him an offense. And after presenting it to him, he was so impressed, he asked her to run it. Today, she's the offensive coordinator, calling the plays for the Lakers in Bear Lake, Michigan.
In these women, Rapoport sees a future.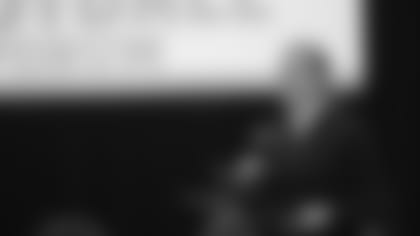 She also sees a past - hers.
"I grew up in Canada, where girls' flag football is offered at the high school level. So I grew up playing the sport," she said. "I just fell in love with the game. I knew there was nothing else I wanted to do other than work in football."
From expanding flag football opportunities for girls to opening career paths for women, Rapoport didn't just forge her own trail, she went back to light the way for those who follow in her footsteps.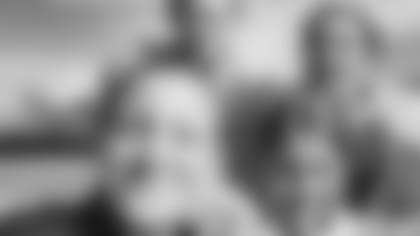 "This truly is bigger than football. We're looking to implement this in all sports and that will help all women move forward in all industries, not just sports," she said.
Kim Jones has been breaking barriers in the sports world for more than 20 years. A reporter for NFL Network, she moderated the forum and was inspired by what she saw.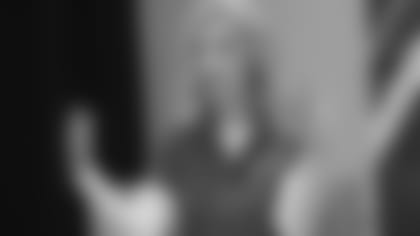 "These are women who are thinking football and doing it at the college level in ways that, to me, are already impressive," she said. "I thought there was no doubt that those five men on the stage would hire any of those women in the audience if that woman proved she was the best person for the job and that she could benefit the organization."
Chris Ballard would be first among them. 
"To find women who are passionate about football as much as we are and who aspire to do big things, I think it's outstanding," he said. "I think it's just a matter of them continuing to knock on doors and get their foot in and go to work."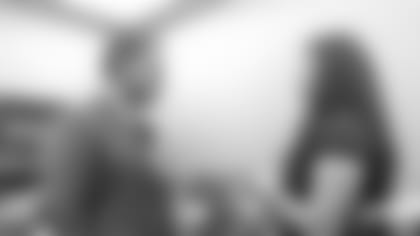 As a result of the first two forums, 26 women landed opportunities to advance their careers in football.
"I have a feeling we'll get a lot more this year," Rapoport said. 
She calls it her dream job, but the ultimate goal is that one day, they won't need her to do it.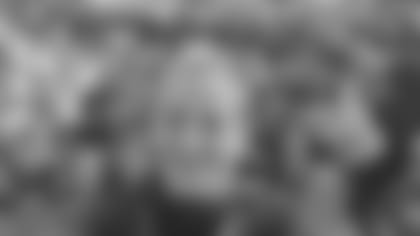 "We don't want to host forums for women in five or ten years. We want to get to the point where we're not calling someone a female coach or a female scout, they're just a coach or a scout," she said. "And it's starting to happen with our officials - you don't really hear too many people talking about Sarah Thomas as our female official. She's just a down judge."
As the NFL celebrates its 100th season, the game is as popular as ever - and diverse like never before.
The future of football is here.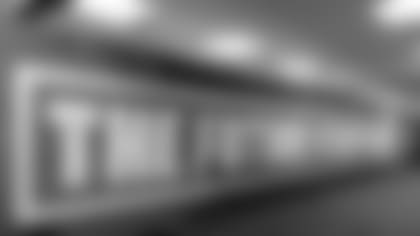 And everyone has skin in the game.