A football team is always a work in progress. 
This time of year, rosters change almost daily as teams strive to get better at every position.
Colts Special Teams Coordinator Bubba Ventrone can relate to the players who come and go - because he was one of those guys.
"I think I have a really good understanding for what those guys go through day in and day out. The work that they put in, how stressful this job is - especially this time of year. It's a fun time of year because we're back into football. But everyone is competing for a job and it is a stressful job. I let these guys know that I understand how they feel because I went through it." 
The former defensive back spent 10 years in the NFL with the Patriots, Browns, 49ers, and Jets before transitioning into coaching. He uses his personal experience to encourage and motivate his players.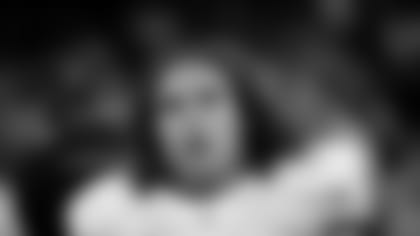 "I was a backup special teams player and I knew that I had to bring it every single day. I knew that I couldn't have an off day," he said. "I try to tell my guys, 'The one thing that you can control is how hard you prepare and how much effort you give on the field.' You can only control what you can control - and that's those two things. Just do the best you can and everything will take care of itself."
Still, he doesn't leave anything to chance. 
"The guys that I need, I'm always fighting for them. We always say you need two coordinators to go to bat for you - the defense and me or the offense and me. I'm always pushing for my guys."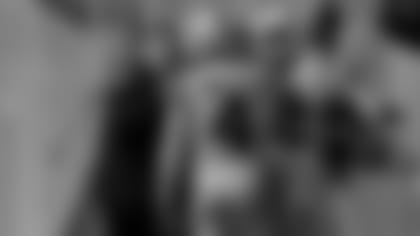 As tough as the business of football is, when it becomes the family business - it gets even tougher.
"I ended up playing for three teams on the active roster and one week of practice squad with the Jets," he said. "The hardest one was when I got released from the Jets. We thought that I had earned a spot. We had just signed a lease and I got released the next day."
"We had just gotten married. We had just signed the lease and I had just bought all new bedding, set up the whole house, went grocery shopping, bought food, and he gets the call. He comes back and he's down in the dumps. I was like, 'Alright, let's go.' We packed up and we drove home that night."
A week later, the Patriots called and he was back on a roster. 
"My daughter, who's now 10, I had her at my last training camp in New England and I got released at the end of camp," he said. "She was a month old. Then I got signed to Cleveland and my wife and I were living in a hotel with a newborn for the first six months of her life. It was tough."
But having a trusted partner makes it all a little easier. 
"I couldn't do it without her," he said. 
Katie isn't just a wife and mother - she's also a cheerleader for the entire family.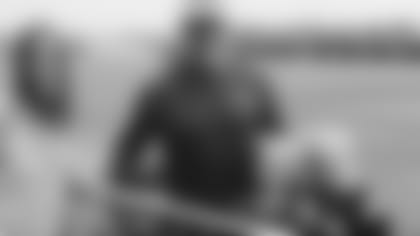 "That's what I am. I'm like, 'You worry about football. I can pack up.' And it's carried us through the years with the kids and the schools," she said. "But they're troopers too." 
Being able to share his love of the game with his family is something Ventrone doesn't take for granted.  
"When I was playing, my daughters were born. And my son wasn't born until my last year. I wish he was a little older to see me actually play," he said. "He asks a ton of questions. He knows every team in the league now. He's really into it. His favorite player is Luke Rhodes."
For the Ventrone family, football is a way of life. And special teams is their livelihood.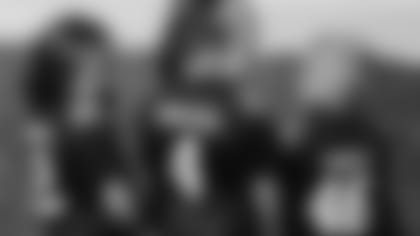 They're always representing the specialists - especially on game day. 
"We are united - special teams," Katie laughed.
On Kids Day at training camp, the Ventrone kids were on the field before practice shagging balls, helping the equipment staff, and catching up with players who are now like family.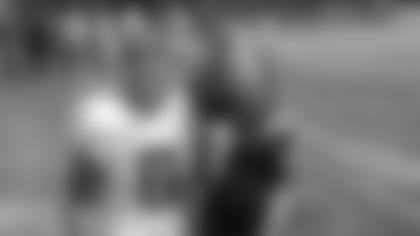 "It's the best," said Katie. "We were flying home and the kids couldn't wait to get on the field with him. He always makes sure they feel special and they're included in his job. It makes this whole thing worth it."
The game he loves has taken Ventrone and his family across the country and back.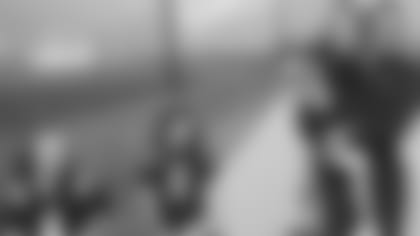 But they've found a home with the Colts - and they couldn't be happier. 
"It's been great. We love Indianapolis. I couldn't ask to be in a better situation for my family and I," he said. "I couldn't be more thankful to have Coach Reich call me after he got this job. I'm so excited to be here. We had a great year last year and I'm looking forward to another season."
The special teams unit is everything he could have hoped for.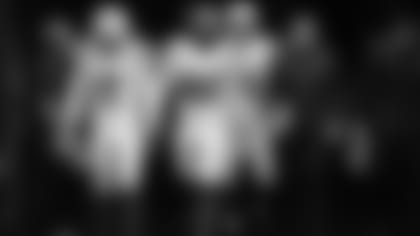 Veteran kicker Adam Vinatieri was a teammate of Ventrone's his rookie season in New England. And he welcomed him just as warmly as a rookie coordinator in Indy. 
"I was fortunate to walk into a group that's so professional and handles their job and takes it seriously. They do all the right things off the field. I trust those guys. They do a heck of a job."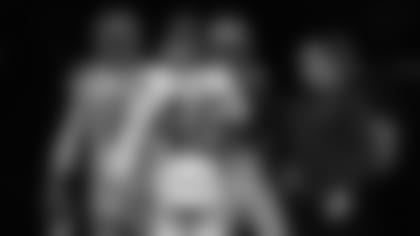 For Bubba Ventrone, football is his passion.
Coaching is his platform. 
And sharing it with others is his calling.