When he's not hugging fans, tossing footballs, or shaking his booty, Colts mascot Blue likes to read. And sometimes, he does all those things at once.
In celebration of Read Across America Week, Blue gathered his friends to share their love of reading with Indiana students while having a little fun.
Former Colts wide receiver Bill Brooks joined Blue at Meredith Nicholson School 96 in Indianapolis to read his book, Blue's Road Trip Through Indiana, to the 350 students gathered in the school gym.
And just like on the field, he had to be prepared for anything.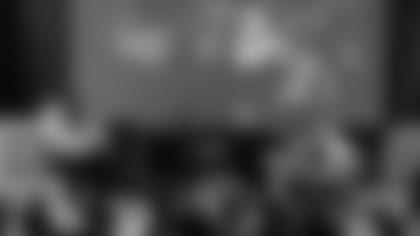 "With Blue, you have to be on your toes. You never know what he's going to do," laughed Brooks. "But it's all in good fun and it's great because it keeps the kids involved, it keeps them active in what's going on, and they have fun with it. And then they can relate that fun to something they've learned and they can put the two together."
Putting the fun in fundamental is key said Assistant Principal Cara Chandler.
"Anything we can do to show reading and having fun – those two things go together," she said. "We have a lot of English language learners and that makes it even more important for them to enjoy what they're reading in English."
As important as the lesson, so was the time Brooks spent with students afterwards.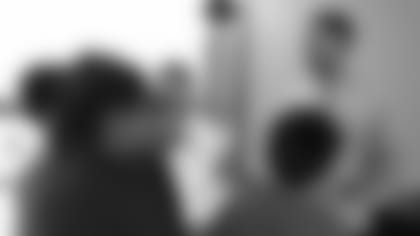 "It was such a great show. The kids were right there in the palm of his hand the whole time," said Chandler. "And then we had four of our fourth graders come up and want to talk to Bill. And it was so lovely to see their faces and to watch them engage with him in a positive manner."
The boys wanted to talk about football – and they did. But the message Brooks left them with was that school and sports go hand in hand.
"I just emphasized to them that it's very important that they stay involved in school and school is very important. They have to do well in school in order to continue to play sports. If they don't do well in school, they can't stay in school and they won't have that opportunity to play sports," he said. "I also let them know that football or basketball or whatever sport they want to play is not going to last forever and they're going to need an education to fall back on once their playing days are over."
It's not every day that kids get advice from a professional athlete. And Brooks hopes they take it to heart. Because whether they're reading a book or a playbook, it all starts with knowledge and understanding.
"Maybe they don't understand it right now at this age, but hopefully as they get older, they will understand how important reading is to them," he said. "Reading is going to be important for them the rest of their lives, no matter what they do. So it's very important that they get a good base right now."
The more kids read, the more they know. And the more they know, the more they can do – in sports and in life.
Blue and his friends don't just want kids to succeed in school and succeed in sports – they want them to succeed in life.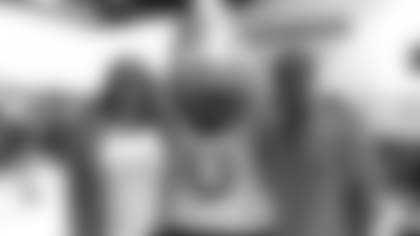 "It's fun to be able to give back to young people," Brooks said. "If I can say one thing that inspires them to go on and do well in school, to be respectful of other people – that is something that I really enjoy."
Raising a generation of readers takes teamwork.
And it's a team Brooks and Blue are happy to be part of.