Trey Mock stood on stage in the new Colts pavilion on Saturday evening. In front of him, there were families seated at tables. Behind him, there were Christmas trees and gifts. Around him, there were tables stacked with presents. And everywhere, there was love.  
"We want you to know that this is our favorite time of the year," he said. "We love Christmas and we wanted to celebrate it with your families today. We want you to know you're loved and we're so glad that you're here and we're going to have a really awesome time."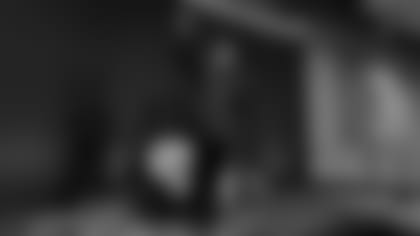 For the man behind Colts mascot, Blue, it's become a tradition. He teams up with family and friends to share Christmas blessings with families in need.
"It's the third year that we've done this and it was different this year because we normally go house to house and this year, we brought them into our house. What I like about that is, I want our fans, but especially, I want these families to feel like we are family."
He also wanted to make his family a part of it.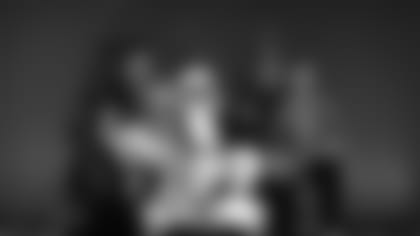 "In the past, it was impossible to bring our now 3-year-old and 5-year-old with us on the road that long all day. But for our kids to play with their kids and for us to just be one family - if that doesn't embody what Christmas is all about, I don't know what does."
It was a night filled with surprises.
"One of the surprises is behind these garage doors. Does anybody know what's behind these garage doors?" Mock asked. "Edward, show them what's behind those doors. This is the field that the Indianapolis Colts practice on. Who wants to play kickball with me on that field?"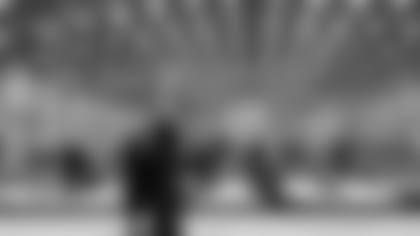 For the kids, being at the home of the Colts was a gift itself.
"When we walked out there, there were a bunch of kids who immediately dropped down and touched the field. They wanted to know what it felt like. Does it feel like grass? Does it not feel like grass? Run on it, test it, so that was really cool," said Samantha Humes.
Humes and her mother, Barbara, are Colts fans who read about the first event and had to get involved.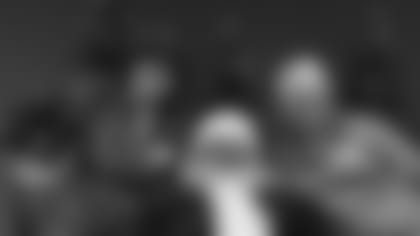 "I was just so impressed that he took it upon himself and that he was touching somebody's life," Barbara said. "I told Trey that my husband and I give to several charities and we still do, but you don't have that personal touch. You know it's doing some good, but when you have this personal feeling, you get back more than you give. It's just that smile on someone's face."
And there were plenty of smiles when Mock introduced his special guest.
"We met Santa at one of our high school shows. We finished the show and here comes Santa Claus across the gym and I knew at that moment - right then and there - Santa, you have to be here at this event. And he was so excited to be here."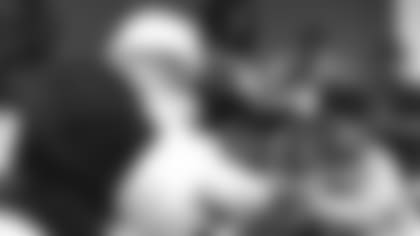 The families came up one at a time to sit on Santa's lap, take pictures, tell him what they wanted for Christmas, and open one of their gifts.
For Mock and his elves, their gift on Christmas morning is celebrating with their families knowing they made it possible for other families to do the same.
It was a lesson Mock's wife, Alison, was grateful to be able to teach their kids.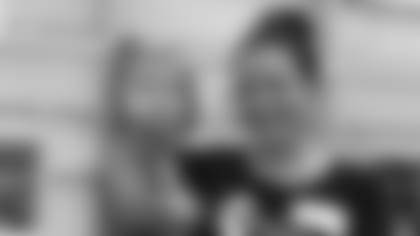 "I loved being able to tell them to give some gifts and not once did they feel like they needed gifts. It was all about giving today and I love that they were a part of it."
Stacy Lozer is the head elf. She finds the families and makes the contact.
"It's probably the best part of it, although ask me on the day we shop and I'll tell you that's the best part or ask me right now and I'll tell you this is the best part," she said. "We usually have one 30-minute conversation and then it just starts - the texts come. The first response to me was, 'My kids don't have lists because I told them we couldn't have Christmas.'"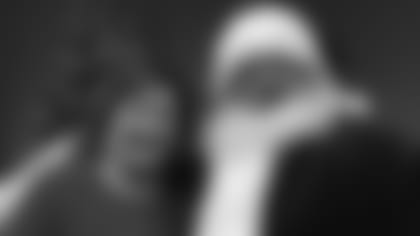 This year, Christmas came to them.
"I was like, 'What? This is who?' She said, 'Name your kids,' and then she said, 'And what is something that you would like?' Stacy, she was just a blessing," said Renise. "We are really, really grateful and thankful."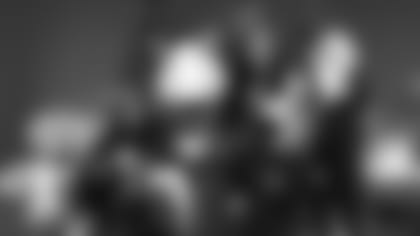 "There are a lot of other families out there who deserve a lot of things," Tiffany said. "This is my first time ever having anything like this. I want to cry so bad, but I'm trying to hold myself together right now. It's overwhelming and it's so nice. I wish this for everybody. I feel so blessed."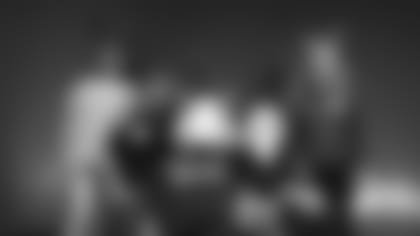 "It was a gift from God," said Michelle. "I could not ask for a better time."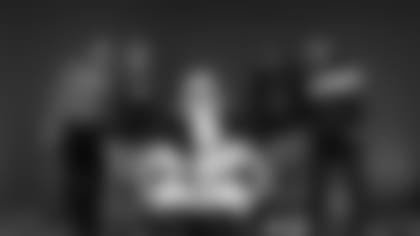 For a dozen families struggling at Christmastime, it was comforting to know they're not alone.
"We don't need to know why. We don't want to know why. We just want them to celebrate," said Lozer. "I think the fellowship and the spirit of the holiday and the celebration crossed ages and any other potential separation issues were gone."
Christmas brought everyone together.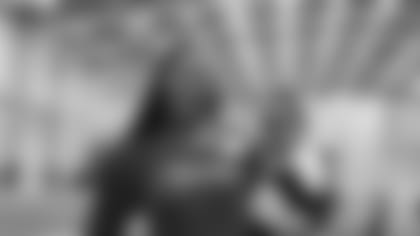 "It just makes you feel all nice and warm and fuzzy because people don't have to be nice," Renise said. "There are different races here, everybody feels like family. They were hugging, helping with the kids, holding the kids - this was really a blessing and I'm glad that we were a part of it."
Just like their guests, Santa and Blue are more alike than they are different.
"I think Blue is cut from a little bit of the same cloth that Santa Claus is," said Mock. "We're both very jolly and I think that what Santa does is no matter what age you are, he brings out the kid in you. And I think that's what Blue does."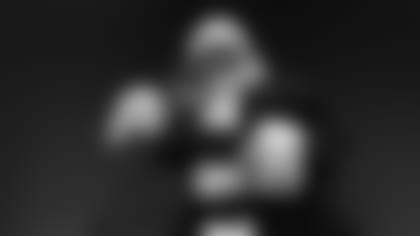 And neither of them could do it alone.
"This started with a really small idea that Ali and I were going to change things in our lives so we can help people in their lives," he said. "We would not be able to impact this amount of people without our friends and family."
Blue can't be everywhere - and neither can Santa.
But the magic of Christmas is what it inspires in others - to open their hearts and their homes, reach out to those in need, and bring people who've never met together as family.
It's the season of giving.
In giving of himself, Trey Mock received more than he ever thought possible. He inspired others, and together, they spread more joy than any of them could on their own.
"Isn't that what Christmas is about?" he asked.
It's what Christmas is about. 
It's what family is about.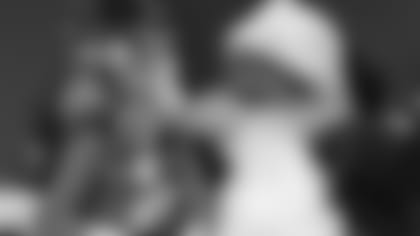 From Blue's family to yours - Merry Christmas.