This recipe comes from Natasha Cox, she and her husband farm with their family in Benton County. Farmers are often thought of as the original tailgaters, eating many meals on the tailgate of their pickup trucks during spring planting and fall harvest. The Cox family enjoy both types of tailgates and this Low Country Boil is one of their favorite things to make! Natasha is a board member for the Indiana Corn Marketing Council.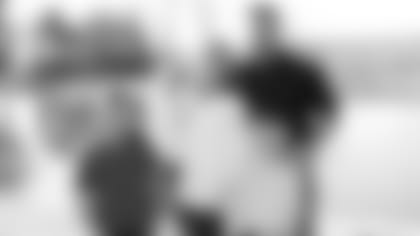 This recipe will be featured in the Tailgating with the Colts Cookbook that will be passed out at the November 18th game.
2 lemons, quartered
2 bay leaves
3 tablespoons kosher salt
2 tablespoons whole black peppercorns
1/2-3/4 cup shrimp boil seasoning, such as Old Bay
4 pounds small new potatoes (about 1 1/2" in diameter)
2 pounds smoked pork sausage (about 4 links), such as kielbasa, cut into 2" pieces
2 sweet or yellow onions, peeled, quartered
10 ears of corn, shucked, cut in half
4 pounds fresh/frozen large shrimp
Heat a large pot of water over an outdoor cooker, or medium-high heat indoors- we love to take our outdoor cooker to tailgates ( make sure your propane tanks are full )
Add Old Bay Seasoning, pepper and salt - bring to a boil. Add potatoes, and sausage, and cook for about 10 minutes.
Add the corn cook for another 5 minutes
Then add the shrimp when everything else is almost done, and cook for another 3 or 4 minutes.
Drain off the water and pour the contents out onto a table covered with paper
Other Great Gameday Treats
Liz Kelsay is a guest contributor to Colts.com. To learn more about the Indiana Soybean Alliance visit _www.indianasoybean.com_ to learn more about the Indiana Corn Marketing Council visit _www.incorn.org_.