It wasn't Lucas Oil Stadium, but Colts quarterback Andrew Luck found himself in front of a rather large crowd.
There were kids and adults in Colts jerseys. Many of them were carrying books. Some of them were carrying footballs. And a few of them were carrying both.
Instead of cheering for touchdowns, they applauded book titles.
It wasn't the audience Luck was used to. And yet, he looked just as comfortable.
"Thank you for coming tonight," he said. "I'm Andrew Luck, representing the Andrew Luck Book Club. And this is our podcast on the road."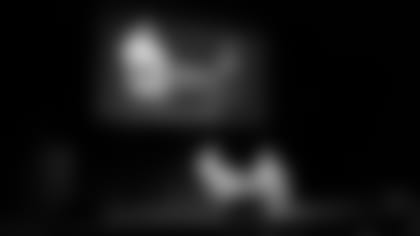 On Thursday night, Luck took the stage at the Egyptian Room Downtown Indianapolis.
"I've actually never been in here with the lights on," he said. "It's always been a pretty aggressive rock show."
Joining him was best selling author John Green, who also calls Indianapolis home.
"It's really awesome to be here," he said. "As you know, I'm a huge fan of the work you do in the community and I just think this book club is awesome."
Luck hosts a podcast on WFYI the last Monday of each month to talk about his latest book selection. This month, WFYI hosted his interview with Green at the Old National Centre in celebration of PBS' The Great American Read.
The two talked about books, football, and their shared love of Indy.
"It reflects a lot of what I love about American cities and American communities, the way a community can come together, celebrate stuff together. I just really like Indianapolis," Green said.
"It must have been weird for you because you didn't choose Indianapolis."
"Indianapolis chose me," Luck responded – and loud cheers erupted.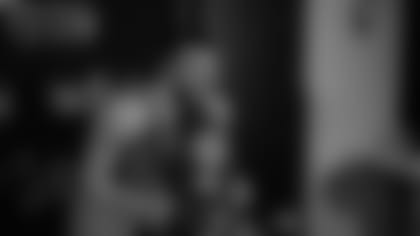 Luck and Green met a few years ago and bonded over their love of books.
Green had a funny story about it involving former Colts wide receiver Griff Whalen, a close friend of Luck's.
"I met Andrew at a party and he was with some very large members of the Colts offensive line and a much smaller person. And I was talking to him and I said, 'How do you know Andrew?' He said, 'We went to Stanford together.' I said, 'Oh, that's great. And you followed him out here?' He said, 'Yeah, I guess so.' I said, 'So, are you like his business manager?' And he said, 'No. I'm a wide receiver for the Indianapolis Colts.'"
Green said he was pretty embarrassed about it, until Whalen said, 'I get that all the time.'"
When they wrapped up the interview, Luck and Green met with a few members of the media.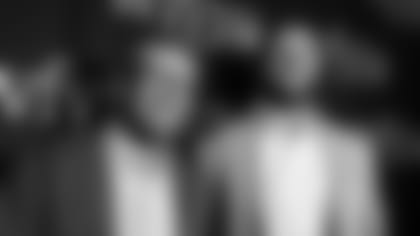 "If it's alright with you guys, I'm only going to answer questions about the Colts," joked Green.
Then, he went into a pretty accurate impersonation of a typical Andrew Luck press conference.
"It wasn't really about me, it was about my teammates," he said. "They do all the work and I get all the credit. And I love my offensive line. I love you, Castonzo."
Luck, who conducted an interesting and engaging interview, called it a treat to be able to meet and talk to an author about a book he wrote.
"It's something that's very different from what I do normally," he said. "I think in some way it's a challenge and that excites me. It sounds very cheesy, but I think it feeds my soul in a way that I enjoy and I think that's important."
Green was grateful to have someone like Andrew Luck shine a light on his world – and his words.
"That probably the coolest guy in the city, somebody so active in the community and that means so much to this community, that he loves reading – I think that's such a big deal because it tells young people and older people that reading is fun."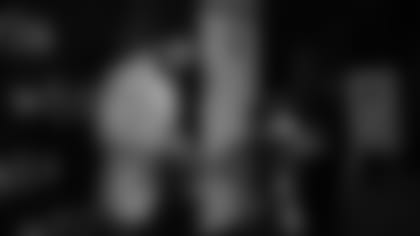 For Luck, reading is fun. For Green, it's part of his job, along with something he does for fun.
"One of the nice things about being a writer is that you have to read. Reading is really the only apprenticeship we have. It's how you figure out how to use scratches on a page to turn them into ideas in someone else's head."
A shared love of reading formed an unlikely friendship between an athlete and a writer.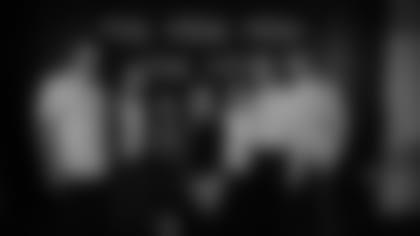 And that's what reading does.
"The great thing about reading to me is that it allows you to imagine and understand the lives of other people," said Green. "And I think right now, we are in an extremely divisive time in American history and the ability to get out of yourself and imagine what life is like for someone else has never been more important."
You can catch Andrew Luck's podcast with John Green on Monday, May 28th at 9:00 PM on 90.1 FM. You can also download it from the WFYI website: https://www.wfyi.org.
Cover photo: Aundrea Hart