"If Owen can, we can" is what they say.
When he was a toddler, Owen was given a zero percent chance of survival.
"The parents said he fell in a bathtub full of scalding hot water at the age of two and burnt his body 98 percent. They waited two hours to get him any medical care after he got burned," said Susan Mahan.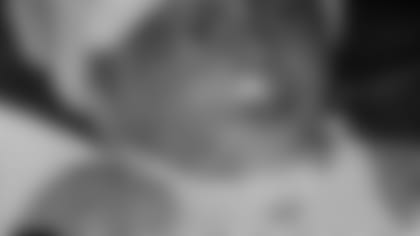 She took Owen in as a foster parent before he turned three and has since become his adoptive mother.
"I worked on the ambulance for years, so I thought it was a typo. I was like, 'There is no way he was burned that severely.' And then when I saw him, I was like, 'Oh my God.' That first night when they brought him to me, I didn't know that I could do it. But I woke up at 4:00 in the morning that next day and I was like, 'You know what? If that little guy can, I can.' So, that's why we say, 'If Owen can, we can.'"
Along with three grown children, Mahan now has three adopted sons and three foster daughters.
"I only take kids with special needs," she said. "It's a selfish thing because it's very rewarding. Like with Owen, just to see how he's progressed and how he's changed from the first day I got him."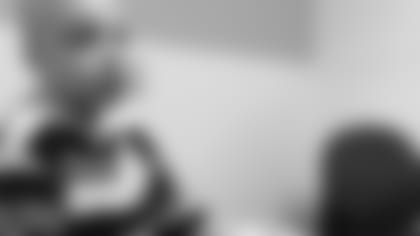 For a kid with every reason to be angry, Owen has an unbelievable attitude about life. At ten years old, he's already overcome things most adults couldn't imagine.
"He is tough. And he's a trooper. He just had his legs amputated – the first one in February and the second one was just done in June," Mahan said. "Right before surgery I'll get kind of down like, 'How can we do this again?' And Owen is like, 'We got this, Mom.' Or he'll say, 'Suck it up, Buttercup.'"
That spirit is infectious and inspires everyone he meets. He's got a close relationship with many firefighters, especially in his hometown of Pittsboro.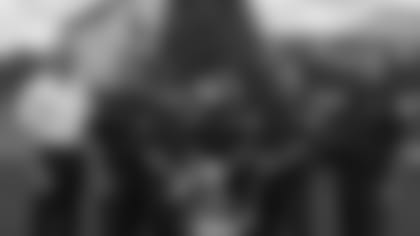 Rita Reith with the Indianapolis Fire Department connected Owen with Sons of the Flag, a nonprofit organization that supports military, first responder, and civilian burn victims. Through them, he formed a fast friendship with Omar Avila, who lives in Dallas and was burned while serving with the military in Iraq.
"We've been facetiming for a couple of months now and we talk on the phone all the time," Avila said. "I told him I was going to meet him someday and he was like, 'Alright.'"
Little did Owen know, that day was Thursday night – and the place was Lucas Oil Stadium.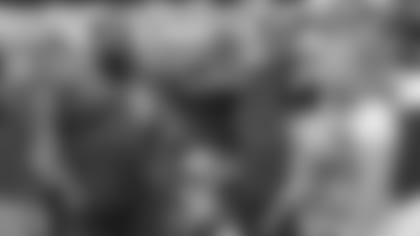 Owen and Susan were on the sideline before the start of the Colts last preseason game against the Cincinnati Bengals when his friend, Omar, showed up to greet him – in person.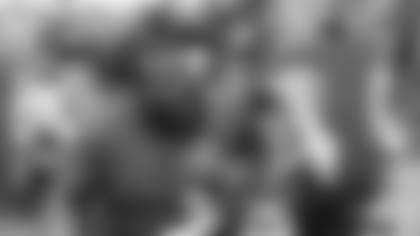 "I saw him and he just about jumped out of his chair," he said. "It was awesome."
But that wasn't the only surprise. Coach Pagano also came up to greet him.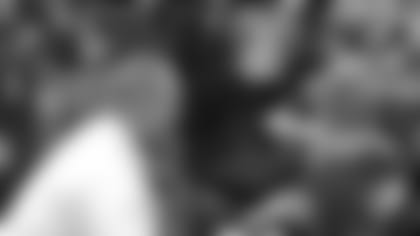 "What's up, Owen? How you doing, buddy?"
Colts General Manager Chris Ballard came by as well.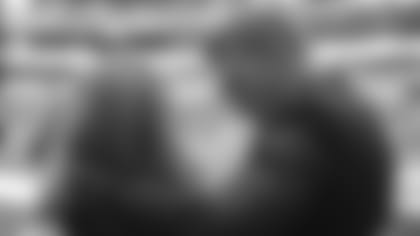 But the biggest surprise of all was what they brought with them.
Shane Boehmke, who also works with Sons of the Flag, got to know Owen at the firefighters convention in Indianapolis.
"One of the questions we asked was, 'What do you want?' And he goes, 'I want a bicycle to ride like everybody else.' We went and did some research and found a hand cranked bike, got it ordered, got it shipped up to Chicago where I'm out of. We got Omar in, we brought this down and got hooked up with the Colts to put it all together."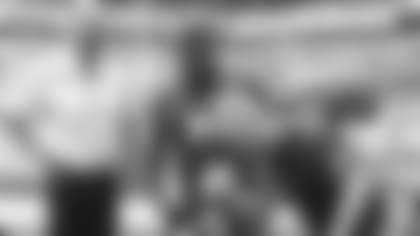 They wheeled Owen's bike onto the field, lifted him onto it, and with hardly a warmup, he was off and rolling – down the field with Coach Pagano.
"It's the first time he's meeting Omar, the first time he's getting a chance to ride his bicycle, and what better stage to do it than in front of the Colts?" Boehmke said.
For them, Owen's joy made it all worthwhile.
"It's contagious," said Avila. "I can't wait to go back home and spread that with everybody else and keep it going."
And his attitude just makes them to want to give more.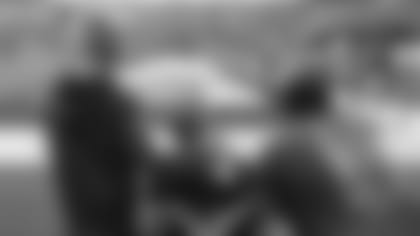 "He's passionate, he's a fighter, and he just wants to continue," said Boehmke. "It makes it so much easier to help someone like that and work that much harder to make it happen."
Because if Owen can, we can.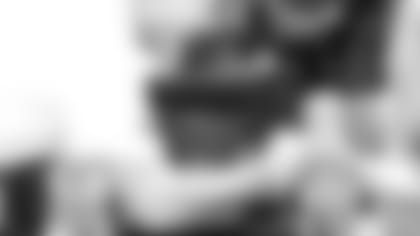 And more importantly, we should.