INDIANAPOLIS — Each week, Colts.com readers can submit their questions to have a chance of them being answered in our Mailbag series.
Missed out on the party this week? Not a problem — you can submit your question(s) for next time by clicking here.
Let's jump right into this week's questions:
Richard G. (Nashville, Ind.): "How are we going to limit the Big splays from The Chiefs offense. And disrupt Mahomes timing. Can we get a pass rush and maintain leverage so he can't escape? Offensively, what is our plan to create momentum?"
Walker: I think there are a couple primary keys when facing Patrick Mahomes and this super talented Kansas City Chiefs offense. The first is to get consistent pressure on Mahomes, of course, but do so while keeping him contained to the pocket; when he's able to escape and make plays on the run, that seems to be when he's at his most dangerous.Then I'd say it's critical to make sure you're blanketing tight end Travis Kelce — which is easier said than done. Kelce had seven receptions for 108 yards back in January in the Chiefs' Divisional Round victory over the Colts, and I think if you can keep him as contained as possible in the middle of the field, and then make sure you're not getting beat deep, then that should help. Offensively, I think it's important to stick with the run. Even if the Chiefs get out to an early lead, it's important to remember that Kansas City's defense allows 5.9 yards per carry on the ground, which ranks dead last in the NFL. If you can gash the Chiefs on the ground and open things up with the passing game down the field. then you can likely score the points needed to keep up in this one.
Cole L. (Norwich, Ohio): "Many "fans" are already marking the Colts down for loss against the Chiefs. I believe this is will be a great game and the Colts definitely have a chance to win. What position group needs to perform extremely well for us to win?"
Walker: I think the defensive line as a unit needs to have its best game of the season on Sunday night against the Chiefs. Kansas City has been excellent up front so far, allowing just three sacks of Mahomes, but I think a performance by this Colts defensive front that results in that number doubling, or even tripling, could go a long, long way. I think it's imperative that the defensive ends, especially, not only get quality rushes, but that they set the edge so that Mahomes can't escape the pocket and make off-schedule plays, as mentioned above. Get to Mahomes early and often, keep getting the ball back to your offense and take the crowd out of it and who knows what can happen from there?
Scott H. (Cincinnati): "Do you expect the Colts to make any changes on defense in regards of scheme due to the injuries that seem to keep piling up on that side of the ball?"
Walker: Hey Scott, I don't think the scheme itself has much to do with how the team cycles in players due to injuries. I think one thing getting lost in all the chatter about the Colts' base defense that they do employ is that it is generally very simple and easy for younger, less experienced players to pick up and be successful with. Indy still has a very young defensive unit, overall, so while you can throw more at the players as they go — disguises, blitz packages, coverages, etc. — you have to ensure that they understand and can execute the base package first before taking the next steps. Injuries, of course, only complicate this, but the Colts certainly won't make any excuses, as every team has to deal with them on a week-to-week basis.
Paul M. (Pittston, Pa.): "Quick question. When a player drops 3 balls during a game do the coaches make him spend extra time on the Jugs gun?"
Walker: Sometimes. It depends. Some players get additional footballs thrown (or shot) their way during the week, while with others respond differently; something along the lines of "It's just a bad stretch and they'll break out of it." Here's how head coach Frank Reich described the Colts' approach to drops. "We have a pretty significant routine that we go through," Reich said. "Each position coach has a catch circuit routine that he goes through with his guys. It's something that we do consistently the whole offseason when we can and then obviously in training camp. So you just continue to work on it. If a guy has a dropped ball or two, it's pretty normal for him just to kind of work himself through it and then maybe double up or triple up on a catch circuit and make sure he gets a few extra catches."
Balázs Á. (Budapest, Hungary): "Hi Andrew, I am Balázs, a die hard Colts fan from Budapest, Hungary and I have a little bit offtopic question: what kind of wristwatch wore by Coach Reich during the OAK game? It was an eyecatching, stylish piece of work. Thank you! Go Colts"
Walker: You mean this one? I'm told it's an OMEGA Seamster brand watch. Sharp, sharp piece.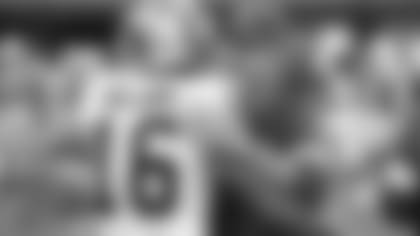 Willard M. (Indianapolis): "What is the Colts won-lost record since moving to Indianapolis? Home? Away?"
Walker: Andrew "Google" Walker at your service. The Colts have a 296-267 (.526) regular season record since moving to Indianapolis back in 1984. That includes a 165-117 (.585) record in home regular season games at the RCA Dome and Lucas Oil Stadium, and a 131-150 (.466) record on the road. Can you believe you get this kind of service for free?
Jayshon W. (Little Rock, Ark.): "Hey Andrew, a quarter into the season were 2-2 tied in the division with injuries to our WR and safety unit which leaves us with inexperienced players do you think if we don't make a move to address the needs either trading before the deadline or signing someone like we did with Mitchell last year it might jeopardize our chances at making the playoffs?"
Walker: Offensively, in my opinion, I think you just ride it out at wide receiver until you're at full strength. T.Y. Hilton is questionable for Sunday's game against the Chiefs, which, to me, is a good sign in and of itself that his quad is healing up nicely. Even if he isn't able to play or be at full strength Sunday night, he can take advantage of a few days off next week during the bye week, and then (hopefully) be good to go for Indy's Week 7 game against the Houston Texans. By then it won't be long until the team could decide to return No. 2 wide receiver Devin Funchess to practice and determine if his surgically-repaired collarbone is good to go to officially remove him from injured reserve and place him back onto the active roster; the earliest Funchess could play would be Week 10. To me, it's much harder to find a wide receiver on the street that can make an immediate impact, especially within an offense as diverse as Frank Reich's. Indy struck gold last year with its midseason acquisition of Dontrelle Inman, but Inman had previously excelled with Reich and offensive coordinator Nick Sirianni during their time together with the Chargers. Guys like that just usually aren't going to be there for the taking on the open market during the season. Defensively, I think there's a chance the Colts dig into the free agent pool if the injuries to Malik Hooker (knee), Clayton Geathers (concussion) or Rolan Milligan (knee) linger much longer. The only other safeties currently on the roster are Khari Willis and George Odum, and while it's nice to have a versatile piece like Quincy Wilson who the Colts believe can slide back from cornerback and play some safety, one can imagine the team has a list of available free agents ready to go just in case, much like it did back in Week 6 last year with Mike Mitchell.
Terry O. (Bristow, Va.): "Grew up in Indy and am a big fan. I've been surprised by the defense's difficulty this year, especially Justin Houston. Why do you think he hasn't had more success sacking the quarterback and how can we get him more involved?"
Walker: Hey Terry, I think my best advice would be not to get too concerned with a two-week stretch of less-than-stellar pass rush from this defense — particularly from a guy like Justin Houston. Remember: this defense started off the season as one of the best pass-rushing units the first two weeks against the Los Angeles Chargers and the Tennessee Titans, so these things can swing in one direction or the other pretty quickly. As for Houston, even the best pass rushers have occasional "slumps." During his 10.0-sack season back in 2012, for example, he had two separate three-game stretches without a sack, but he also had a 3.0-sack game and two 2.0-sack performances. I'm also anticipating that the continued emergence of Jabaal Sheard on the other edge will help take attention away from Houston and get him more favorable matchups here moving forward. Stay tuned.
Steven W. (Jefferson City, Mo.): "How is Hale Hentges doing? I haven't much about him."
Walker: Hale Hentges continues to grind it out each and every day in practice as a member of the 53-man roster, but is yet to be active for gameday and make his NFL debut. Last year Frank Reich showed for the most part that his offense only needs three active tight ends during games, and so for now Hentges is on the outside looking in while Jack Doyle, Eric Ebron and Mo Alie-Cox do their thing. But Hentges continues to do things the right way and it seems like he genuinely appreciates the opportunity he's been given. When it is his time to play, that'll be one heck of a moment for him.
Mick L. (Houston): "Do you think Jordan Wilkins will ever get a shot at Rb1, or are we too high on Mack? Seems every time #20 carries the ball good things happen. I know he doesn't have "top end" speed but he's tied for most 50+ yard runs since entering the league. I think he has much better patience and vision than Mack and really think he'd be a star in this league."
Walker: For now, Marlon Mack is the guy at running back for the Colts. And believe me, that's no slight to Jordan Wilkins (or any other back on the roster). It's just clear to this coaching staff that Mack has the overall package they want in a running back: speed, explosiveness, blocking ability, patience, etc. Wilkins, Nyheim Hines and Jonathan Williams certainly bring those elements, too, but Mack is the clear starter at running back.
Richard H. (Franklin, Ind.): "What role will new DT Trevon Coley play this Sunday against the Chiefs?"
Walker: That's a good question, Richard. Because I can totally see Trevon Coley active and getting a few snaps along the defensive line against the Chiefs, and I also wouldn't be surprised if he was a healthy scratch, seeing as he was just acquired by the team earlier this week. There weren't any outside free agents signed to the active roster last year along the defensive line that I can look at and compare their situations, either. But at 6-1, 310 pounds, Coley will certainly be counted on to help shore up the Colts' run defense as an interior contributor. He has almost 1,300 defensive snaps to his credit from the last two seasons with the Cleveland Browns, and he's also someone who can contribute on special teams, so I'll be interested to see what he can do whenever he is active.
Robert T. (Indianapolis): "When are we going to change the Tampa 2 defense to a man to man defense."
Walker: We got a lot of questions this week about the Colts' defense, but Robert, when it comes down to it, I think it's more about execution and less about what scheme is being run. I think some fans believe the Colts are simply running a straight zone defense virtually every snap of every game, which is not the case at all. In fact, The Athletic's Stephen Holder this week broke down Indy's defensive performance against the Oakland Raiders, and found that the Colts were actually in man-to-man coverage in one-third of Oakland's designed passing plays. The Colts also brought all sorts of different kinds of blitzes to try to rattle Raiders quarterback Derek Carr, but they just weren't able to really get home on any of them. So defensive coordinator Matt Eberflus is trying to mix it up; sometimes it comes down to the right play call at the right time, and sometimes it just simply comes down to execution. Let's check back in on the Colts' defense around the midway point of the season and see where it is.
Sean C. (Indianapolis): "Hi, i just wanted to know what's going on with our defense. And also do we need to purse other corner backs in free angency cause desir is getting beat almost Everytime and hooker as great as he is is injury prone so do we have a defence that could get to 1st and second round in the post season."
Walker: Well, Sean, Pierre Desir, by my calculations, is yet to get beat for a touchdown this season, and the one long play in 2019 that could be considered on him was a 34-yard pass play Week 3 against Julio Jones and the Atlanta Falcons, when Desir simply fell down midway through Jones' route. And let's not forget: every starter this year returned from the Colts' defense that helped carry the team to the second round in the postseason in 2018; the hope is that the added pieces this offseason, including veterans like Justin Houston and rookies like Rock Ya-Sin, Khari Willis and others, will eventually start to mesh in with those returning from last year to form an even better unit overall down the stretch. Again, let's give this thing a few more weeks and get a larger sample size before suggesting wholesale changes.
Steve B. (Dayton, Ohio): "What (if anything)can we take away from the Lions as far as slowing down the Chiefs explosive offense? Or do you think last week was a fluke? Either way, it won't be a simple task, especially with our plethora of injuries on Defense."
Walker: You're right, Steve, it won't be easy lining up against Patrick Mahomes and the Chiefs offense on Sunday, which would've been the case whether or not the Indy defense had been hit with a few injuries here recently. But you make a good point: there is very recent film out there of a defense playing relatively well as a unit against Kansas City in the form of the Lions last week in Detroit. The Lions also came into the game banged up on defense — they were missing top cornerback Darius Slay and talented defensive tackles Da'Shawn Hand and Mike Daniels — but still were able to frustrate Mahomes at times by constantly using formations with lots of defensive backs on the field, such as their dime and nickel packages. Mahomes missed on more throws that usual, and he didn't toss a touchdown pass, breaking his streak of 14 straight games with multiple TD tosses. But ultimately Mahomes still found ways to make clutch plays, and even did it with his legs late in the contest, as he ran to get two huge conversions — one on third down, and the other on fourth down — in the fourth quarter. Perhaps that's what's so frustrating playing this Chiefs offense: you can do a pretty solid job limiting one strength, but Mahomes & Co. can still find other ways to beat you. "It's a very unique scheme to the NFL," Colts defensive coordinator Matt Eberflus said. "They have a skillset that's unmatched in the NFL – their speed is on display and they use space to create for those players and get the ball in space to those players. Coach (Andy) Reid does a heck of a job building that offense and building it around the skill that he has. So it's going to be a heck of a challenge for our defense."
Geary Y. (Anchorage, Alaska): "Good morning, going into the season, Andrew luck retiring aside, I felt them and still felt now that we have the best team in the AFC South, With that what is your take on who our biggest threat in the devision? I feel the Jaguars will be the major hurdle we will have to over come in the decision based ok what i have seen through the first quarter thank you for your time"
Walker: Good morning Geary. To me, if you're trying to find the biggest threat in the AFC South Division, I think you have to start with the best overall quarterback. And, yes, the Jacksonville Jaguars' Gardner Minshew is playing extremely well so far, especially for a rookie, but I think it starts with Deshaun Deshaun Watson and the Houston Texans. Watson is playing extremely well for Houston, as he's completed 82-of-126 passes (65.1 percent) for 938 yards with six touchdowns to just one interception, while he also has three touchdowns on the ground already. If Watson can play at that high of a level and the Houston defense can continue putting up even mediocre numbers, then that, in my opinion, is the biggest threat to the Colts in the AFC South so far. One caveat, however: Watson has already been sacked 18 times this season. Indy allowed 18 sacks all year in 2018. If this pace continues, Watson will have been sacked 72 times by season's end, which isn't … ideal. So keep an eye on that, for sure.
Toby Z. (Amarillo, Texas): "Why are they going to move Quincy Wilson to safety there are Some safeties out there On the open market"
Walker: Hey Toby, feel free to submit a list of the safeties out there on the open market that you've been scouting that can come in and be effective against Patrick Mahomes and the Chiefs offense with just three days of practice under them. And if you can find any safeties that fit that criteria, will they be willing to take a lesser role once Clayton Geathers and Malik Hooker return? Are they a good fit within the Colts locker room, in general? This isn't EA Sports' Madden NFL 20; you can't just plug a guy in from the outside without considering the practice and preparation time required to be ready to go and then just leave it up the computer to get the job done. The Colts' personnel staff is constantly doing its due diligence and bringing in free agents for visits/workouts, so one can imagine that if there was someone available the team felt it could handle such a role, then it would've already signed them. So what you do is you leave it up to the players you have and your coaching staff to figure out a way to get it done.
Pam K. (Indianapolis): "Marlon Mac how many yards as he have total "
Walker: I believe this is the second straight week Pam has utilized Andrew "Google" Walker in the Colts Mailbag. So, for that, I'll give you this: click here for your answer.