 ](http://careyindiana.com)
INDIANAPOLIS – Readers of Colts.com may submit questions during the week and have a chance to have them answered during the middle of each week.  **Submit your question here**.
Here are responses to some of the questions received recently.  We thank you for your interest in the Colts.  Please make an effort to be concise when submitting a question.
NICK R. (from Hanover, PA) With the Browns placing the transition tag on Alex Mack, is there still a chance that we try to bring him in?  If not Mack, do we make any attempts on any other O-line FAs?  Are we close to re-signing Vontae Davis, Kavell Conner and Antoine Bethea?  We can't let Adam Vinatieri go.  Why are we attempting to re-sign Ahmad Bradshaw when we have Trent Richardson, Vick Ballard and Donald Brown?
A:  When asked at the combine about Samson Satele, who was released last week, Ryan Grigson said a plan was in place.  While some may have thought it could include Mack, Tuesday's moves seem to eliminate that.  Cleveland was smart in doing what it did with him (transition tag) and after the flurry of action, what appear to be the key areas of attention here would be strong safety and center.  We'll have to see how those develop, but a great deal of attention was placed on other areas.  As for the line itself, getting Donald Thomas back will be a big boost.  We made a tender to Joe Reitz last week.  The development of Hugh Thornton and Khaled Holmes certainly is something that bears watching.  You want young draft picks to trend into solid pros.  We'll wish Antoine all the best (what a great Colt he was), and we have Vontae back – a very big component to our defense.  Getting Ahmad Bradshaw back underscores the dedication to a power running game.  Teaming him with Vick Ballard and Trent Richardson will be fun to watch.  I'm sure you saw Donald Brown joined San Diego.  It should be a good fit for him there, and Donald was a tremendous Colt the last five years.  I wish him every success.  And, you (and bunch of people) got your wish with Adam.  Our actions were spread across many phases of the roster.      
TREY W. (from Jamestown, IN) I want to hear about Dwayne Allen's progress.  I was devastated when he went out last year.  He is one of those guys that is quietly going to become a superstar.  I have not seen any updates on how he is doing as far as his return for this season.
A:  Dwayne is doing very well in his recovery, and you should have no concerns.  All of us see how much his return will benefit the offense.  Speaking with him the other day, he is ready for whatever the offense calls of him.  There is no doubt that he is down for the cause, and you love his team-oriented mindset.  It was tough watching him go from the NFL's rookie reception TE leader to playing one game.  Dwayne can be a real difference-maker, and I hope this eases your concerns.  Let's make the only concern involving him this year come from our opponents.
ANGEL A. (from Pharr, TX) Why let go of Antoine Bethea?  He is one of the best safeties in the league, but you should also get Aqib Talib.  It would be a good defense.
A:  Of all the news Tuesday, seeing AB leave the team for San Francisco was a little sad.  The nature of the game causes this to happen, but it's never easy or pleasant.  Antoine was a leader in every regard.  He was a contributor from his first day, and I hope his time with the Niners allows him to finish a career the way it should for such a dedicated guy.  As for Talib, he's a Bronco.  We'll see him again at some point this coming season.
*MANNY V. (from Fresno, CA) In my last question you refrained from mentioning FAs the Colts could be interested in, but I'll mention two more, James Jones and D'Qwell Jackson.  With trying to re-sign Vontae Davis, Pat McAfee and Antoine Bethea, we won't have much of the $35 million left, so I was thinking Ryan Grigson could try for those two on the market.  They're not explosive top performers at their positions, but they are solid starters who play the game well.  I think the Colts could get both at the right price. *
A:  Since you wrote, we added D'Qwell, and he will fit well with our LB unit.  We added Arthur Jones, who should help bolster the front seven.  Good call on your part on Jackson, and he should be very productive.  Pat McAfee is back with a five-year deal, and that alleviated a big concern.  I appreciate your thoughts on others and now that free agency is underway, Jones is in play and seems to be getting a level of interest from other teams.  You don't get the sense we're part of it.  Some outside thought is we need to keep the WR corps stocked, but I think we're in relatively good shape with some young talent on hand.  Our FA focus so far is elsewhere, and this area could be targeted in the draft instead.  I could be wrong, and that's just my hunch. 
CHRISTIAN L. (from Meridian, ID) This isn't a direct question but it will affect the Colts.  I know Andrew Luck is going to get a huge contract.  The NFLPA and players want to keep moving the amount up for the next group, but it seems the QB price is going up faster than the cap.  At what point does paying a QB get to be too much?  When they make 30% of the cap?  I know it is a business, but why handicap your team by taking so much of the cap?  Notice the last two Super Bowl-winning teams were more balanced teams with QBs who didn't make much.  It will never happen, but I would like Luck to take $14 million a year and say he wants to win games and help the rest of the team.
A:  Contract discussions are best left for others as it relates to our club, but I ran your letter because this is a fan's forum, too.  Andrew always has impressed me as one of the most modest and unselfish people I've seen, and he "gets it" as far as what it takes to win.  We'll see how this goes with him when contract time comes, and I wouldn't speculate in any way.  We all share (as do fans like you) a huge appetite for a world championship.  We have players and coaches who are wired that way, and it's the only motivation in our building.  Thanks for your thoughts.  You've said your piece (and well-written at that), and it has its place.  We'll have to let everything else take its course.
ISRAEL R. (from Laredo, TX) What is the process which a player goes through just to change his number?
A:  Each team does it a little differently, and there is a jersey number range established by the league at a few positions.  In some cases, an in-coming player just works with the equipment staff when he arrives.  With some teams, the head coach may exert some input.  Numbers that are assigned in spring work or training camp can change once the season arrives and the roster size goes down to 53.  After a player has a set regular-season number, it's my understanding he must petition the league should he wish to change it.  As merchandising has become more prevalent, that seems to be the chief reason.  Plus, you don't want players just jumping from number-to-number.  I remember a player we had in the 1990s who had an off-field problem and he changed his number when he was re-instated because he wanted a fresh start.  I'm not sure a player today would have that latitude.  We've had a number of players historically that had two jersey numbers during a career.  I only recall about five having three different numbers assigned, with the last being Dominic Rhodes.  In Dom's case, the third one happened because he had been away from the team in 2009.  When he returned to finish off 2010, he had to go into a third number because his prior ones weren't available.  That's a long answer, but I hope it helps.  As with most things these days, it's more complicated than one thinks.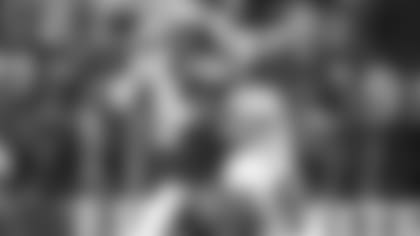 CALVIN W. (from Richmond, VA) Should we look for our needs on the offensive line through the draft and how about our defense?  I think we may need an extra corner and I would look through free agency, but I know Ryan Grigson will make the right decisions.
A:  On day one of free agency, we addressed a number of areas, as you know, but nothing yet on the O-line.  You have to be fired up about the additions on defense with D'Qwell Jackson and Arthur Jones.  We need that stoutness, and getting Vontae back was huge.  We'll see what else transpires, but I feel we are in good shape with Greg Toler manning the other side.  Sure he was hurt a little last year, but he is a talented guy who fits our style.  As you said, Ryan has a plan.  He and Chuck Pagano will work it.  With the money already spent in free agency, the draft may be the next option.
BOB B. (from Deltona, FL) Kudos to Ryan Grigson on signing D'Qwell Jackson.  It shows he is serious in putting together quality on the field.  I'm looking forward to more impact moves.  Jackson and Jerrell Freeman will make a good tandem.  Now, unload Erik Walden and save money, get a good O-lineman, another receiver and defensive help, re-sign Pat McAfee-Adam Vinatieri.  Keep building!
A:  Thanks for your thoughts on Ryan.  He grinds just like his players do.  I think we'll have a pretty good LB corps, and don't sell short what Erik Walden can do.  It will be year two for him here, and I think he takes a big jump.  You see some analytic sites that downgrade him.  Not to demean those (I use them sometimes), but I don't think you get the real sense of Erik as a player by them.  I think he played better than given credit for.  You got your wish with Pat and Adam, and it's great keeping the tandem intact.  Adam is a great performer and, I think, is Canton-bound.  If not, there are a few voters I will call out.  Getting Sergio Brown back really helps the units tremendously.  Pat was big on that signing happening.  I'm sure you enjoyed the impact of the first day of free agency.  Keep following.
JORGE R. (from Mexico City, Mexico) I don't know what is going on with Ryan Grigson.  Sorry, but I am not in agreement to get D'Qwell Jackson when we have Pat Angerer without a contract.  Pat is a loyal player.  He loves the Horseshoe and has better stats.  I think we are going to regret letting him go.  Go Colts.
A:  I've been here 29 seasons, and I must say Pat has a certain place on my favorites list.  He's a hard-nosed, team guy who battles his tail off.  I don't know what the future holds for Pat, but I hope there's a place in this league for him.  If it's not here, I hope there is a time we can honor Pat with a video at a home game.  I bet a bunch of fans in addition to me would love it.  As far as D'Qwell, it's always tough when these things happen.  He seems like a terrific guy.  Looking at his numbers, D'Qwell's been very productive.  Seeing the community award he got in Cleveland named after a long-time Browns employee (Dino Lucarelli), you don't win that award in that franchise or city if you're not a solid person on and off the field.  You always hear it said, 'You never replace the person, but you replace the player.'  While that's true, it's a tough thing even to write, but we'll remember Pat and welcome D'Qwell.  I hope I've put that appropriately and to Pat – thanks, bud, you're a pro.  I'll miss the chats at your locker.  Maybe we'll see you here again.
ROGER F. (from Indianapolis) I think it's time for a new look for the Horseshoe, uniforms that is.
A:  Roger, I don't know how many years we all have left on this planet, and I hope it's a bunch.  It will take probably more combined years than we both have for you to see changes.  I don't think it's in the cards.  My thought is if you don't love the uniforms by now, you may want to learn.  I personally think we are right where we should be and where we should stay.  There are only a few franchises across sports where you tune in and you see something that historically does not change.  We are there.  Why depart from it?  That's my opinion, but we certainly value ones from our fans.  We can agree to disagree in a friendly way, right?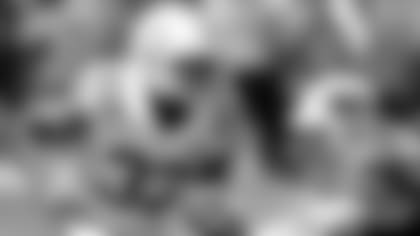 MATT C. (from Indianapolis) For the last two preseason home openers, the Colts have worn white jerseys.  Are the Colts going to wear white jerseys again in the preseason opener or possibly the regular season home opener?
A:  All decisions will come down the line from right now.  If you gauge past history, you would think a preseason date with white jerseys is possible, if not likely.  I don't think you'd ever see it in the regular season.  Like I said in last week's mailbag, should we have news on a different uniform look for a game in 2014, we'll report it quickly.  I think something would be addressed around the time the schedule comes out, which historically is in mid-April.
DAVID H. (from Sebring, FL) I hope we don't go spend-crazy on players and then the next year have to cut players because of over-spending.  Several other teams are in a hard spot.  We do need good players, not with rock-star pay.  We should be wise and get the best bang for the least buck.  I hear Vontae Davis wants to be paid more than Grimes.  If this is so, we need to be looking for another corner.  We can't give players big contracts and field a great team by losing players every year.
A:  You've been on record before with this approach, and thanks again for checking in.  We do have some matters hanging out there in 2015 and beyond, and we'll be shrewd now so nothing too balky sets in with players who have cut their teeth here.  We've avoided cap problems with our current regime, and it's an on-going priority.  You see we have re-signed Vontae, and we feel he is a gifted, young player who has yet to reach his peak.  Along with other additions like Arthur Jones, we should have an improved defense for 2014.  Like always, though, there will be yearly attrition, but we'll buffer against it.  Thanks again for your support.  You're one of the most active participants in this forum.